Professor Mansoor Barati and his Sustainable Materials Processing Research Group win the 2013 TMS Light Metals Division's Best Paper Award
[sharexy]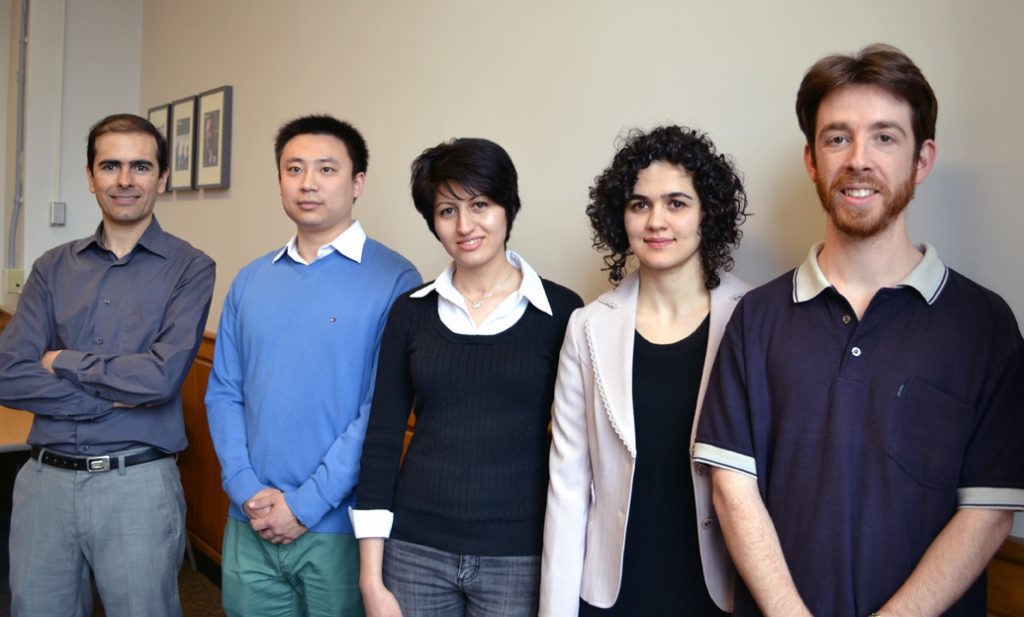 Sustainable Materials Processing Research Group (March 2013), L to R: Associate Professor Mansoor Barati, with PhD candidates Mark Li, Samira Sokhanvaran, Leili Tafaghodi Khajavi, and post-doctoral fellow Dr. Murray D. Johnston
March 27, 2013
Congratulations to Associate Professor Mansoor Barati's Sustainable Materials Processing (SMP) Research Group for winning The Minerals, Metals & Materials Society's (TMS) Light Metals Division (LMD), Journal of Metals (JOM) Best Paper Award 2013. The Award recognizes a technical paper published in JOM within the preceding year that exemplifies excellence in the technological application of science that presents new and significant information in the metallurgical field.
The award-winning paper, titled "High-Temperature Refining of Metallurgical-Grade Silicon: A Review," addresses one of today's major barriers in the widespread uptake of solar photovoltaic power: cost. Today, a significant limitation in the mainstream deployment of solar cells resides in the high production cost of its main material of composition: solar-grade silicon. The SMP team's research focuses on four novel, sequential steps that remove unwanted impurities from metallurgical-grade silicon, thus reducing high-temperature processing requirements in the production of the final material, solar-grade silicon.
"The ability to reduce our dependence on traditional high-temperature solar-grade silicon production processes paves the way toward providing cost-effective materials for mainstream photovoltaic power deployment," said Professor Barati. "I cannot thank and congratulate my team enough for this exemplary research effort in impacting sustainable materials development for our future."
The award was presented to Professor Barati on March 6, 2013 at the LMD Luncheon in San Antonio, Texas during the 142nd TMS Annual Meeting.