U of T Materials Science & Engineering researchers receive support from the Canada Foundation for Innovation (CFI) John R. Evans Leaders Fund, benefitting the future of sustainable energy and the environment
[sharexy]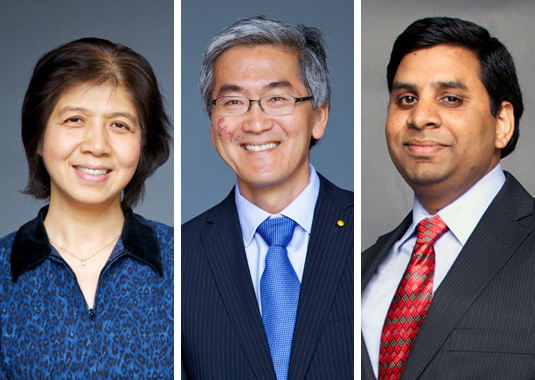 Professors Keryn Lian, Jun Nogami (Chair), and Chandra Veer Singh receive support from Canadian Foundation for Innovation's (CFI) John R. Evans Leaders Fund
January 10, 2014
The federal government's Canada Foundation for Innovation (CFI) announced support for 17 U of T Engineering researchers from the John R. Evans Leaders Fund. Among the 17 in the Faculty of Applied Science & Engineering include Materials Science & Engineering's (MSE) own Associate Professor Keryn Lian, Professor Jun Nogami (Department Chair) and Assistant Professor Chandra Veer Singh. Their successfully funded project descriptions are as follows:
Structural and Mechanistic Studies of Nano Carbon Electrodes and Polymer Electrolytes for Electrochemical Supercapacitors
Keryn Lian, Associate Professor
Associate Professor Keryn Lian's Flexible Energy & Electronics (FEE) Laboratory works on developing next-generation materials for high-performance and cost-effective electrochemical supercapacitors. Their overarching research goals involve the development of chemically modified and engineered carbon nanomaterials for electrodes and advanced thin-film polymer membranes as electrolytes. Their approach will enable state-of-the-art solid supercapacitors, which can not only provide energy storage solutions for clean energy generation, but also minimize the potential leakage and safety issues that exist in many liquid-based energy storage devices.
This CFI grant will aid in the acquisition of a Raman spectrometer – a laboratory tool used to facilitate a non-destructive chemical analysis technique in order to provide vital information on a range of materials properties and attributes. This tool and technique is an important measure toward the development of these technologies to address Canadian and global energy storage needs.
Laboratory for Molecular Interfaces
In 2011, researchers from Professor Zheng-Hong Lu's Organic Optoelectronics Research Group developed the world's most efficient green-coloured organic light-emitting diode (OLED) and the world's most efficient flexible OLED built on plastic. These advanced technologies were made possible using a facility with unique capabilities for both fabricating and characterizing the many different layers that make up an OLED.
This grant will serve to upgrade this facility and couple the atomic resolution imaging expertise of Professor Nogami's Nanostructured Growth & Characterization Laboratory with the OLED development capabilities of Professor Lu's team. This collaboration will foster further understanding of how atomic and molecular layer structure affects device performance, and enable the tailoring of materials to produce the next generation of OLEDs suitable for energy-efficient indoor lighting.
Mechanical Characterization Platform for Integrated Computational Materials Engineering Laboratory
Achieving high energy efficiency is a key challenge in reducing our dependence on non-renewable sources. Funding for Professor Singh's research will support the acquisition of a nano-indentor mechanical platform that will enhance an integrated computational materials engineering approach in the development of lightweight materials for aerospace and energy applications. This enhanced approach will lead to better renewable technologies – tackling our imminent energy and environmental crisis and yield important benefits for Ontario industry.
"CFI's support for research infrastructure will enable U of T Engineering – particularly our emerging research leaders in the Faculty – to continue to make breakthroughs that have global economic, societal and environmental impact," said Ted Sargent (ECE), Vice Dean, Research.
"Congratulations to all the winners," said Professor Paul Young (CivE), U of T's vice-president of research and innovation. "CFI funding has been essential to our ability to attract the world's best researchers, and has, in turn, allowed those researchers to make progress on some of the most pressing problems of our time."