Professor Scott Ramsay and PhD candidate Khaled Abu Samk win 2017 MSE Impact Student Choice Awards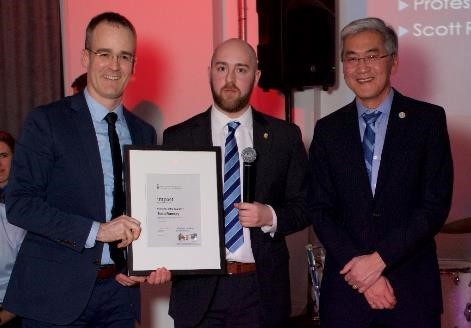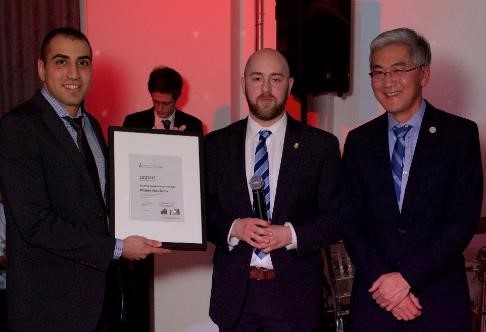 From left: Associate Professor Scott Ramsay and PhD candidate Khaled Abu Samk presented with 2017 Impact Student Choice Awards by MSE Club chair Bryan J. and Professor Jun Nogami, MSE Department Chair
January 24, 2017
Congratulations to Associate Professor, Teaching Stream Scott Ramsay and PhD candidate Khaled Abu Samk for being voted the 2017 Materials Science & Engineering (MSE) Impact Student Choice Awards—Instructor and Teaching Assistant (TA) of the Year, respectively. This is the third win for Professor Ramsay in the Instructor category and a first-time win for Samk.
Presented on Saturday, January 21, 2017 at The Bucky Ball—the annual MSE undergraduate dinner dance—the Impact Student Choice Awards recognize an MSE course instructor and teaching assistant for teaching excellence as voted by the undergraduate student body. All course instructors and graduate students who have taught an MSE course for MSE undergraduate students in the previous calendar year are eligible candidates.
For dedication and excellence in teaching as selected by the undergraduate student body—MSE Impact Student Choice Awards
During the 2016 calendar year, Professor Scott Ramsay served as the course instructor for APS 110—Engineering Chemistry and Materials Science, MSE 101—Introduction to Materials Science and MSE 354—Materials in Manufacturing. Professor Ramsay has been recognized for innovations in first-year learning for MSE 101 and was awarded the 2015 Early Career Teaching Award. Professor Ramsay's MSE 101 class hears key concepts explained through short online videos, incorporates portable tabletop labs, and has the unique opportunity to watch their instructor break a cinder block on the MSE Department Chair's chest over a bed of nails.
Professors Kinnor Chattopadhyay was named the runner-up in the same category for instruction of MSE 202—Thermodynamics and MSE 455—Process Simulation and Computer Design.
Khaled Abu Samk, a PhD candidate in Professor Glenn Hibbard's Cellular Hybrid Materials Research Group served as the teaching assistant for MSE 316—Mechanical Behaviour of Materials as well as MSE 318—Phase Transformations.
The runner up in the TA category was MASc candidate Olivia Yalnizyan-Carson from Professor Doug Perovic's Electron Microscopy of Nanostructured Materials Research Group for her instruction in MSE 219—Structure & Characterization of Materials.
"Congratulations to both Scott and Khaled," said Jun Nogami, Professor and Chair. "Scott has put an enormous effort into first year teaching in both APS110 and MSE101 which benefits all first year students, not just those in MSE. It is also great to see Khaled recognized as this is his last year of eligibility as he is graduating."
---
Past recipients—MSE Impact Student Choice Awards
Instructor of the Year
Teaching Assistant of the Year
2016
Glenn D. Hibbard, Associate Professor
Yee Wei Foong, MASc Candidate
2015
Glenn D. Hibbard, Associate Professor
Hai Jun Cho, PhD Candidate
2014
Glenn D. Hibbard, Associate Professor
Matthew Daly, PhD Candidate
2013
Scott D. Ramsay, Adjunct Professor
Matthew Daly, PhD Candidate
Paul Wu, PhD Candidate
2012
Scott D. Ramsay, Adjunct Professor
Leo Monaco, PhD Candidate
2011
Zhirui Wang, Professor
Leo Monaco, MASc Candidate