Professor Kinnor Chattopadhyay and MSE graduate research receive awards for prominent research in metals processing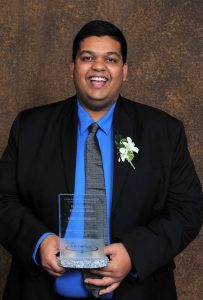 Professor Kinnor Chattopadhyay was awarded the MetSoc Brimacombe Award in recognition of research contribution made to the metallurgical and materials community
October 5, 2016 
Since its inception in 2014, the Process Metallurgy and Modelling Group at U of T has focused on steelmaking and casting and has addressed the importance of fluid flow and heat transfer modelling for understanding and improving many steelmaking and casting processes.
MetSoc presented the Brimacombe award to Professor Kinnor Chattopadhyay in recognition of his contributions to continuous casting and mathematical modelling of liquid metals processing with specific emphasis on tundish metallurgy. The Brimacombe award was founded in January 1998 in memory of Professor J. Keith Brimacombe – an innovative giant in the field of materials process engineering. The Brimacombe award recognizes young achievers who have made noteworthy contributions in any of the scientific and technological disciplines relevant to MetSoc.
Kinnor's long term vision is to use physical, mathematical and data driven modelling techniques to develop integrated simulation platforms and then translate them to user friendly process models so that Canadian steelmakers can better design, build and operate their processes. With the evolving business climate, the Process Metallurgy and Modelling Group focuses on value addition in products and steel quality to ensure that Canadian metal manufacturers are competitive in the market place.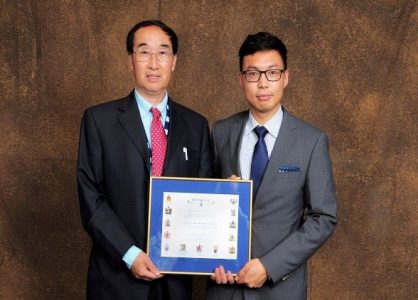 Senior research associate Dr. Yindong Yang and MSE PhD graduate Dr. Paul Wu received the distinguished Best Paper Award at the 55th Annual Conference of Metallurgists
The 55th Annual Conference of Metallurgists (COM2016) hosted by the Metallurgy & Materials Society (MetSoc) of the Canadian Institute for Mining, Metallurgy & Petroleum (CIM), was held on September 11 to 15, 2016 in Quebec City in conjunction with the 18th International Mineral Processing Congress (IMPC 2016). Nearly 600 papers and 100 posters were presented at the conference, which garnered an attendance of more than 1000 industry professionals.
The Metallurgy and Materials Society's Best Paper Award was presented for the best paper published in the Canadian Metallurgical Quarterly or the CIM Journal during the year 2015. Authors Dr. Paul Wu, Dr. Yindong Yang, Professor Mansoor Barati and Professor Emeritus Alex McLean's published research from the Ferrous Metallurgy Research Group received this award for their paper titled,"Influence of thermal diffusion on decarburisation of iron-chromium alloy droplets by oxygen-argon gas mixture".
The main objective of the study, which was based on Paul Wu's Doctoral thesis, was to replace oxygen with carbon dioxide in oxygen-argon gas mixtures to control chromium-oxidation. The study's findings influences the advancement of pyro-metallurgical modelling processes, such as stainless steel refining. Specifically, the paper described new findings of the role of thermal diffusion on mass transport under extreme temperature gradients.
COM2016 received prominent letters of recognition for contributions to the metallurgical profession from the mayor of Quebec City, the Lieutenant Governor of Quebec and Prime Minister Justin Trudeau.