Vinson Truong recognized for dedication to fellow students' experience
[sharexy]
April 17, 2015 | By Jamie Hunter & Luke Ng | Photos by Roberta Baker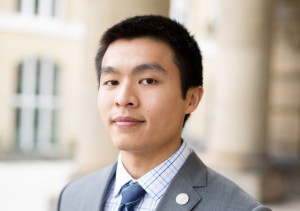 This year's graduating Materials Science & Engineering (MSE) class reached 100 per cent participation in Graditude—the U of T Engineering class giving program with proceeds that go directly back to next year's students.
This unprecedented success reflects the spirit and cohesion of the MSE 1T4+PEY and 1T5 class—an accomplishment that can be largely credited to the community building efforts of this year's MSE Club chair, Vinson Truong.
Truong and 15 other U of T Engineering students were celebrated at the 2015 Gordon Cressy Student Leadership Awards on Thursday, April 16. A ceremony to honour the recipients was held at Convocation Hall.
The prestigious award was established in 1994 and is named after Gordon Cressy, former U of T vice-president of development and university relations. It recognizes students who have made outstanding extra-curricular contributions to their college, faculty or school, or to the university as a whole.
Vinson's dedication to his fellow students' experience runs much deeper than their collective success in Graditude.
His many volunteer contributions have enhanced student experience both inside and outside the classroom. His commitment to improving student life resulted in his election as the Engineering Society (EngSoc) MSE class rep for three consecutive terms, and vice-chair (and then chair) of MSE Club in his senior years, where he led his team to receive EngSoc's Discipline Club of the Year in 2013.
In his third year, he chaired the six-student MSE Academic Task Force, aiding the Department in restructuring the curriculum to enhance student learning.
"We are tremendously proud of our Cressy Award winners for their leadership and contributions to our Engineering community," said Cristina Amon, Dean of the Faculty of Applied Science & Engineering.
"We strive for excellence in the student experience and these students help us realize that goal through their leadership in co- and extra-curricular activities. Their engagement beyond the classroom enriches experiential learning for all students. With their broad perspectives, talent and potential, they are well-positioned to be the global engineering leaders of the future."