PhD candidate Paul Wu wins first prize at the 2011 AISTech graduate student poster competition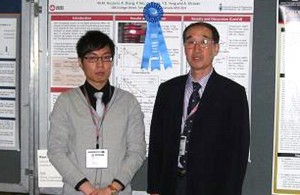 May 4, 2011
Sincerest congratulations to PhD candidate Paul Wu (MSE 0T7) for winning first prize in the graduate student poster contest at the 2011 AISTech conference, held in Indianapolis this year.
Titled "Refining of Liquid Stainless Steel with Low-Carbon Dioxide Emission," this work is performed in collaboration with Dr. Yindong Yang (Senior Research Associate), Visiting Professor Dr. Guifang Anna Zhang (Kuming University of Science & Technology, China) and supervised by Professor Emeritus Alex McLean. Wu's poster claimed the top prize over 2nd and 3rd place finalists from Carnegie Mellon University and the University of Illinois Urbana-Champaign.
Paul's research carries significant impact in the growing concern over global greenhouse effects. Carbon dioxide by-product is emitted into the atmosphere in industrial iron and steelmaking processes. The goal of Wu's research is to use the CO2 by-product to replace oxygen in the traditional oxygen-argon decarburization process with carbon dioxide-argon gas mixtures. The investigation uses an electromagnetic levitation technique, a unique and novel containerless melting approach built by Wu and Dr. Yang, which bypasses the traditional need of using ceramic crucibles, and effectively eliminates refractory contamination in the final product.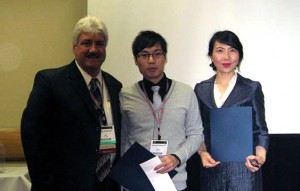 Keeping our environment clean is one benefit, but the course of this research also has major economic considerations for Canadian industry. Cost-savings to Canadian iron and steel manufacturers through the consumption of carbon dioxide by-product means less carbon tax payout. It also means manufacturers don't have to buy as much expensive oxygen gas required in steelmaking. Further to that, using carbon dioxide-argon gas mixtures to refine stainless steel helps prevent oxidation loss of chromium, a valuable alloying element, as CO2 creates less of an oxidizing atmosphere.
Dr. Yang also credits their award-winning work to two senior undergraduate students. Fourth year students Mohammad Mutahar Hussaini and Emily Zhang (both MSE 1T1s) performed thesis work that provided the ideal "spin-off benefit" for Wu's doctoral-level research.
"I'm particularly pleased that an undergraduate thesis project was an important component of this project," said Professor Jun Nogami, Chair. "Our students need to remember that in a world-class research environment, such as the one provided by Professor Emeritus McLean's Ferrous Metallurgy Research Group, they can have the opportunity to do relevant and important work in engineering, even before graduation."