April 26, 2017
Sustainable yacht design takes first place in course competition
A group of fourth year undergraduate and graduate MSE students placed 1st in a Dragons' Den-style pitch competition for the MSE 458/1058 course, 'Nanomaterials in Alternate Energy Systems'. The course is instructed by Professor Steven Thorpe and taught in the pilot Technology Enhanced Active Learning (TEAL) classroom for collaborative learning. Students taking the course focus on how nanostructures can be used to enable sustainable hydrogen technologies for power generation utilities, the automotive sector, and society at large.
"This course allows students to work in a sandbox testing environment with continuous feedback," says Yuri Savguira, who is the MSE 458/1058 teaching assistant. "Students have the opportunity to sharpen their cross-disciplinary skills — on top of the technical aspect of their design they also must consider safety and financial details, the environmental impact of their design, and any legal issues that could come up."
The award winning team, Motion+, pitched their sustainable, hydrogen-powered yacht to a judging panel that included leading experts in the aerospace, solar, pharmaceutical, and energy sectors. The students' proposed yacht incorporates carbon fibre honeycomb sandwich panels and a nanostructured metallic coating on a polyether ether ketone (PEEK) substrate to reduce the weight of the yacht hull. The amphibious yacht is designed to carry an 800kg load and cruise at a top speed of 81 km/h in water and 7 km/h on land.
"I enjoyed working closely with the professor on our design," says 4th year Motion+ member Matthew Chen. "Professor Thorpe was really engaged with each team and knew what we were working on. He tailored his advice for each stage of the project."
"The quality of projects was absolutely incredible this year," says Savguira. "Students designed iteratively and evolved their ideas to produce magnificent work."
Read more about the Technology Enhanced Active Learning (TEAL) classrooms
Students presented 4th year research in annual MSE showcase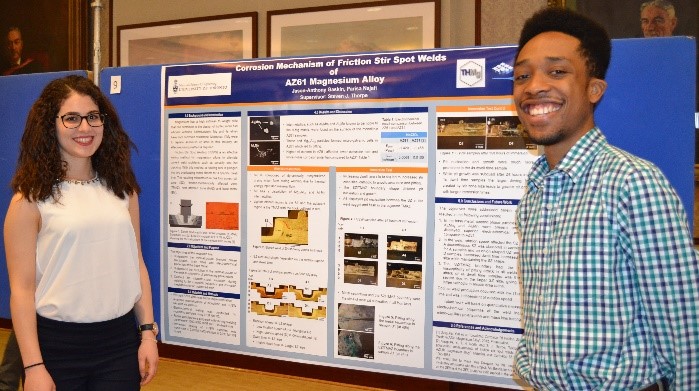 Left photo: Amy Chiu (left) and Jessica Miller (right) Present presented their undergraduate thesis 'Synthesis and Evaluation of Peroxidation-Sensitive Nanodroplets as Drug Carriers for Combined Chemotherapy and Radiotherapy'; Right photo: Parisa Najafi (left) and Jason-Anthony Gaskin (right) with their research poster, 'Corrosion Mechanism of Friction Stir Spot Welds of AZ61 Magnesium Alloy'. 
Over the academic year, 4th year MSE students tackled important research and industry challenges under the supervision of an advising faculty member. Students presented their results to the department in an annual research showcase this April.
Amy Chiu and Jessica Miller investigated perfluorooctylbromide (PFOB) nanodroplet drug carriers to evaluate their potential in targeted cancer treatment. The project, which was conducted with Professor Naomi Matsuura and the Nanotechnology, Molecular Imaging & Systems Biology research group, investigated if nanodroplets could release encapsulated drugs upon degradation of their lipid shells using x-ray radiation as the external trigger.
Chiu and Miller incorporated a fluorescent dye as the drug surrogate into the nanodroplets and triggered peroxidation of the lipid shell with copper salts and hydrogen peroxide, to model the expected interaction of the lipid shell exposed to the x-rays used during radiotherapy. If chemical degradation of the nanodroplets is successful and the dye could be released, a hydrophobic chemotherapeutic drug could be locally released during a patient's radiotherapy treatment.
Through spectrofluorimetry, the team found that the fluorescence signal nearly doubled after introducing hydrogen peroxide, indicating that dye could be released from the nanodroplets.  Chiu and Miller proposed future studies to verify their initial results and will investigate the nanodroplet degradation and dye release using x-ray radiation.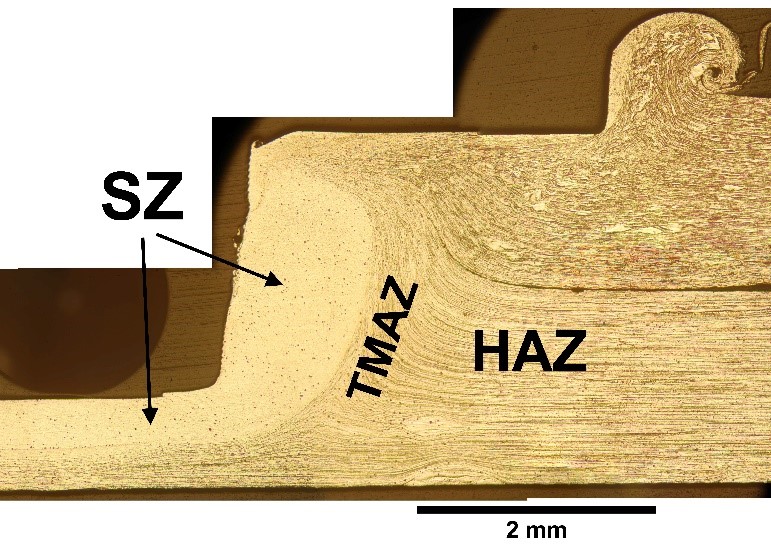 ---
Magnesium alloys have been highlighted as an attractive material for automotive components mainly due to their high stiffness to weight ratio, which can help reduce the overall weight of the vehicle and improve fuel economy. However, Mg alloys are also recognized for their poor corrosion resistance and their need of an effective joining method for the automotive industry.
Parisa Najafi and Jason-Anthony Gaskin looked into friction stir spot welding, which uses a rotating cylindrical tool to join overlapping metal sheets and is commonly used in automotive aluminum joining, as a possibility for Mg alloys.
Under the supervision of Professor Steven Thorpe, Najafi and Gaskin explored the effects of rotating tool speed and dwell time on the microstructural evolution and corrosion resistance of friction stir welded AZ61 Mg alloy. The team found that a longer dwell time produced a larger 'stir zone' (SZ), a microstructural region comprising dynamically recrystallized grains that is located in the inner most part of the joint.
The students also saw that the boundary between the stir zone and thermo-mechanically affected zone (TMAZ), a region characterized by its irregular and elongated grain structure, exhibited enhanced susceptibility to pitting corrosion in chloride containing media.  The pitting corrosion would potentially compromise the integrity of the weld and therefore affect the overall success of the friction stir spot welding method. In the future, the team will be looking into quantifying the corrosion behaviour of their results.