Dr. Michael Helander receives the 2013 Dimitri N. Chorafas Research Award
[sharexy]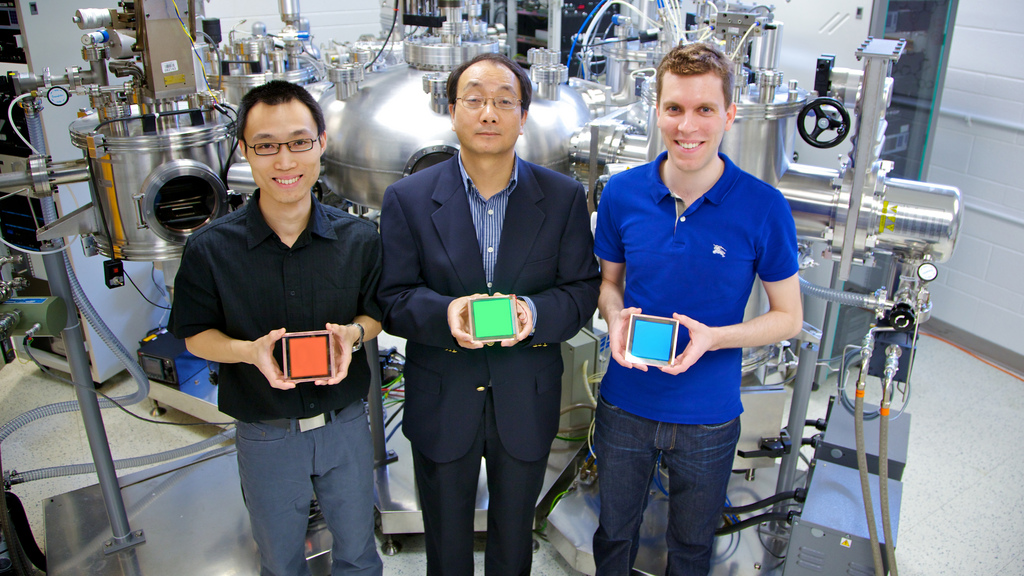 Photo: Dr. Michael Helander (right) with Professor Zheng-Hong Lu (centre) and Dr. Zhibin Wang (left) with their chlorine atom-enabled, ultra-efficient OLEDs
September 23, 2013
Alumnus Dr. Michael G. Helander (EngSci 0T7, MSE PhD 1T2) is a 2013 recipient of a Dimitri N. Chorafas Research Award. Since 1996, the Chorafas Foundation has awarded prize winners via 26 partner universities in 15 countries, recognizing extraordinary research achievements by young persons under the age of 30 around the world.
Dr. Helander received this award for his 2012 doctoral dissertation titled "Electrode / Organics Interfaces in Organic Optoelectronics," completed under the supervision of Professor Zheng-Hong Lu, who is the Canada Research Chair in Organic Optoelectronics. During this time, he and his colleagues achieved major breakthroughs in Organic Light-Emitting Diodes (OLEDs) research, including the invention of the chlorinated indium tin-oxide (Cl-ITO) material with an unprecedented high work function, and developed the world's most efficient OLED on flexible plastic in 2011.
Dr. Helander published over 70 original papers, including several in the high-impact journals Science, Nature Materials, and Nature Photonics, along with 20 peer-reviewed conference proceedings – all during his doctoral studies. He has an H-Index of 17.
Dr. Helander also received the Governor General's Gold Medal earlier this year, recognizing him as the top doctoral graduate from the University of Toronto in his year.
Today, Dr. Helander is the Chief Technology Officer of OTI Lumionics, a spin-off company he co-founded with several of his colleagues to continue their work in the commercialization of their research.
"Michael's national and international recognition is not only an indication of his own research prowess, but the promise of OLEDs becoming our energy-efficient, colour-accurate, and environmentally-friendly lighting and display technologies of tomorrow," said Professor Lu. "Congratulations again, Michael, for another outstanding recognition of your accomplishments in advancing this field."