Dr. Michael Helander receives 2013 Governor General's Gold Medal
[sharexy]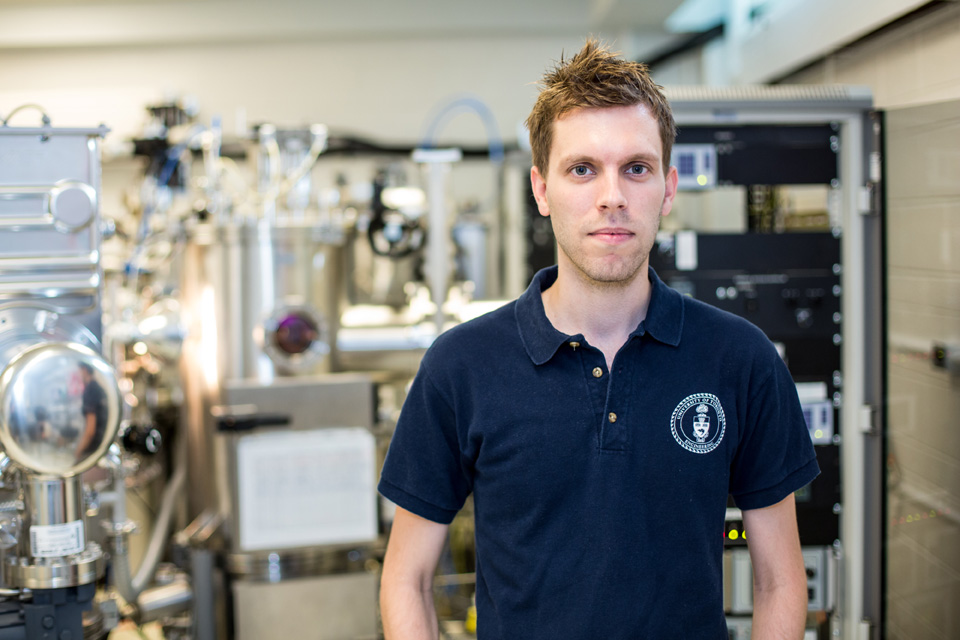 Photo: recent doctoral graduate Dr. Michael G. Helander 
May 29, 2013
Alumnus Dr. Michael G. Helander (EngSci 0T7, MSE PhD 1T2) has been named one of three Governor General's Gold Medal recipients at the University of Toronto this year. The Gold Medal is one of the most prestigious awards in Canada – it recognizes exceptional academic achievement for students completing their graduate-level degrees at a Canadian educational institution.
Dr. Helander completed his doctoral dissertation "Electrode / Organics Interfaces in Organic Optoelectronics" in August 2012 under the supervision of Professor Zheng-Hong Lu, who is the Canada Research Chair in Organic Optoelectronics. During this time, he and his colleagues achieved major breakthroughs in Organic Light-Emitting Diodes (OLEDs) research, including the invention of the chlorinated indium tin-oxide (Cl-ITO) material with an unprecedented high work function, and developed the world's most efficient OLED on flexible plastic in 2011.
Dr. Helander published over 70 original papers, including several in the high-impact journals Science, Nature Materials, and Nature Photonics, as well as 20 peer-reviewed conference proceedings – all during his doctoral studies. He has an H-Index of 17.
Today, Dr. Helander is the Chief Technology Officer of OTI Lumionics, a spin-off company he co-founded with several of his colleagues to continue their work in the commercialization of their research.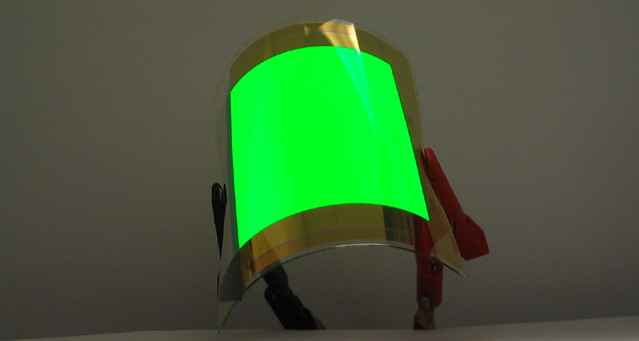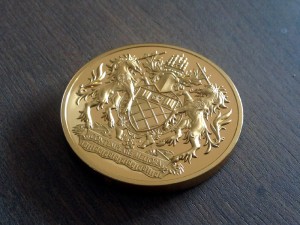 Photos: Wang, Helander, and Lu's ultra-efficient flexible OLED on plastic (left), and the 2013 Governor General's Gold Medal (right)
"OLEDs are one of the most sustainable and energy-efficient technologies on the market today. Combined with their colour-accurate properties and environmentally-friendly composition, they have a remarkable potential to re-shape the future of lighting and digital displays industries," said Professor Lu. "Michael's research breakthroughs have opened the door for major advances in this area – it is a great privilege to work with him in this field."
"Organic optoelectronics research represents yet another crucial area in which materials science and engineering can make a direct impact on energy-efficient technologies and sustainability," said Professor Jun Nogami, Chair of the Department of Materials Science & Engineering. "These major advances in OLED technologies have the potential of reducing our global energy consumption for indoor lighting. Congratulations to Michael on this achievement and his remarkable impact in this field."