Alumnus Dr. Walter Curlook (MMS 5T0, MASc 5T1, PhD 5T3) supports materials research facilities to train future engineers in addressing global resource demands
[sharexy]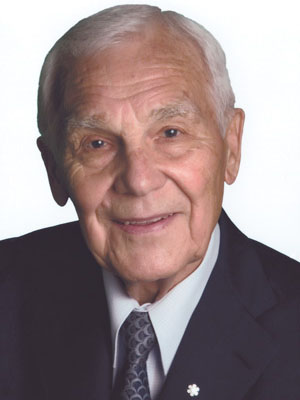 October 1, 2012
University of Toronto Materials Science & Engineering (MSE) alumnus Dr. Walter Curlook (MMS 5T0, PhD 5T3) has donated $1 million to the U of T MSE Department in support of advancing materials processing and characterization research and teaching facilities.
Announced on September 15, 2012 at the U of T Faculty of Applied Science & Engineering's "An Afternoon of Engineering Innovation" campaign launch, the former president of Inco Metals Company's gift was acknowledged by Dean Cristina Amon as part of the overall $200 million Faculty-wide goal.
One of the most pressing challenges facing today's engineers and scientists is to address the increasing demand for energy and materials while minimizing harm to our environment. Led by Associate Professor Mansoor Barati, Sustainable Materials Processing (SMP) research at the University of Toronto focuses on developing processes and products that tackle these global resource issues, such as novel recycling technologies and the production of low-cost materials for renewable energy systems. Dr. Curlook's gift will further advance this area of investigation in the Department of Materials Science & Engineering with equipment in two new facilities: the Walter Curlook Materials Processing / Materials Characterization Laboratories.
"Access to advanced processing and analytical facilities is crucial to the ongoing development of this research field," says Professor Barati. "Dr. Curlook's gift to launch these new laboratories will mark a major milestone in the evolution of materials processing research and education in the department."
"If we set our sights on being one of the top 10 research and learning departments of materials science and engineering in the world, then we must attract top-flight professors and students," says Dr. Curlook. "To do so, it is imperative that we provide them with the most advanced laboratories and equipment."
"I am incredibly grateful to Walter," says Professor Jun Nogami, Chair of the Department of Materials Science & Engineering. "We have traditionally been one of the top world-class research hubs in this field. His gift will ensure continued excellence for our key strategic priorities in extractive metallurgy and materials processing."
The two new laboratories will be constructed on the first floor and in the basement of the Wallberg Building at 184 College Street. The facilities and equipment are expected to be fully-functional and ready by the end of 2013.