Two members of Professor Emeritus Alex McLean's Ferrous Metallurgy Research Group named competition finalists at AISTech and CMSC 2015
[sharexy]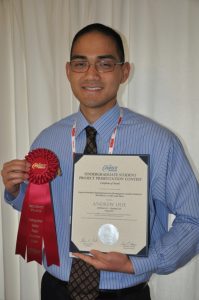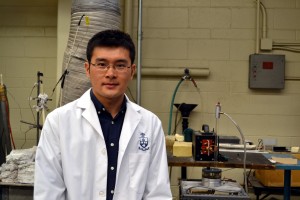 Ferrous Metallurgy Research Group members Andrew Hue (left) and Wei Yan (right)
July 2, 2015 | By Luke Ng
Two members of Professor Emeritus Alex McLean's Ferrous Metallurgy Research Group were recently recognized at two major materials science and engineering conferences in Canada and the US.
Recent graduate Andrew Hue placed second in the undergraduate student presentation competition at the 2015 Association for Iron & Steel Technology conference and exposition (AISTech), held May 4-7 in Cleveland, Ohio this year.
For his presentation, Hue discussed his project on a cost-effective method to remove phosphorus from lower-grade silicon—an essential step for increasing its purity to meet solar energy applications. Using an electromagnetic levitation technique that bypasses the conventional route of energy-intensive processing, Hue was able to reduce phosphorus impurities up to 42% by exposing his samples to a hydrogen-argon gas mixture at elevated temperatures within the levitation chamber.
"I'm extremely thankful to Dr. Yindong Yang (senior research associate) and my other colleagues in the group for their support and guidance," said Hue. "The opportunity to work on a project that can contribute to making solar energy more accessible has been a humbling experience and it makes me really proud to be a materials engineer."
"These novel calculations have a great potential to impact sustainable practices in our nickel and iron refining efforts."
Wei Yan, a visiting PhD candidate from the University of Science and Technology Beijing was recognized as a graduate student poster competition finalist at the 2015 Canadian Materials Science Conference, held June 2-5 in Halifax, Nova Scotia.
Yan's poster showcased his work on a thermodynamic model he developed to simulate the removal of phosphorus and arsenic from a nickel-based catalyst by-product used in conventional petroleum production. Only a handful of researchers in the world have made successful attempts at this method.
"These novel calculations performed by Wei have a great potential to impact sustainable practices in our nickel and iron refining efforts," said Professor McLean. "Furthermore, our ability to accurately simulate this process through computer modelling reduces the risk for harmful exposure of arsenic and phosphorus found in the petroleum by-product."
"Congratulations to Andrew and Wei for their recent success and to the group members who supported and mentored them," said Professor Jun Nogami, Chair of the Department of Materials Science & Engineering at the University of Toronto. "Your hard work and dedication are great examples of the research our university and department are renowned for."