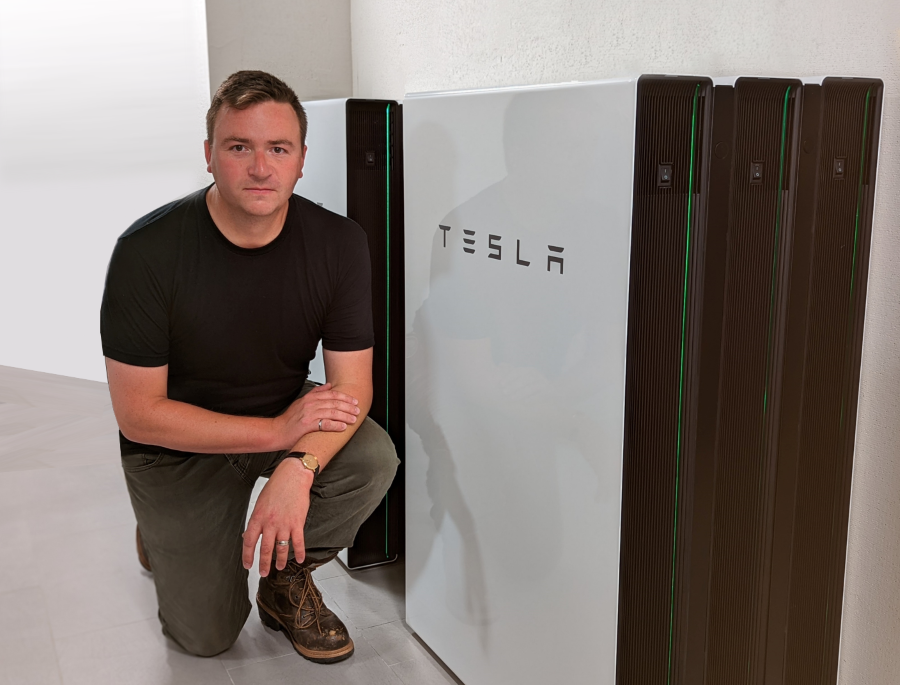 Meet Materials Science & Engineering alumnus James Sawyer, co-founder of a clean-tech company, Borealis Clean Energy. His company designs and installs the world's most advanced form of clean energy generation (solar) and storage (Tesla Powerwall) for residential homes.
MSE was James' initial exposure to clean energy generation and storage. He completed his thesis with Prof. Steve Thorpe and focused on nanomaterials and clean energy technologies in the design of a hydrogen-powered yacht.
We recently spoke to James to learn more about his extraordinary career.
What led you to study Materials Science & Engineering?
At the age of 8 I started my first venture collecting recyclable materials and cashing them in; I think I had $3000 in the bank by age 10. The business taught me about cleaning up the environment, teamwork, finance, and the value of engineered materials at a young age.
MSE had streams which kept my options open in life – biomaterials, nanomaterials, electronic materials, and metallurgy which gave me access to careers in medicine, energy, transportation, manufacturing, and mining upon graduation.
The University of Toronto was my top choice for a number of reasons and when considering my options for programs, and already interested in Materials Science & Engineering, it was hard to ignore the very generous scholarship in MSE the University of Toronto had offered me.
Tell us about your company?
There are more grid outages every year in Ontario as well as extreme weather from climate change; future disruptions are anticipated to get worse. To help address this, I partnered with an incredible team-mate, and we founded Borealis Clean Energy. We design and install clean energy systems using Tesla Powerwall (high tech batteries) and solar, so that when the grid goes down, your power stays on and when the grid is available, you are reducing your demand on it by generating your own clean electricity.
In addition to disruptive outages and bad weather, there is a war going on right now and access to energy is at stake. With the transition to electric vehicles and more work from home, access to energy is now more of a concern than ever. Our systems are a game changer for clients who want to power their home and cars with uninterrupted clean energy, be more independent, and rely less on the grid and questionable sources of fuel.
We harness the world's most advanced clean energy storage technology – Tesla Powerwall and rooftop photovoltaic to integrate a seamless, elegant design that fits the aesthetic of the home. The systems are smart too; if they sense a storm coming, they will charge themselves from the grid so they are ready for an outage.
How did your MSE degree prepare you to start a business in clean energy generation and storage?
MSE gave me theoretical foundation but the work also forced me to analyse the technology through a business lens and have commercial viability in sight. The experience gave me a leg up when I worked as a summer student on sustainable development with world experts in this field.
For a long time, I had been looking for practical applications of clean energy but anything available always seemed too clunky, archaic, or lacking a market focus. What excites me about our business is that we are not talking about the future potential of a revolutionary technology. The tech is here, now, and we are changing peoples lives by moving them to clean energy in an elegant, modern way.
A quick shout out to the whole MSE faculty for their support in my development there; a particular thanks to Prof. Steve Thorpe, Prof. Alex McLean, Prof. Uwe Erb, and Prof. Bill Vanderburg for their ongoing inspiration in engineering, science, and business.
What challenges did you face in starting a business?
Many. We still work through challenges on a daily basis. But we learn as much as possible from the experience and stay focused on clean, well-built, high-tech installations.
Some example challenges my co-founder and I have worked through include: ensuring we have strong industry partners, working with new regulatory changes in the electrical code, finding clients who walk the clean energy talk, creating realistic plans to scale massively, focusing on the venture while managing administrative tasks, overcoming stress associated with not working while we focus on our start-up, balancing innovation/advanced tech R&D with client project implementation. The list goes on…
What advice would you give to young alumni, or engineering students graduating next month, who aspire to start a new company?
Keep your options open by developing solid skills which can be documented and transferred to other sectors; we have seen many sectors disrupted in the last 20 years, this will continue. Don't be afraid to go back to school and upskill if needed. Save your money – he or she who has the gold makes the rules; if you are fundraising in early days you are not focused on tech or venture development. Figure out how to have income or a reserve to get through the early days.
Networking to get feedback helped me a lot to bring clarity to career options I was considering. It was part of my inspiration to pursue the Rotman MBA and to pivot in my career and switch sectors. Getting diverse perspectives helped to keep me open-minded and exposed to other sectors and progressive tech.
Finally, don't stop believing. In MSE I wanted to work in clean energy but didn't see a clear path to make it happen. Clean energy was always on my radar and when the timing was right and I saw an opportunity, I jumped on it.