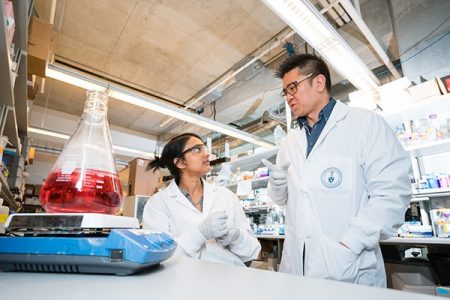 Two U of T Engineering researchers have been awarded new Canada Research Chairs by the federal government this spring.
Professor Warren Chan (IBBME) has been named a Tier 1 Canada Research Chair in Nanobioengineering. He is currently the U of T Distinguished Professor of Nanobioengineering.
Chan develops nanotechnology for the diagnosis and treatment of cancer and infectious diseases. He has published more than 90 peer-reviewed research articles, seven book chapters and a book. He has been cited over 39,000 times, given more than 150 invited presentations, and holds 15 patents/provisional patents.
Chan is also the director of the U of T Institute of Biomaterials & Biomedical Engineering (IBBME) and a principal investigator in the Donnelly Centre.
Professor Olivier Trescases (ECE) has been named a Tier 2 Canada Research Chair in Power Electronic Converters. He conducts research on power electronics for automotive, industrial, aerospace and renewable energy applications. He is the director of the University of Toronto Electric Vehicle Research Centre and the Chair of the IEEE Toronto Section. He is the co-inventor for 12 patents and has published over 85 papers in IEEE conferences and journals.
An additional four faculty members had their chairs renewed or advanced, including:
Ashish Khisti (ECE) – Tier 2 Canada Research Chair in Information Processing
Glenn Hibbard (MSE) – Tier 2 Canada Research Chair in Multi-Scale Materials Dynamics
Zheng-Hong Lu (MSE) – Tier 1 Canada Research Chair in Organic Optoelectronics
Ted Sargent (ECE) – Tier 1 Canada Research Chair in Nanotechnology
Yu Sun (MIE) – Tier 1 Canada Research Chair in Micro and Nano Engineering Systems
The Canada Research Chairs program enables U of T to attract and retain the best and most promising researchers from around the world. In addition to conducting research that improves our depth of knowledge and quality of life, the university's allocation of 275 Canada Research Chairs significantly enhances its capacity to train the next generation of leaders in their fields through student supervision and teaching.
"I want to congratulate all of the new and renewed Canada Research Chairs at the University of Toronto and thank the government for supporting their important work," says Vivek Goel, U of T's vice-president of research and innovation.
"We are grateful to the Government of Canada for its ongoing investments in the Canada Research Chairs program and for the additional funding for this program announced in Budget 2018. Such investments not only yield new knowledge, but set the stage for important innovations ranging from new cancer therapies to sustainable transportation technologies that will improve lives in Canada and around the world."
By Engineering Strategic Communications and Chris Sorenson for U of T Engineering News