The Walter Curlook Materials Characterization & Processing Laboratory officially opens in the U of T Department of Materials Science & Engineering
[sharexy]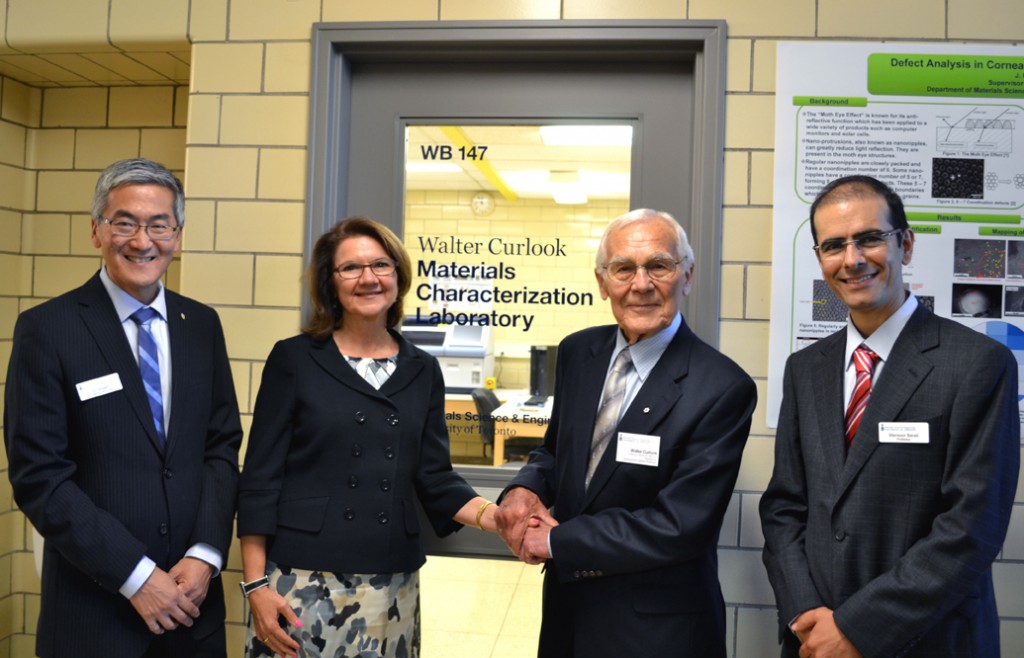 Photo L to R: Professor Jun Nogami (Chair), Dean Cristina Amon, Dr. Walter Curlook, and Associate Professor Mansoor Barati
September 9, 2013
On September 5, the Walter Curlook Materials Characterization & Processing Laboratory was opened and unveiled to members of the Curlook family and the U of T Department of Materials Science & Engineering (MSE) community.
Hosted by master of ceremonies – Professor Uwe Erb – invited guests and MSE community members had the opportunity to learn about the deep history and ongoing relationship between alumnus and Distinguished Adjunct Professor, Dr. Walter Curlook (MMS 5T0, MASc 5T1, PhD 5T3), and the MSE Department.
"Walter has a real talent to show students how to connect basic research, engineering design, and human aspects of engineering, together with environmental considerations and implementation economics of complex industrial operations on a global scale," said Professor Erb in his introduction of Dr. Curlook. "Walter is a very kind person who wants to bring out the best in people he meets on this professional journey."
Guests had an opportunity to experience equipment demonstrations by graduate students, followed by a ribbon cutting ceremony with Dean Cristina Amon, and an intimate department lunch that also took place as part of the opening event.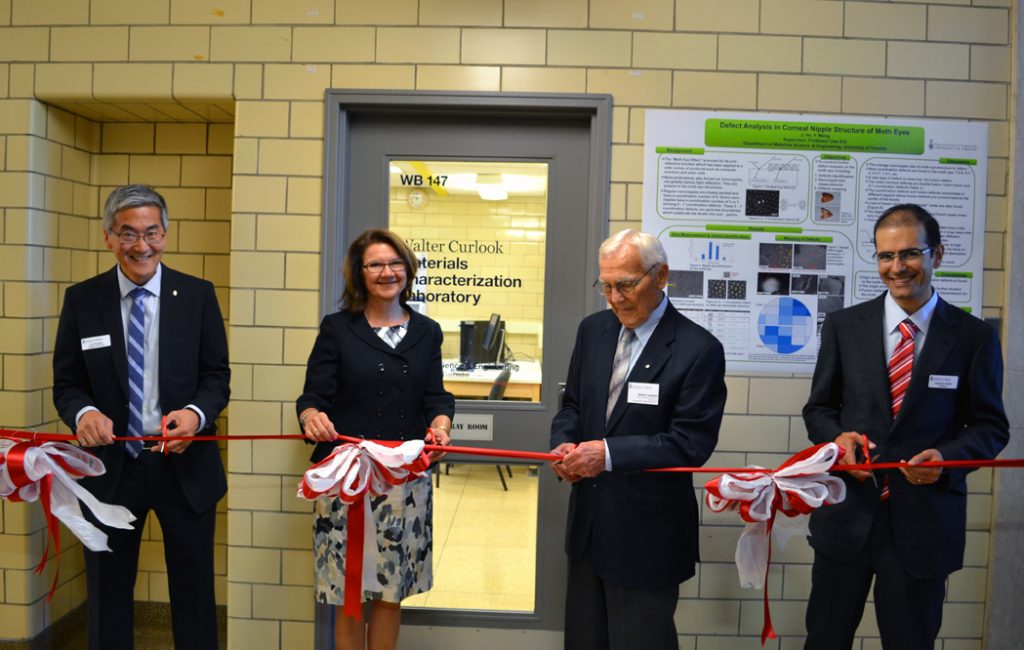 Photo: Ribbon-cutting ceremony with Professor Jun Nogami (Chair), Dean Cristina Amon, Dr. Walter Curlook, and Associate Professor Mansoor Barati
The labs, established with the support of alumnus Dr. Walter Curlook, houses the latest in research equipment for the investigation of the properties and behaviour of engineering materials – all the way down to their atomic structure and chemical composition. This type of analysis, known as characterization, allows for materials engineers to gather critical information to develop new materials processing technologies, design advanced materials, and determine end-of-life options such as recycling, reuse, or environmentally safe disposal.
The facilities will benefit collaborative research and teaching innovation across the entire Department.
"This department, my Alma Mater, was the top institution for metallurgical engineering research and teaching in the world under the leadership of then Chair, Professor Lloyd Pidgeon," said Dr. Curlook. "It is with hopes that this gift will give us a boost to meet modern challenges and continue to keep our whole department on par with the rest of the best."
"The establishment of the Walter Curlook Materials Characterization & Processing Laboratory gives our department a major boost in solidifying our strengths in process and extractive metallurgy, which are critical areas in the continuing development of Canada's natural resources economy," said Professor Jun Nogami, Chair of the Department of Materials Science & Engineering. "Thank you, Walter, for helping us take a big step toward the next 100 years of materials innovation."
---
Full text — Dr. Walter Curlook's opening address
---
Here are select photos from the September 5, 2013 opening event:
Associate Professor Mansoor Barati's Sustainable Materials Processing Research Group with Dr. Walter Curlook and Dean Cristina Amon
Dr. Walter Curlook and University Professor Emerita Ursula M. Franklin at the opening event department luncheon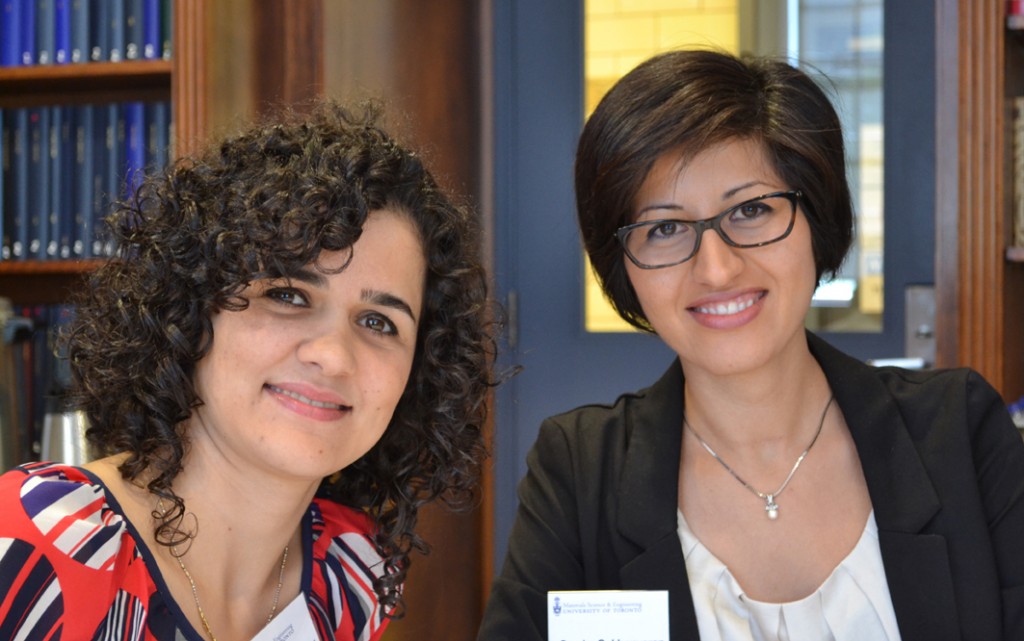 MSE graduate students at the opening event department luncheon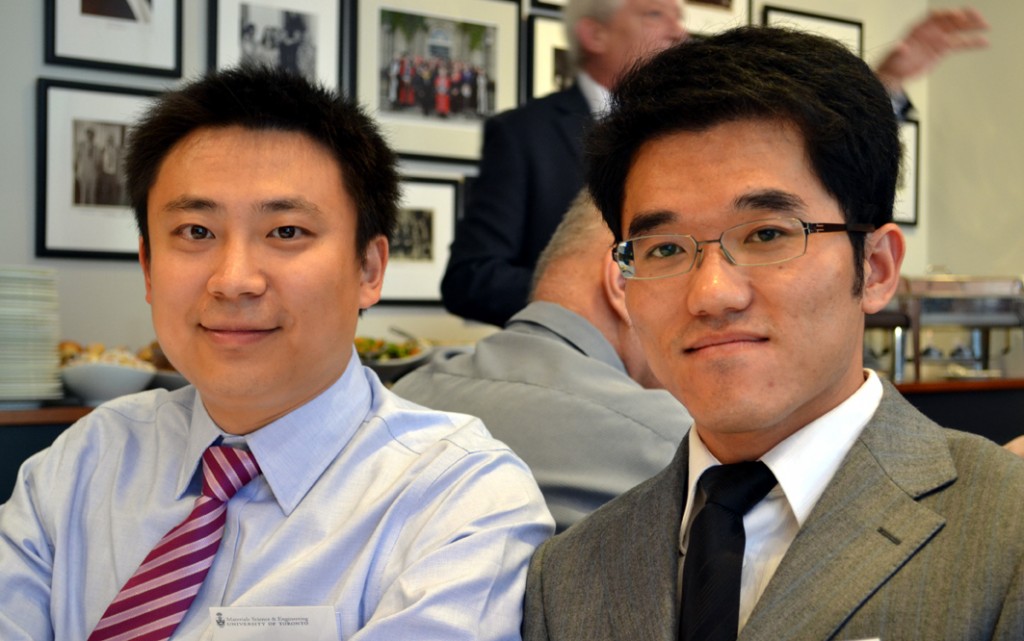 MSE graduate students at the opening event department luncheon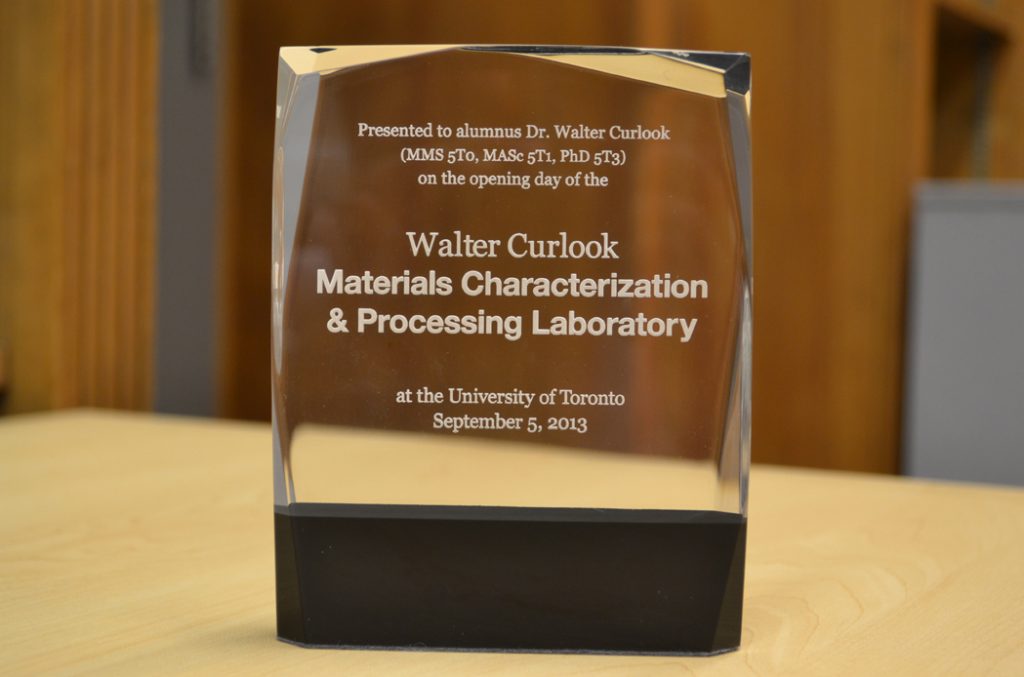 A token of appreciation presented to Dr. Walter Curlook at the opening event on September 5, 2013