Adjunct Professor Scott Ramsay and PhD candidates Matthew Daly and Paul Wu voted 2013 MSE Impact Student Choice Awards: Instructor & Teaching Assistants of the Year
[sharexy]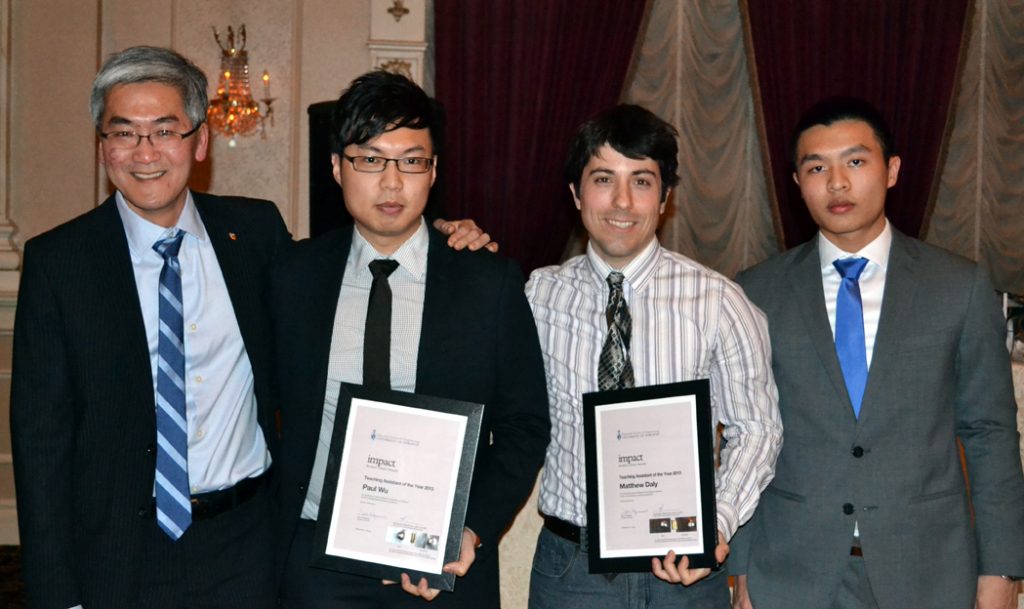 Photo: Jun Nogami, Professor & Chair (left) and MSE Club Vice-Chair, Vinson T. (right) with MSE Impact Student Choice, TAs of the Year 2013: Paul Wu (middle, left) and Matthew Daly (middle, right)
February 4, 2013
Congratulations to Adjunct Professor Scott D. Ramsay (MSE MASc 0T4, PhD 0T7), along with PhD candidates Matthew Daly and Paul Wu (MSE 0T7, MASc 0T9) for winning 2013 Materials Science & Engineering (MSE) Impact Student Choice Awards in the Instructor and Teaching Assistants of the Year categories.
Presented at the annual MSE Dinner Dance, the Impact Student Choice Awards recognizes an MSE course instructor and teaching assistant as voted by the undergraduate student body. All teaching staff and graduate students who have taught a MSE course for MSE undergraduate students in the previous calendar year are eligible candidates.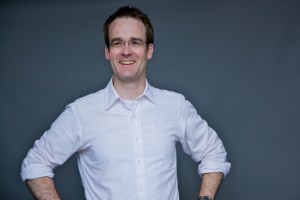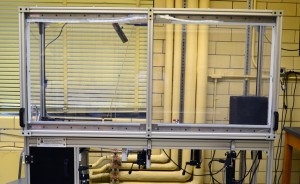 Photos: Adjunct Professor Scott Ramsay (left) and one of his innovative learning designs – the MSE 101 Ballistic Pendulum Lab that illustrates high-strain rate impact testing (right)
Dr. Ramsay is the course instructor for MSE 101 – Introduction to Materials Science, a course he has taught since 2004. This is his second consecutive year as winner of this award category. Earlier in 2012, he was awarded the Wighton Fellowship, a national award issued by the Canadian Sandford Fleming Foundation for excellence in the development and teaching of laboratory-based courses in Canadian undergraduate engineering programs. Dr. Ramsay also taught MSE 354 – Materials in Manufacturing, MSE 440 – Biomaterials Processing & Properties, and MSE 442 – Surgical & Dental Implant Design in 2012. Runners-up in this category included Adjunct Professor Mohammad Baghbanan for MSE 217 – Diffusion & Kinetics / MSE 490 – Ethics, and Associate Professor Keryn Lian for MSE 244 / 245 – Inorganic / Organic Materials Chemistry.
Daly, TA for MSE 419 – Fracture & Failure Analysis, and Wu, TA for MSE 101 – Introduction to Materials Science, both tied for highest number of votes this year, yielding co-winners in the teaching assistant category for the first time. The runner-up for this category was MASc candidate Robin White, TA for MSE 219 – Structure & Characterization of Materials.
"My sincerest congratulations to all the winners and runners-up in both categories," said Professor Jun Nogami, Chair. "Teaching excellence is a vital part of the overall learning experience for students. I commend everyone's dedication to the education of our future materials engineers."
---
Past recipients: MSE Impact Student Choice Awards
Instructor of the Year
Teaching Assistant of the Year
2013
Scott D. Ramsay, Adjunct Professor
Matthew Daly, PhD Candidate
Paul Wu, PhD Candidate
2012
Scott D. Ramsay, Adjunct Professor
Leo Monaco, PhD Candidate
2011
Zhirui Wang, Professor
Leo Monaco, MASc Candidate