Adjunct Professor Scott D. Ramsay awarded the 2012 Wighton Fellowship from the Sandford Fleming Foundation
[sharexy]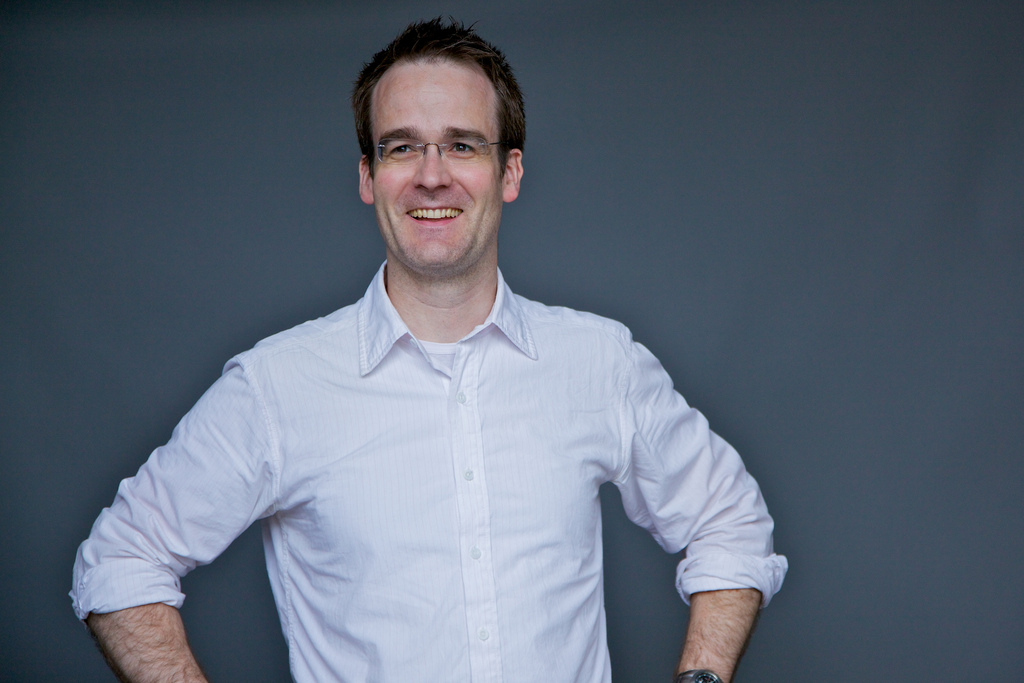 Adjunct Professor Scott D. Ramsay
June 28, 2012
Congratulations to Adjunct Professor Scott D. Ramsay (MSE MASc 0T4, PhD 0T7) of the Department of Materials Science & Engineering (MSE), this year's recipient of the Wighton Fellowship from the Sandford Fleming Foundation at the University of Waterloo. The Fellowship is a national award that recognizes excellence in the development and teaching of laboratory-based courses in Canadian undergraduate engineering programs.
Dr. Ramsay has taught MSE 101: Introduction to Materials Science & Engineering, since 2004, a core course in the first-year curriculum across multiple programs in the Faculty of Applied Science & Engineering. He has developed a range of creative in-lecture demonstrations, filmed videos and delivered these supplementary course materials via social media channels. Additionally, Dr. Ramsay introduced six (6) brand new laboratory activities, and made substantial improvements to two (2) existing learning exercises. In the last year, Dr. Ramsay contributed to a successful proposal to bring in $160,000 of funding to purchase portable tabletop lab equipment that can be used in tutorial rooms, reducing the demand on extremely limited designated laboratory space in the Faculty.
A notable example of Dr. Ramsay's dedication to MSE 101 lab improvements was the design of a ballistic pendulum experiment. In this exercise, a 0.22 calibre rifle encased behind a securely sealed demonstration chamber is fired through different metal samples as a vivid demonstration of the traditional materials engineering high strain-rate failure (a.k.a. impact) test. Launching this one lab involved above-and-beyond efforts in the construction of multi-tier safety infrastructure along with obtaining the required approvals from the Toronto Police, the Chief Firearms Officer of the Ontario Provincial Police (OPP) and the Royal Canadian Mounted Police (RCMP) as well as numerous levels of University administration.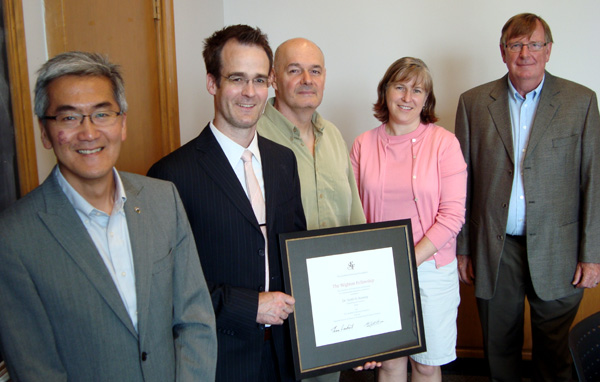 L to R: Professor Jun Nogami (Chair, MSE), Adjunct Professor Scott D. Ramsay (MSE), Dr. Dan Grozea (Teaching Laboratory Technologist, MSE), Professor Susan McCahan (Vice-Dean, Undergraduate), and Professor Emeritus William J. Wilson (Sandford Fleming Foundation)
"I am extremely gratified that Dr. Ramsay has been recognized for his work to make comprehensive improvements to laboratory teaching in both APS 104 and MSE 101," says Professor Jun Nogami, Chair of the Department of Materials Science & Engineering. "As a Department, we feel that it is vitally important to provide hands-on experiences for first-year students across the Faculty. Scott's work has greatly improved student engagement in our labs, and feedback indicates that students' understanding of materials engineering concepts has also been enhanced."
This is the second time that U of T Engineering has received the Wighton Fellowship. Mr. Paul Jowlabar, Senior Lecturer in the Department of Chemical Engineering & Applied Chemistry received this award in 2008 for teaching excellence in the Unit Operations laboratory.