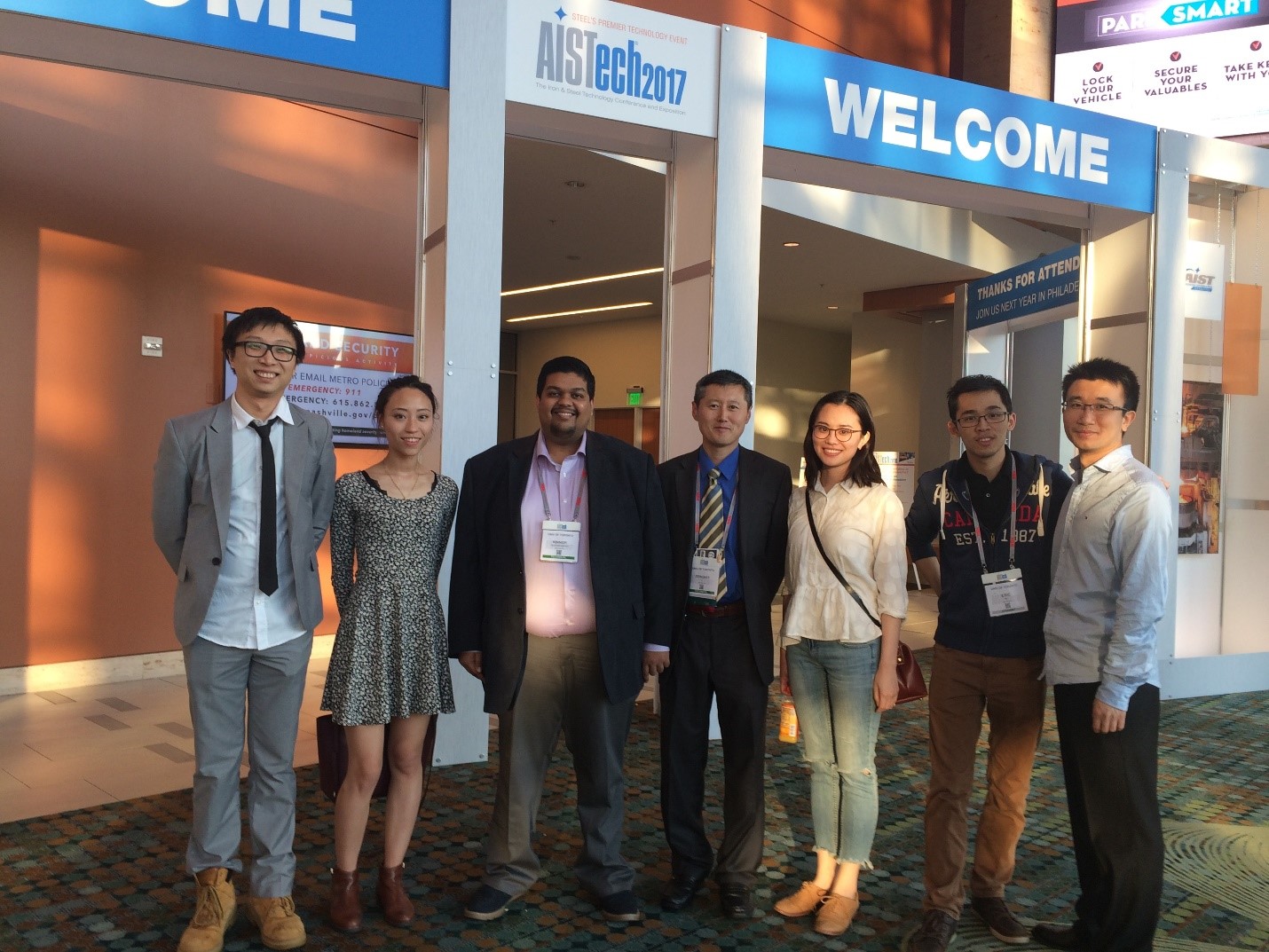 June 27, 2017
MSE students earned third place at the Undergraduate Student Project Presentation Contest held this May as part of the AISTech2017 Iron and Steel Technology Conference in Nashville, Tennessee.
Fourth-year students James Li, Anqi Xie, and Judy Yu presented a steel plant design brief to industry and Association for Iron & Steel Technology (AIST) professionals that they had developed for the course MSE 450: Plant Design for Materials Process Industries.
"Throughout the term, students are tasked to develop a steel plant under a set of design and product constraints," says adjunct lecturer, Frank Wheeler. "Teams must consider all manufacturing components involved in a steelmaking plant, including the plant layout and even the economic analysis of the project. As the course progresses, they present each component of their design as interim assignments to the class and to industry representatives. Then at the end of the course, they consolidate their work to create a business assessment of their project."
Industry experts Frank Wheeler and Jack Young have developed the course since its launch ten years ago. "Presenting each stage of the design is intended to approximate what you do in a real world engineering environment," explains Young. "Students take advantage of the regular feedback from their classmates, teaching assistants, course instructors, and industry. While electric steelmaking serves as the basis for the case studies in the course, the underlying principles are applicable to process plant design in general."
"We started the semester with limited knowledge of how to actually design a steel plant," says Li. "We were able to communicate to the judges the scope of work we did throughout the 13-week course."
For their presentation in Nashville, the team had to convey not only the in-depth work in their design brief for their conceptual steel plant, named by the group 'Mammoth Steels Inc.',  but also describe the MSE 450 course, the project concept, and each stage of the design. "We presented a very detailed view of our design," explains Xie. "I think this is what impressed the judges the most."
The undergraduate students were joined at AISTech 2017 by MSE graduate students and Professor Kinnor Chattopadhyay from the Process Metallurgy Research Lab. MEng students Cheng Wu Tse and Zhonghui Jiao, and PhD candidate Xiangzhou Gao presented their graduate research and Prof. Chattopadhyay gave lectures on manganese and lead emissions from electric arc furnaces and fluid flows in continuous casting.
The AISTech conference came shortly after the MSE Department held its first Iron & Steel Day this past March. Hosted by Prof. Chattopadhyay, MSE students had the opportunity to hear from industry experts from Hatch, ArcelorMittal Dofasco, and McMaster University faculty members.
"The process metallurgy and modelling group performs cutting edge research in iron and steelmaking with specific emphasis on physical and mathematical modelling of ferrous processes to understand and improve these processes so that steel could be made cleaner, and greener," says Prof. Chattopadhyay, who was awarded the Kent D Peaslee Junior Faculty Award in 2016.
Members of Prof. Chattopadhyay's research group have also been awarded numerous AIST scholarships and awards in recent years. As of 2015 Lei Gao, Cheng Wu Tse, Zhonghui Jiao and Saikat Chatterjee have all participated in the Steel to Students Training Program. Chatterjee also won the AIST Smith Graduate Scholarship for the third consecutive year in 2017.
"Congratulations to our students for their success at the AIST meeting," says Jun Nogami, Professor and Chair. "It is very valuable for our students to be engaged with industry, whether through professional societies and meetings, or by hearing outside speakers as part of a course like MSE450."