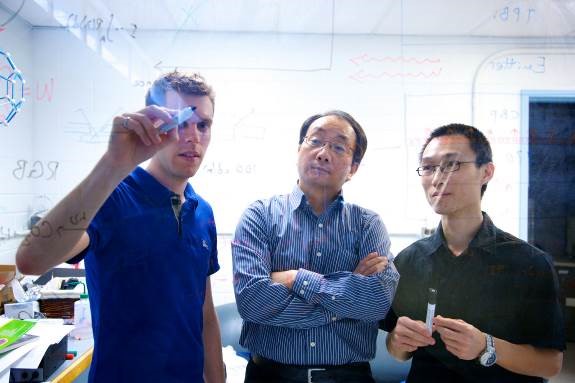 From left: Dr. Michael Helander, Professor Zheng-Hong Lu, and Dr. Zhibin Wang (Photo: Mark Balson)
November 21, 2016 | By: Carolyn Farrell
Professor Zheng-Hong Lu has been elected fellow of the American Association for the Advancement of Science (AAAS), the largest international organization dedicated to advancing science or its applications on a global basis. Prof. Lu is one of four U of T Engineering professors recognized: Profs. Kamran Behdinan (MIE), Jeffrey Packer (CivE) and Yu Sun (MIE) have also been elected AAAS fellows.
Fellows are recognized for meritorious efforts to advance science or its applications. The new fellows will be announced in the November 25 issue of Science and honoured at the AAAS Fellows Forum in Boston on February 18, 2017.
Zheng-Hong Lu has conducted seminal research on Organic Light-Emitting Diodes (OLEDs). OLEDs are the greenest possible lighting technology but are complicated, and therefore expensive, to manufacture. Lu has been pursuing innovative ways of reducing the complexity of OLEDs while at the same time pushing the efficiency limits of the technology. His work has achieved not only the most efficient OLED devices to date, but also the simplest devices, which opens the door to dramatically reducing manufacturing cost.
This research has been commercialized through the spin-off company OTI Lumionics Inc, co-founded by MSE alumni Michael Helander and Zhibin Wang. Lu's election is based on his "distinguished contributions to the development of next-generation OLEDs, which are far more energy-efficient and cost-effective to manufacture than their predecessors."
"The recognition of four Engineering professors by this prestigious international organization is a testament to our global reputation as leaders in both research and education," said Dean Cristina Amon. "On behalf of the Faculty, I congratulate our new AAAS fellows on this richly deserved honour."