Alumni and industry gather to share professional insights with current students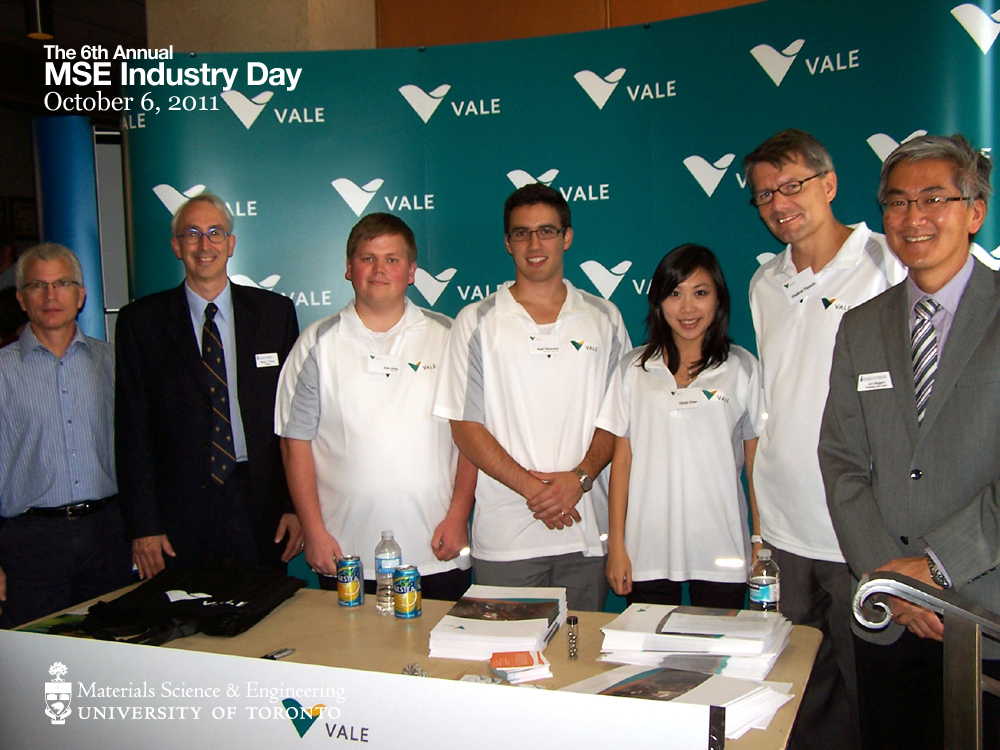 Photo: alumni and industry representatives from Vale with MSE executive team
October 13, 2011
For the last 6 years, Materials Science & Engineering (MSE) alumni have returned to their Alma Mater for the annual MSE Industry Day to share their professional experiences with current MSE undergraduate and graduate students, and to continue to foster collaboration opportunities with the Department to further enhance academic experiences.
This year's event, held on October 6, 2011, brought alumni back from as far as St. John's, Newfoundland. Kirk Holz (MSE 0T6), represented Vale from the east coast along with several other colleagues, who were also alumni, from the firm's local offices. Other represented companies included HATCH, AMEC Nuclear Safety Solutions, TECK, Xstrata, Ontario Power Generation (OPG), and more. The fair filled the entire MSE main foyer in the Wallberg Building throughout its two-hour span, with students lined-up to speak with representatives the entire time.
"I was very pleased with the level of engagement and interest, both from our alumni and industry representatives, as well as our students," says Professor Jun Nogami, Chair. "This event is so successful that we will probably have to take over additional real estate next year."
All MSE classes are shortened and/or cancelled during the fair's two-hour duration to allow for students to maximize their networking opportunities at the event.