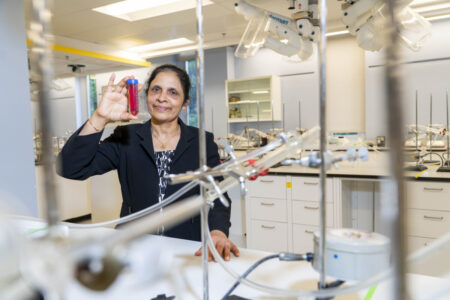 MSE alumna, Dr. Devika Chithrani, was recently featured on Times Colonist for her research on using gold nanoparticles as a radiation sensitizing agent to optimize current radiotherapy.
Dr. Chithrani is currently an Associate Professor at the University of Victoria (Canada). Dr. Chithrani's research work is focused on leveraging nanotechnology to create innovations that advance the care of cancer patients and improve the outcomes and quality of their life. Her work is featured on the cover of journals and her publications in reputed journals.  In 2023, she reached the milestone of 11,658 citations according to Google Scholar and was included on the Stanford-Elsevier BV list of the top two per cent of researchers.
Dr. Devika Chithrani was born and raised in Sri Lanka and received her undergraduate honours degree in Physics from the University of Colombo, Sri Lanka. She received the gold medal for Physics and the faculty gold medal for her accomplishments during her undergraduate career. After completing her undergraduate degree, she then moved to Canada to continue her post-graduate studies and obtained her MASc (1998) and PhD (2004) from the University of Toronto from the Department of Materials Science and Engineering. Her PhD thesis was under the supervision of Prof. Perovic and Prof. R.L Williams and was focused on quantum physics. During her graduate and post-graduate studies, she was awarded many scholarships that recognized her extraordinary scientific talents, hard work and insights.