Highly-efficient white organic light-emitting diode (W-OLED) lights up the cover of Advanced Functional Materials
[sharexy]
February 19, 2013
An image of a University of Toronto developed record-performing white organic light-emitting diode (W-OLED) has been published as the cover photo of Advanced Functional Materials.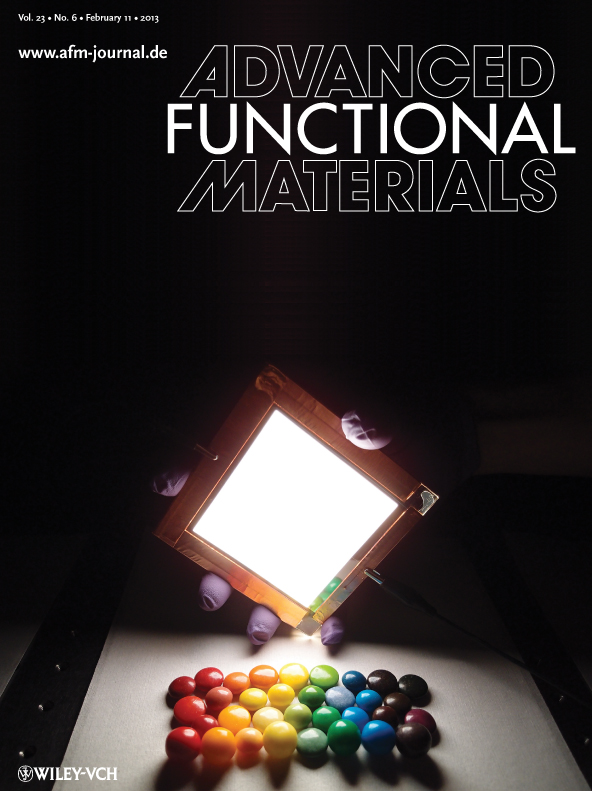 Volume 23, Issue 6, published on February 11, 2013 contains the paper titled "Highly Efficient Warm White Organic Light-Emitting Diodes by Triplet Exciton Conversion."
Authored by Materials Science & Engineering (MSE) PhD candidate Yi-Lu Chang, Professor Gregory D. Scholes (Chemistry), Professor Zheng-Hong Lu (MSE), and colleagues, the paper illustrates their development of a warm-white OLED with one of the highest device efficiencies balanced with colour quality reported to date in open literature.
The term "warm-white" refers to the generally preferred colour spectrum in lighting sources. For example, the conventional Edison light bulb emits light in the warm-white spectrum.
To achieve this colour quality and accuracy, the interdisciplinary team designed and employed a method dubbed "cascading energy transfer" – a technique that follows the laws of thermodynamics to manipulate energy transfer from the higher energy state colour of green to enhance the lower energy state colour of red, making red emit stronger – a critical step required to enable the efficient and colour-accurate warm-white spectrum.
"The ability to accurately produce warm-white OLEDs brings this technology another step closer to mainstream solid-state lighting applications," says Lu, who is also the Canada Research Chair in Organic Optoelectronics, Tier I. "OLED technologies' overall energy-efficient and colour-accurate properties leveraged with their environmentally-friendly composition have a clear potential to re-shape the future of lighting and digital displays industries."
Earlier in January 2013, Professor Lu received the prestigious internal U of T Connaught Innovation Award in support of commercializing this exact patent-pending technology for lighting applications with spin-off company, OTI Lumionics. Lu was one of eight researchers in the Faculty of Applied Science & Engineering to receive this award in 2013.
Lu's Organic Optoelectronics Research Group in the Department of Materials Science & Engineering at the University of Toronto is one of the world's top-flight academic research units in the field of OLED technologies. In the past two years, this research team has made several significant advances that have the potential to re-shape the landscape of organic optoelectronics design and manufacturing. A single atomic layer of chlorine that has enabled record-high organic light-emitting diode (OLED) brightness at high efficiency, the world's most efficient flexible OLED ever built on plastic to date, and a universal blueprint for energy-level alignment in organic-based technologies were published in the high impact factor journals Science, Nature Photonics, and Nature Materials, respectively.