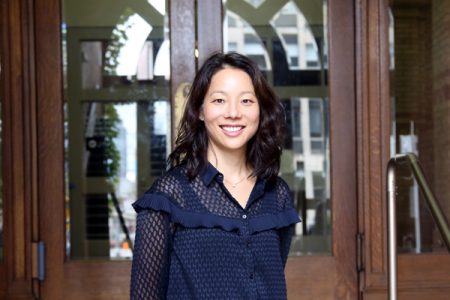 New MSE faculty member Naomi Matsuura (Photo: Kevin Soobrian / University of Toronto)
October 5, 2016
MSE welcomes our newest faculty member, Naomi Matsuura. This growth in expertise continues to compliment the Department's commitment to advanced research that tackles pressing cross-disciplinary challenges.
Professor Naomi Matsuura, an expert in novel materials for improved medical imaging and treatments, joined MSE in July. Her highly collaborative research bridges both engineering and medicine, and she is joint-appointed between the Department of Materials Science & Engineering, the Institute of Biomaterials & Biomedical Engineering, and cross-appointed with the Department of Medical Imaging in the Faculty of Medicine.
Matsuura's research focuses on the development of materials that can aid in both the imaging and treatment of cancers. These engineered materials can be injected into the body and remotely tracked by medical imaging technologies, such as ultrasound imaging, computer tomography and positron emission tomography (PET) scans, so as to illuminate cancerous tissues. In addition to making it easier to characterize tumours in medical scans, these materials can also be used to deliver therapies to targeted sites within the body, including to tumors in organs that are difficult to access, such as the brain.
She was recognized for her leading nanotechnology work in 2007, when she was awarded the prestigious John Charles Polanyi Prize, funded by the Ontario government and administered by the Council of Ontario Universities.
Why did you choose U of T?
NM: U of T is a top university with incredible facilities and resources. My research area is highly interdisciplinary, so being in physical proximity to so many collaborators from other departments, faculties and hospitals is a bonus. Toronto attracts extraordinarily diverse and talented students, which I believe challenges us all to become more innovative and accomplished researchers.
What do you hope to accomplish in your new role?
NM: Through the design of novel agents, my research spans state-of-the-art materials engineering and medical science. Our goal is to use the new, targeted imaging and therapeutic compounds we develop in the lab to enable more precise diagnosis and improved local treatment of diseases.
What are you most excited about?
NM: I am thrilled to join to U of T and I hope to help energize and inspire those around me. It is truly an honour to collaborate with such accomplished faculty members and to mentor such wonderful students. I am sure that together we can come up with some wild and amazing ideas to better treat cancers and improve prognoses and outcomes for patients.
 Interview has been condensed and edited.
—With files from Tyler Irving, Luke Ng and Kevin Soobrian and re-purposed with permission