U of T MSE celebrates the life of a distinguished alumnus and industry leader
Dr. Walter Curlook (1929-2014), CM, MMS 5T0, MASc 5T1, PhD 5T3, DEng, DSc, FCAE, PEng
October 6, 2014
Alumnus and Distinguished Adjunct Professor Walter Curlook passed away peacefully surrounded by his loving family on October 3, 2014.
Born in 1929 in Coniston, Ontario, Curlook, at age 15, began part time work at Inco's metallurgical plants in Sudbury to help support his family. After graduating from Sudbury High School, he enrolled at the University of Toronto where he earned his undergraduate and graduate degrees in metallurgical engineering (now Materials Science & Engineering).
Armed with a PhD in 1953 at a young age of 25, Dr. Curlook joined Inco as a research metallurgist in Copper Cliff, Ontario. With a keen understanding of, and devotion to innovation, he earned rapid advancement and was elected director of Inco by 1989 and in 1990, became President Commissioner of PT International Nickel Indonesia.
As a research and development pioneer, one of Dr. Curlook's major contributions to metallurgical engineering in Canada involved significant improvements to the carbonyl process. His refinements enhanced a low-energy consuming nickel process which turns out no polluting waste, defining a key example of 20th century environmental sustainability practice in metals production.
In 1993, Dr. Curlook completed his most notable achievement in industry as President of Inco Metals Company – a $600­ million sulphur dioxide abatement program in Sudbury that was described as one of the largest environmental projects ever completed by the mining industry.
Among his many honours and awards, Dr. Curlook was inducted into the Order of Canada in 1996 and then into the Canadian Mining Hall of Fame in 1997 for his far-reaching contributions to the mining industry and economy.
Upon his retirement from industry in 1997, Dr. Curlook returned to his primary love for teaching and learning and was appointed Distinguished Adjunct Professor in the Department of Materials Science & Engineering at the University of Toronto. At U of T, Dr. Curlook dedicated his energy and efforts to training future generations of materials engineers and at many points in time, contributed to the strategic advancement of the Department. He served on the Departmental Advisory Board during Professor Doug Perovic's term as Chair and has also advised the Dean on important educational initiatives on many occasions.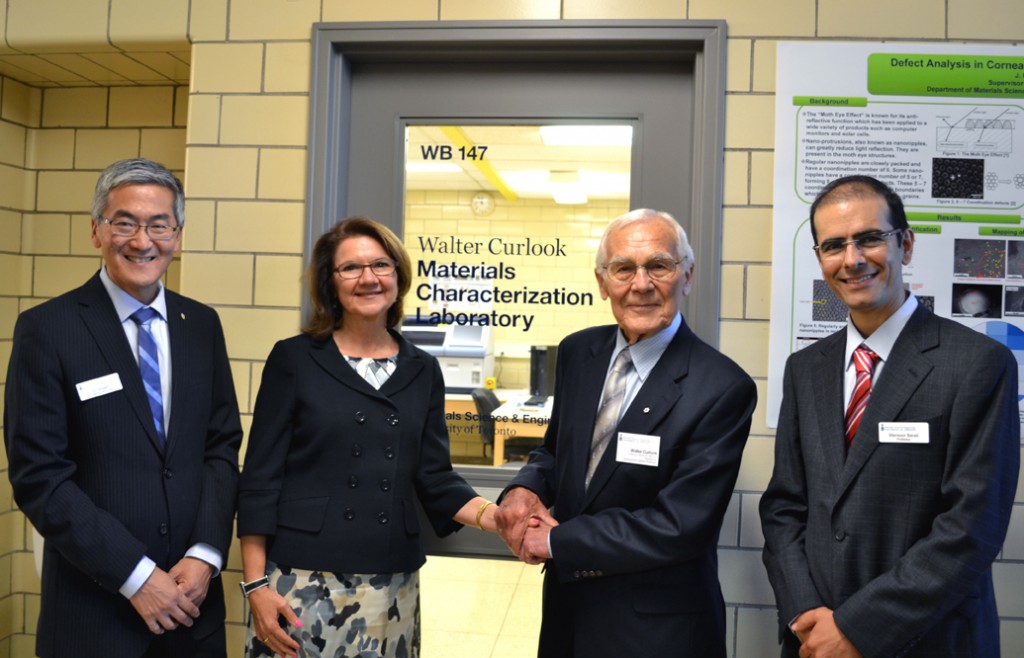 In 2013, Dr. Curlook left a lasting legacy for the Department through a gift that established the Walter Curlook Materials Characterization & Processing Laboratory. "It is with hopes that this gift will give us a boost to meet modern challenges and continue to keep our whole department on par with the rest of the best," said Dr. Curlook at the September 5 opening event.
"Walter was a true visionary, leader, and most importantly – a friend of the Department," said Professor Jun Nogami, Chair of the Department of Materials Science & Engineering at the University of Toronto. "I am so very grateful to have known him and benefited from his advice and guidance, and I am deeply thankful for his dedication and support for the success of future generations of students and researchers alike."
---
Media links