PhD candidate Michael Helander blogs with the Ontario Ministry of Economic Development & Innovation about next-generation OLEDs and their potential impact on green energy and the environment
December 16, 2011
In a recent guest blog entry for the Ontario Ministry of Economic Development & Innovation, MSE PhD candidate & Vanier Canada Graduate Scholar Michael G. Helander spoke about the latest research advances in organic optoelectronics conducted here in the Department of Materials Science & Engineering (MSE) at the University of Toronto, and its potential impact on the province's green energy economy, as well as on our environment.
"With popular demand for flat-panel TVs on the rise, their alarmingly high energy usage…is increasingly becoming the focus of energy conservation efforts," Helander added.
That is why he along with, MSE PhD candidate Zhibin Wang and supervisor Professor Zheng-Hong Lu, Canada Research Chair (Tier I) in Organic Optoelectronics, have created the world's most efficient organic light-emitting diodes (OLEDs) on plastic.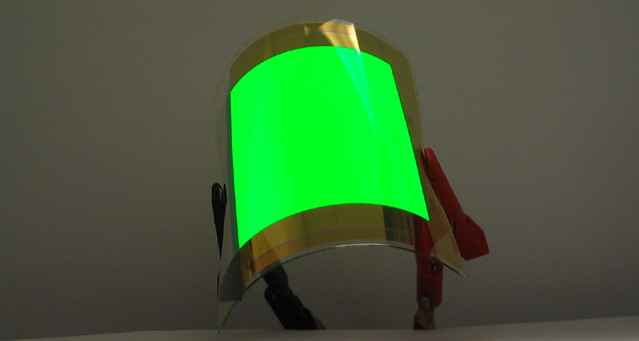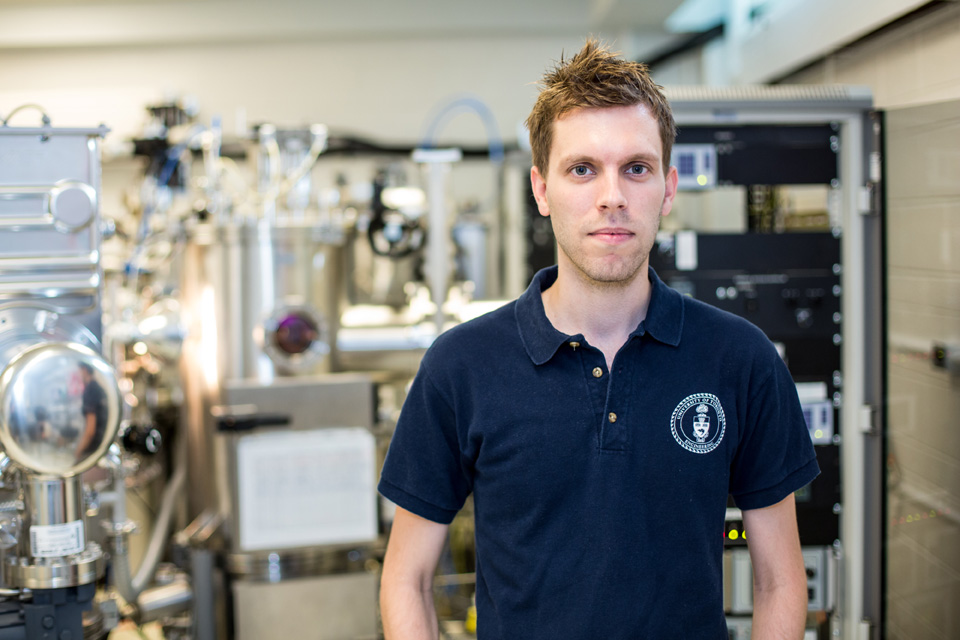 Photo: Helander & Wang's U of T-developed world's most efficient flexible OLED (left) and Michael G. Helander, MSE PhD candidate & Vanier Canada Graduate Scholar (right)
Current OLEDs provide high-contrast and low-energy displays and is rapidly becoming the dominant technology for advanced electronic screens. The U of T materials science and engineering team's OLED technology has the potential to be significantly more energy efficient than liquid crystal displays (LCDs), while less costly than traditional OLED manufacturing.
"Both OLED displays and new durable solar cells can be manufactured in the province, creating new jobs and investment opportunities," said Helander. "Together they are poised to play an important role in our green energy economy, creating wealth and skilled labour in Ontario, while saving the environment."