Professor Doug Perovic discusses results of his findings in recent falling tower glass incidents in Toronto
Photo: a police officer looks up where glass had fallen from a high-rise in downtown Toronto at Bay and Grenville Streets injuring one person on August 15, 2011 (Photo: Globe and Mail)
August 19, 2011
In light of recent falling glass incidents from high-rise buildings in Toronto, Professor Doug Perovic discusses explanations, analysis, and findings on August 19 regarding occurrences that have left pedestrians in the city scrambling for cover.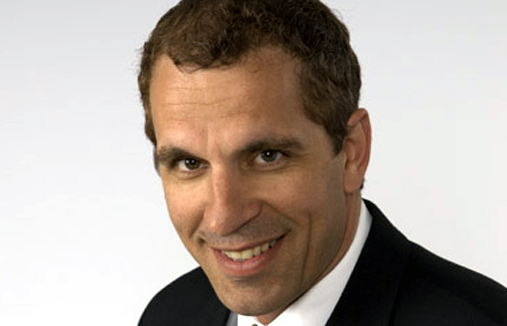 Photo: Professor Doug Perovic
The materials engineer has found that "the tempering process was not done properly," which is a procedure performed during the glass manufacturing.
Professor Perovic and his team, including engineering technologist Sal Boccia, and materials engineering undergraduate students Katherine Le (MSE 1T3) and Alejandro Mejia (MSE 1T4) used a variety of techniques to conduct this analysis, including scanning electron microscopy to magnify the samples up to 10,000 times, and the re-construction of a portion of the glass pane to determine the number of glass particles per unit area in order to calculate the amount of internal stress in the overall pane.
Professor Doug Perovic is a well-known expert in the area of forensics materials engineering. He has provided expert analysis in court on a number of engineering failure and public safety cases, as well as to the media. Professor Perovic will be honoured with the Research & Development Engineering Medal at the Ontario Professional Engineers Awards 2011 ceremony this November for his years of service to academia and to the public.
Starting this year, Professor Perovic will also be teaching a course in forensics engineering (MSE 431/1031) to senior undergraduate and graduate students across the U of T Faculty of Applied Science & Engineering. Course content will include examples of engineering failure investigation, expert analysis in court, and public safety — all very similar to this recent breaking news.
To view more of Professor Perovic's comments and his analysis, please visit CityTV (August 19, Part II; August 17, Part I), Global Toronto News @ 6pm (August 17), the Globe and Mail (August 15), Toronto Star (August 15/ August 03),  CBC News, or listen to his interview on CBC Radio One's Metro Morning.
Full listing of all media features with Professor Doug Perovic: