Donald R. Sadoway – MSE alumnus, MIT professor, and 2012 TIME Magazine's 100 Most Influential People in the World – receives honorary degree from U of T
[sharexy]

June 19, 2013
Dr. Sadoway's honorary degree citation by Professor Doug Perovic
Dr. Donald Sadoway (EngSci 7T2, MSE MASc 7T3, PhD 7T7), now has a fourth degree from U of T – Doctor of Engineering, honoris causa – in recognition of his pioneering research and outstanding contributions to higher education and sustainable energy.
Dr. Sadoway, the John F. Elliott Professor of Materials Chemistry in the Department of Materials Science & Engineering at the Massachusetts Institute of Technology, received his honorary degree at the June 19 morning Convocation ceremony from U of T Chancellor Michael Wilson.
In his Convocation address, Dr. Sadoway told the U of T Engineering graduating students that engineers "are the steward of the earth's resources. Engineering is science in service to society." He urged the graduates to find someone to pay them to do what they love, and to aim high and strive for maximum ripple effect. "Ask yourself, 'What are the big problems and what am I doing about them?"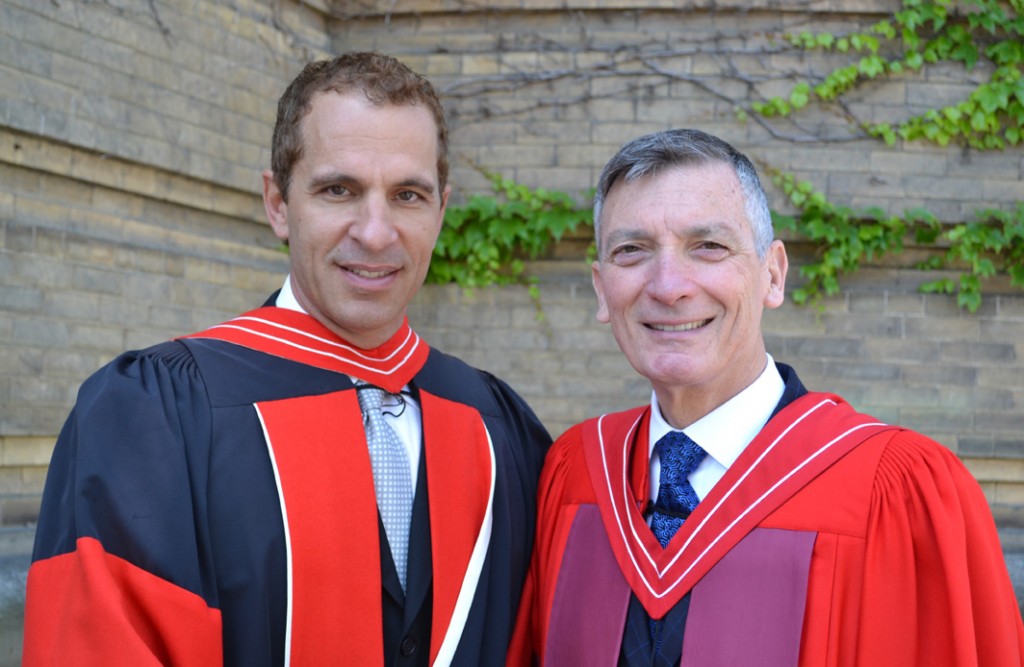 Photo (L to R): Professor Doug Perovic with 2013 honorary graduate Dr Donald R. Sadoway (EngSci 7T2, MMS MASc 7T3, PhD 7T7), John F. Elliot Professor of Materials Chemistry, MIT
After Convocation, Engineering Dean Cristina Amon paid tribute to Dr. Sadoway. "Don Sadoway represents the very best about engineering – a curiosity about how the world works, a desire to change 'what was' into 'what could be', and a passion to inspire his students to share that curiosity and desire."
She noted that Dr. Sadoway was named one of TIME Magazine's 100 most influential people in 2012, both for his impact as a teacher and for his research in the field of materials engineering for energy-storage technologies.
Dr. Sadoway and his research team developed a portable battery that can store significantly more energy per kilogram than a traditional lithium battery, known as the sLimcell. More recently, he has developed a grid-level liquid metal battery that uses low-cost, abundant materials. This new battery technology could make non-constant energy sources such as solar and wind much more economical and effective.
"Innovative, accomplished, and committed to research, teaching and mentoring, Don: you are an inspiration, not only to your own students, but also to our students and graduates," Dean Amon said. "I am so proud that you are an alumnus of our Faculty, and I am proud that we are honoring you today."
A U of T News interview with Donald Sadoway can be found here.