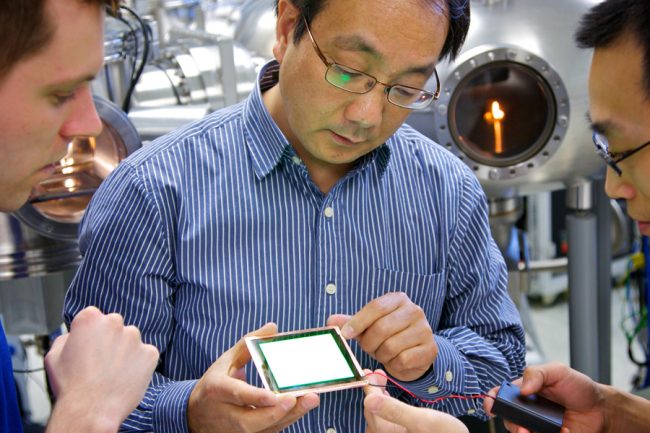 MSE professor, Zheng-Hong Lu, is one of two U of T Engineering professors elected Fellows of the Royal Society of Canada this year. Professors Zheng-Hong Lu (MSE) and Yu Sun (MIE) have been elected fellows of the Royal Society of Canada (RSC) on the basis of their exceptional contributions to scholarship in their fields.
"On behalf of the Faculty, my warmest congratulations to both Professor Lu and Professor Sun on this well-deserved honour," said U of T Engineering Dean Christopher Yip. "From next-generation screens and displays to robotic technology that can potentially advance the study of human diseases, they embody our commitment to engineering a better world."
Zheng-Hong Lu holds the Canada Research Chair in Organic Optoelectronics, and is conducting pioneering research on organic light-emitting diodes (OLEDs). In recent years, these materials have been widely adopted by manufacturers of display screens for televisions, computers, and smartphones due their ability to provide thinner, more flexible screens with lower energy needs.
Lu's research has contributed significantly to the development of new OLEDs, including varieties which offer better energy efficiency and which are more cost-effective to manufacture than their predecessors.
Lu invented a chlorinated indium tin oxide with an unprecedented high work function which makes record high efficiency OLEDs possible in an extremely simple device structure, greatly reducing manufacturing costs. He has also developed an effective method to unlock the full potential of organic light-emitting diodes through a layered electrode technology, enabling his engineering of an OLED device with 290 lumens per watt, the world's highest recorded efficiency.
Lu is co-founder of two spin-off companies, OTI Lumionics and Norel Optronics, and works with leading companies in the display and lighting sectors to commercialize the technology developed in his lab. He is a fellow of the American Association for the Advancement of Science (AAAS) and the Canadian Academy of Engineering (CAE).
Read full article by Carolyn Farrell for U of T Engineering News here