Betty Lin and Mary Ruggiero receive 2014 U of T Arbor Awards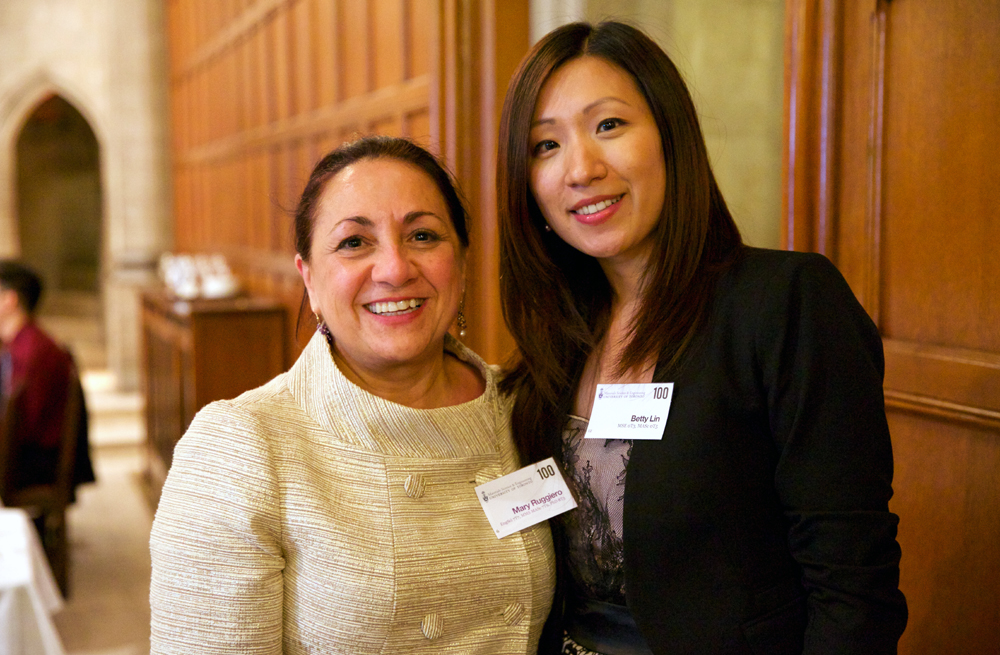 Alumnae Mary Ruggiero (left) and Betty Lin (right) at the MSE Centennial Gala at Hart House, October 2013
October 1, 2014
Velut Arbor Aevo – it's the University of Toronto's Latin motto that translates to "may it grow as a tree through the ages."
In 1989, the U of T Arbor Awards were established to recognize alumni and friends whose volunteer efforts exemplify our roots and our branches, which serve to anchor our traditions and spread the mission of this University – to meet global challenges and prepare global citizens.
Velut Arbor Aevo – may it grow as a tree through the ages
This year, the Department of Materials Science & Engineering (MSE) is proud to honour two of its alumnae on the 25th anniversary of the U of T Arbor Awards, who were among 11 other U of T Engineering recipients recognized by President Meric Gertler on September 10.
Ms. Betty Lin (MSE 0T3, MASc 0T5) and Dr. Mary Ruggiero (EngSci 7T7, MMS MASc 7T9, PhD 8T3) served as steering committee alumni co-chairs for the department centennial events held in October 2013 that marked 100 years since the establishment of Department Eight: Metallurgical Engineering in the Faculty of Applied Science & Engineering at the University of Toronto. Their leadership and dedication for their Alma Mater resulted in an extremely successful occasion that brought over 300 community members back to the department for a two-day series of events.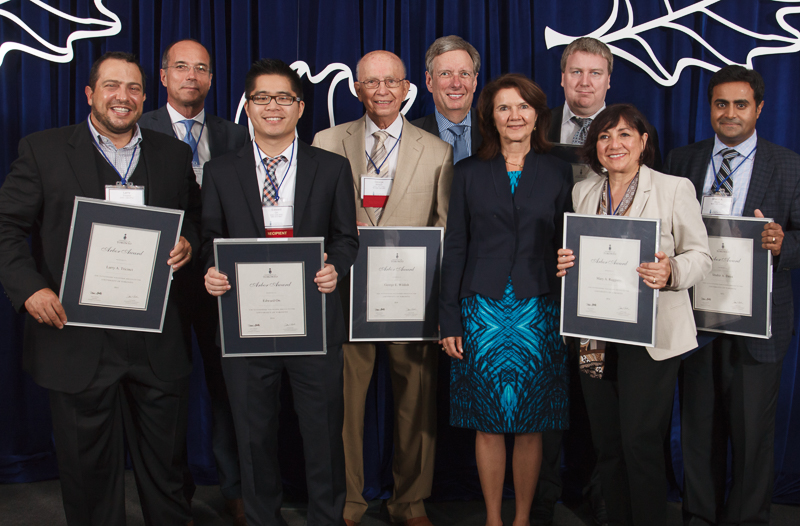 Dr. Mary Ruggiero (front, second right) with Dean Christina Amon and 2014 Arbor Award recipients from U of T Engineering (absent: Betty Lin)
Lin and Ruggiero have also been extensively involved with advocating and supporting U of T Materials Science & Engineering over the years. They are extremely dedicated to student success – through mentorship and participation in career development initiatives. Furthermore, their passion for championing the enrollment of women in a profession historically dominated by their counterparts has contributed to notable increases in female student population.
"Our alumni volunteers are vital to student success. They provide insight and inspiration for future generations who aspire to make an impact just like those before them," said Professor Jun Nogami, Chair of the U of T Department of Materials Science & Engineering. "My sincerest thanks and congratulations to Betty and Mary, for all that you have done for our community."