Professor Zheng-Hong Lu searches for affordable, efficient, energy-friendly lighting in the form of organic LEDs
Professor Zheng-Hong Lu in his Organic Optoelectronics laboratory (photo: Christopher Wahl)
December 3, 2014
By Laurie Stephens | Originally published in the Fall 2014 issue of U of T Research's Edge Magazine
There's a revolution happening in the world of lighting, and Professor Zheng-Hong Lu's (MSE) research into organic LEDs is leading the charge.
The award-winning researcher from the Department of Materials Science & Engineering is delving into the centuries-old puzzle of energy efficiency: how to provide high-quality light for a wide array of uses at an affordable cost.
Organic light-emitting diodes, or OLEDs, are one of the latest breakthroughs in energy-efficient lighting that will alter the way we light our homes and cities in the future.
"OLEDs are very light, bendable and environmentally friendly—they are relatively safe to dispose of," said Lu, the Canada Research Chair in Organic Optoelectronics and recent recipient of the University of Toronto's 2013 Connaught Innovation Award.
Energy efficiency has driven innovation in the lighting world since Thomas Edison patented his incandescent light bulb in 1879. In the late 20th century, energy crises led to the creation of the more efficient compact fluorescent bulb that is still widely used for commercial and residential lighting needs.
LEDs emerged as an alternative, albeit with some bugs to be worked out. The early models were only as efficient as incandescent bulbs, they were costly to produce and the quality of the light they emitted was low.
Recent improvements to efficiency, quality and cost mean LEDs are now seeing widespread use for both commercial and residential purposes. However, they are still too expensive for larger scale applications, like lighting a large room or powering giant digital signage.
"Another major shortcoming of LEDs is their inability to reproduce or render all colors the same way as natural sunlight does, and solar grade lighting does have a positive impact on our physiological system," added Lu.
OLEDs, the next advance in lighting, differ from LEDs in that the semiconductors used to convert electricity into light are not synthetic single crystals but rather films composed of organic molecules. While this organic component makes them lighter and greener, challenges still exist in translating this technology into widespread use.
"The current application of organic LEDs is for small, portable displays like cell phones," said Lu. "This technology is capable of producing solar grade lighting and can replace incandescent light bulbs (for general lighting), but to do that, you really need to increase the brightness and make it more affordable."
A research breakthrough in Lu's lab involving chlorine appears to have tackled both issues. Two doctoral researchers on Lu's research team, Michael G. Helander (EngSci 0T7, MSE PhD 1T2) and Zhibin Wang (MSE PhD 1T2), observed that a sheet of indium tin oxide (ITO)—the substance used to make flat-panel displays—became brighter after it was cleaned with a solution containing chlorine.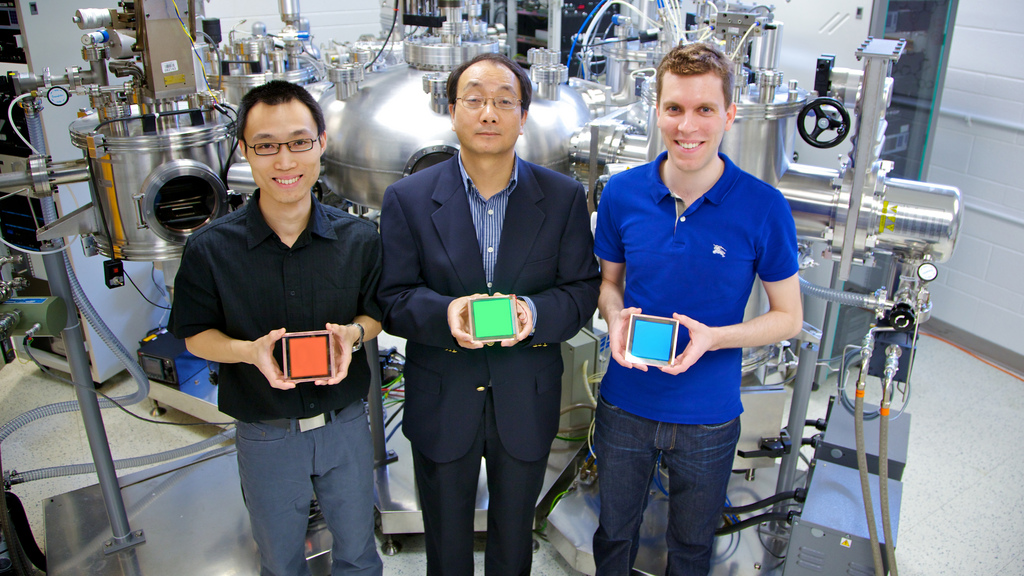 Dr. Zhibin Wang, Professor Zheng-Hong Lu, and Dr. Michael Helander hold prototype versions of their ultra-efficient OLEDs enabled by a single atomic layer of chlorine
Further research determined that when ITO is treated with a one-atom-thick layer of chlorine, just two OLEDs need to be stacked to produce bright light rather than several. The simpler design also means that an OLED flat panel display is very thin and flexible —you can actually bend it.
The end result is high brightness at a high efficiency, said Lu, plus a simpler manufacturing process that translates into a more affordable, high-quality lighting solution.
"Right now the major barrier is cost. When cost is down, people can use them everywhere—for signage, displays, anywhere you need a lot of light. Our solutions will make it more affordable."
The breakthrough earned Lu and his research team a $100,000 Connaught Innovation Award.
Lu said the funding has been used to support the work of his PhD students to "mature the technology" and to support ongoing research and commercialization of the technology through a start-up company, called OTI Lumionics.
Lu believes the widespread use of OLEDs for general lighting and digital signage is still five to 10 years away. But he notes that LEDs are already available at retailers like Home Depot and Canadian Tire and it is only a matter of time before OLEDs become a mainstream lighting solution.
"It's coming," said Lu. "It's really going to change the whole lighting technology, and we will be part of that revolution."
Read about other Connaught Fund-related U of T stories in the Fall issue of Edge Magazine.