Gisele Azimi brings strategic materials processing and applications expertise to U of T
[sharexy]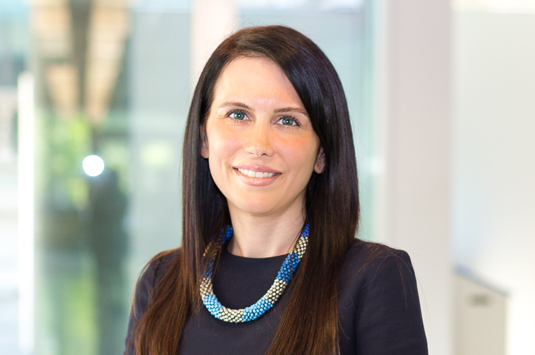 Gisele Azimi, Assistant Professor (ChemE / MSE)
August 1, 2014
Rare earth elements (REEs) – it's the stuff your smartphone is made of. The materials extracted from the above the earth's outer core and applied to many of our technologies today is what makes speakers small enough to fit in your ears and displays able to light up in vibrant colours.
The efficient and sustainable extraction, processing and application of these strategic materials is the core of Dr. Gisele Azimi's expertise. Effective August 1, 2014, Dr. Azimi returns to U of T as a joint-appointed assistant professor in the Departments of Chemical Engineering & Applied Chemistry (ChemE) and Materials Science & Engineering (MSE).
Professor Azimi is an expert in hydrometallurgy, electrochemical processes and advanced materials. At U of T, she will head the Laboratory for Strategic Materials where she will pursue multidisciplinary research on rare earth elements.  These compounds have become essential components in the production of advanced electronics and other technologies, but their extraction and processing are challenging, inefficient and expensive.  Her other research areas will include techniques to separate sulphur from mineral processing waste streams to reduce environmental impact, and also the development of new advanced materials with controlled properties for use in solar energy generation, desalination and other sectors.
This collaborative work will complement both department's research in hydrometallurgy and advanced materials, and our newly established Ontario Centre for Characterization of Advanced Materials (OCCAM).
Dr. Azimi completed postdoctoral appointments at the Massachusetts Institute of Technology (MIT) with mechanical engineering professor Kripa Varanasi and materials science and engineering professor Donald Sadoway (EngSci 7T2, MMS MASc 7T3, PhD 7T7) where her work focused on molten oxide electrolysis and advanced materials.
She received her undergraduate and master's degrees from Sharif University of Technology (Iran) in 2000 and 2002, respectively, and her PhD in Chemical Engineering from the University of Toronto in 2010 (ChemE PhD 1T0), where she worked with Professor Vladimiros Papangelakis in the field of hydrometallurgy.
Dr. Azimi has published 17 journal papers and refereed conference papers, and has presented her research internationally at 20 conferences.  She is also co-inventor in five patent applications in the US and has received awards for teaching and research excellence, including the Helmholtz Award of the International Association for the Properties of Water and Steam.
"We're delighted to welcome Gisele to our Department," said Professor Jun Nogami, Chair of the Department of Materials Science & Engineering. "Her expertise is an excellent fit for both departments, and her group will strengthen collaborative and interdisciplinary research in materials processing."