The Department of Materials Science & Engineering celebrates its centenary at the University of Toronto
[sharexy]
MSE Centennial Alumni & Industry Leadership Panel on "Nanotechnology…Revolution or Evolution?" (L to R): Canadian Solar Inc CEO Dr. Shawn Qu (MMS PhD 9T5), Celestica Inc chief metallurgist Dr. Polina Snugovsky, Bereskin & Parr LLP managing partner Robert Story (MMS 7T7), Cambridge University professor Michael F. Ashby, McMaster University provost David Wilkinson (MMS MASc 7T4), MIT professor Donald R. Sadoway (MMS MASc 7T3, PhD 7T7), and Integran Technologies Inc CEO Dr. Gino Palumbo (MMS 8T3, MASc 8T5, PhD 8T9). Photo: Dominic Ali, U of T Strategic Communications
October 28, 2013 
Once known as Department Eight: Metallurgical Engineering, the Department of Materials Science & Engineering (MSE) has seen a lot of changes in 100 years.
Today, it can count close to 2,000 alumni, 200 current undergraduate students, 80 graduate students and 17 core faculty members.
But what hasn't changed is that MSE at U of T continues to be one of the top-ranked materials science and engineering academic departments in the world.
"We are Canada's premier engineering school and among the very best in the world, due in no small part to the deep-rooted expertise of our MSE faculty and alumni," said Cristina Amon, Dean, Faculty of Applied Science & Engineering. "Many of them have made hugely influential contributions in materials science and engineering at national and international levels."
"I'm confident the next century will see the Department continue to set a standard for world-class research and education in materials science and engineering," said Department Chair, Professor Jun Nogami (EngSci 8T0).
The Department marked its 100th anniversary with a two-day celebration on October 23 and 24, which attracted over 300 alumni, faculty, staff, students and friends from around the world. Events celebrating the centennial included invited lectures, laboratory tours, an MSE research poster session, a reception and gala in the Hart House Great Hall.
Photo: Professor Doug Perovic gives 100 Years of Materials Innovation perspective at the closing Gala
Also part of the mix was a leadership panel entitled "Nanotechnology … Revolution or Evolution?" moderated by U of T Materials Science & Engineering Professor Doug Perovic (MMS 8T6, MASc 8T8, PhD 9T0).
The panel included an impressive array of experts from industry and academia who gave a big-picture view of the engineering of small things.
They spoke about how nanotechnology, the science of manipulating atoms and molecules on a very small scale, is essentially about coaxing them into displaying unusual properties.
"Nanotech properties are not fixed. Their properties are engineered from the bottom up," said Dr. Gino Palumbo (MMS 8T3, MASc 8T5, PhD 8T9), President and CEO of Integran Technologies Inc. As Palumbo pointed out, when people ask him what his company's materials do, he in turn asks: "What do you want them to do?"
Still, panelists were united in cautioning against expecting nanomaterials to quickly displace existing technology.
"Twenty years is not an unusual amount of time to go from conception to commercialization," said Michael F. Ashby, Royal Society Research Professor from the Department of Engineering at Cambridge University. "This isn't like writing an app and six months later you can retire," Ashby added.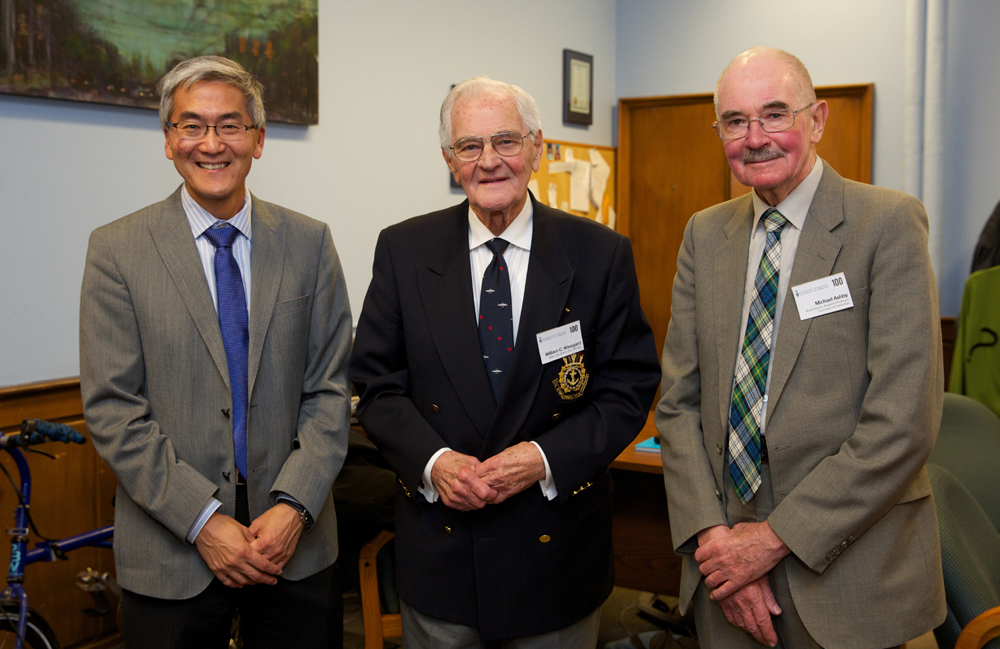 Photo L to R: Department Chair Professor Jun Nogami, The Honourable Dr. William C. Winegard (MMS 4T9, MAS 5T0, PhD 5T2), and Cambridge University professor Michael Ashby
Centennial offerings also included a panel moderated by Associate Professor Glenn D. Hibbard (MSE PhD 0T2) entitled "Perspectives from the Last 10 Years," featuring graduates from the past decade.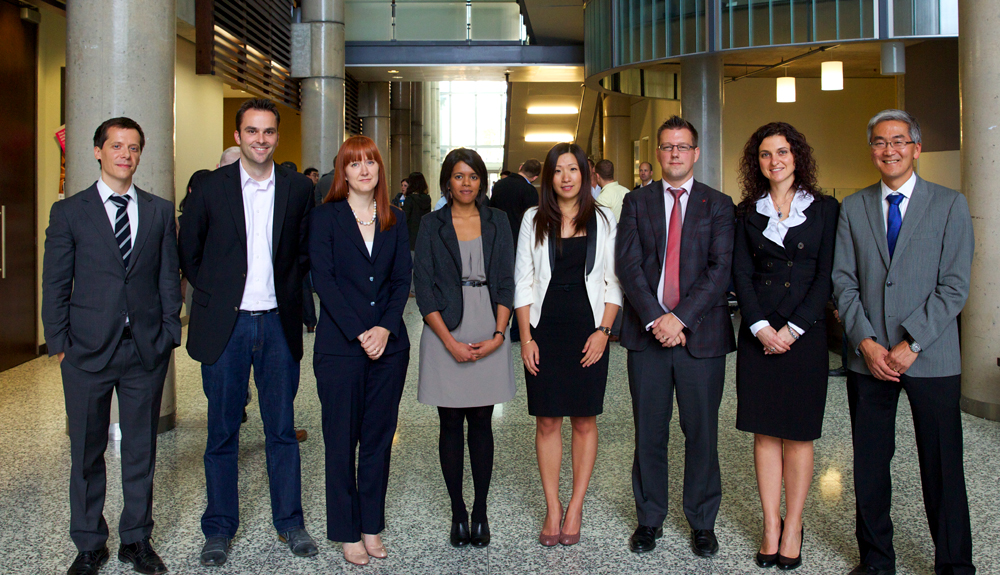 MSE Centennial Graduates of the Last Decade (GOLD) Panel: panel moderator Associate Professor Glenn Hibbard, Calera Corporation chief science officer Dr Ryan Gilliam, Desjardins Capital Markets VP and metals & mining analyst Jackie Przybylowski, U of T Medicine student Varuna Prakash, Hatch backfill systems group manager Betty Lin, H. C. Starck Canada Inc president Adam Roop, Ontario Power Generation technical engineer Josie Barbato, and Department Chair Professor Jun Nogami
In addition, Professor Ashby gave two lectures as part of the annual Winegard Visiting Lectureship Professor Ashby is recognized as the 'pioneer' of materials selection and has authored more than 200 papers and books on the topics of materials and design.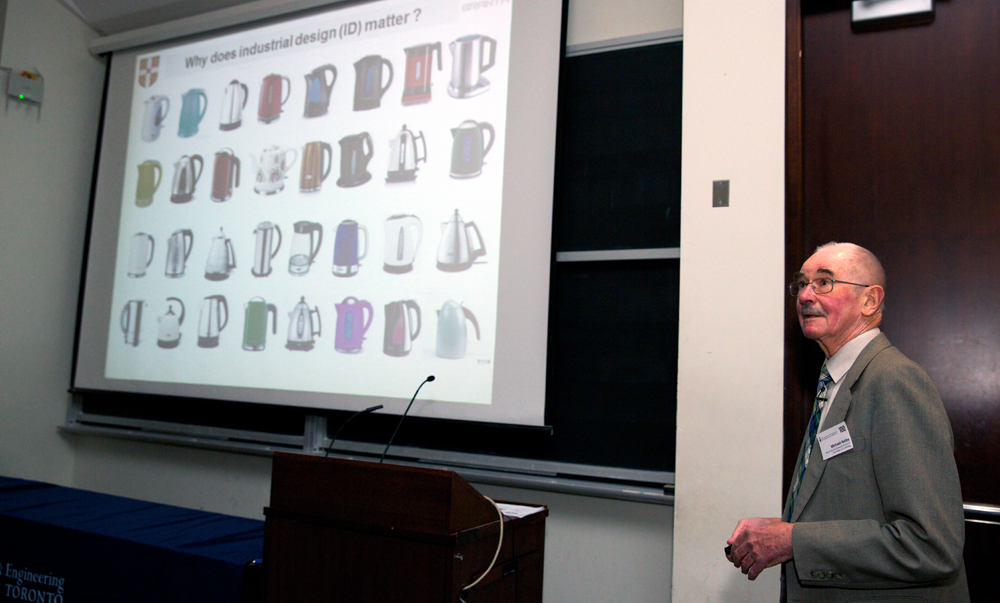 Photo: Cambridge University Royal Society Research Professor Michael F. Ashby giving the Centennial Winegard Visiting Lecture 2013
In two separate talks, he spoke about sustainable development from a materials perspective, and about why people buy products, focusing on a materials scientist's view of industrial design.
Successful products depend as much on usability and satisfaction as they do on function, he said.
---
Select photos from the events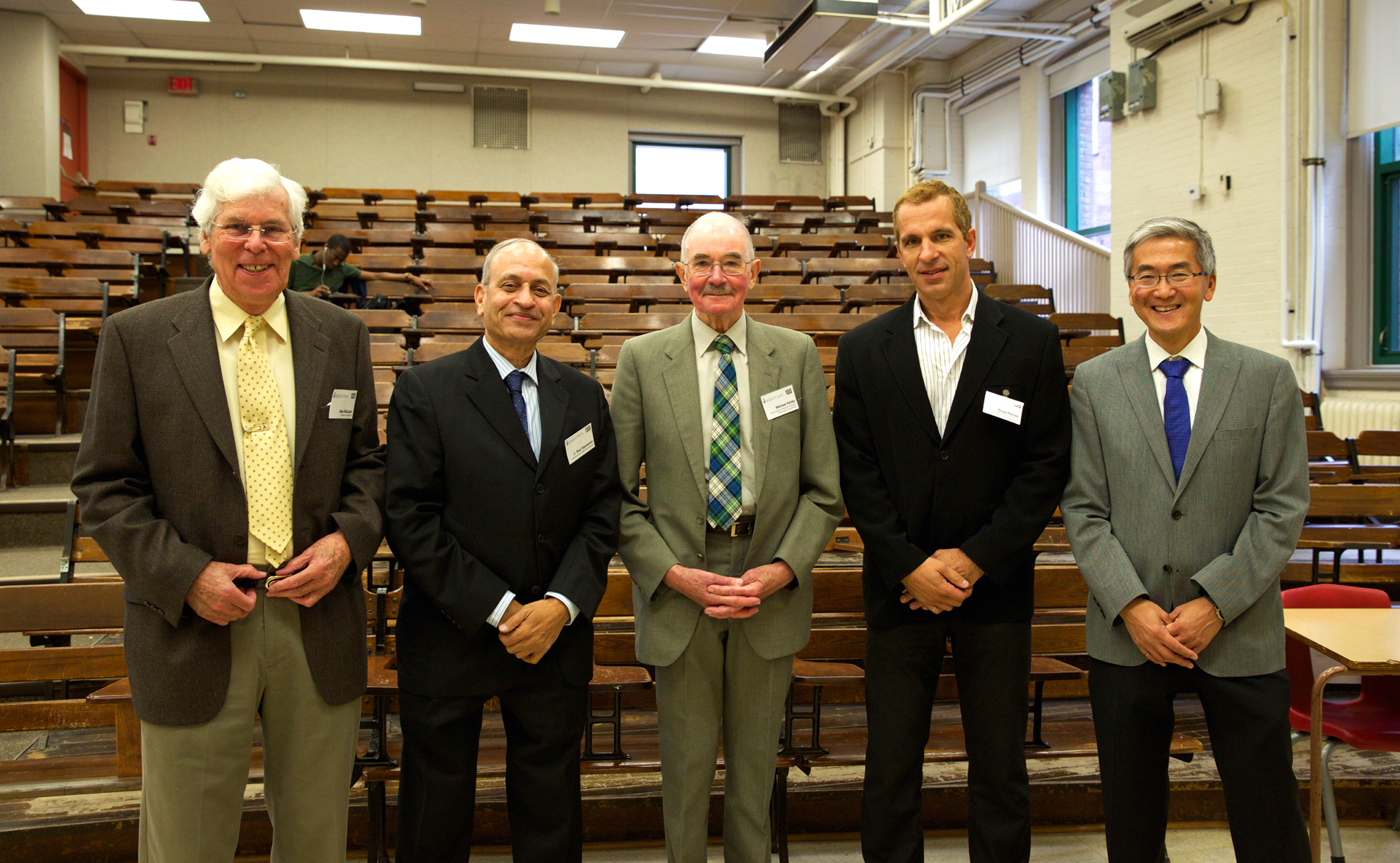 L to R: Professor Emeritus Alex McLean, ASM International president & Ryerson University professor C. Ravi Ravindran, Cambridge University Royal Society Research Professor Michael F. Ashby, Professor Doug Perovic, and department chair Professor Jun Nogami
Photo: Professor Emeritus Alex McLean and wife, Betty at the Hart House closing gala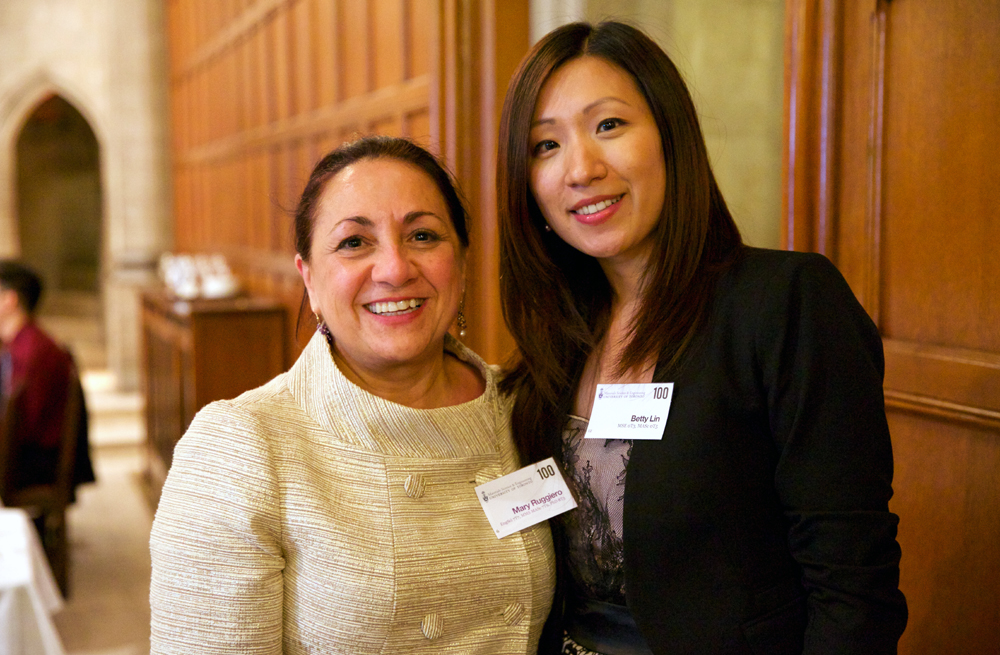 Photo (L to R): MSE 100 steering committee alumnae co-chairs Dr. Mary Ruggiero and Betty Lin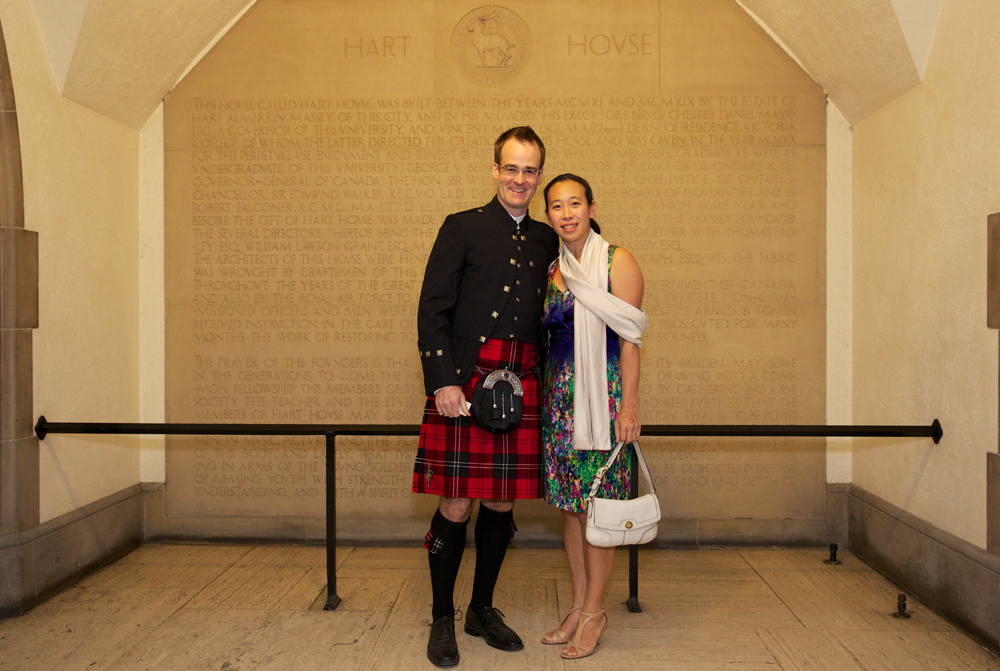 Photo: Adjunct Professor Scott D. Ramsay (MSE MASc 0T4, PhD 0T7) and wife, Jane at the Hart House closing gala

Photo: MSE students from table 16 receive a limited edition MSE100 centennial gift for winning a challenging materials engineering ice breaker game at the Hart House closing gala