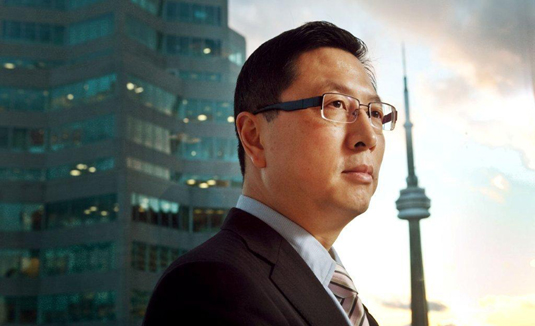 Shawn Xiaohua Qu | MMS PhD 9T5 (Photo: Canadian Solar Inc)
Chairman, President & Chief Executive Officer, Canadian Solar Inc
Dr. Shawn Qu has been chairman, president and chief executive officer of Canadian Solar since founding the company in 2001. Through his leadership, Canadian Solar became a public listed company on NASDAQ in 2006 and has since firmly established itself among the top ranked manufacturers of solar photovoltaic products globally.
Prior to founding Canadian Solar, Dr. Qu held various positions in product engineering, business development and strategic planning at ATS Automation Tooling Systems, Inc. and its solar subsidiary Photowatt International S.A. Prior to ATS Dr. Qu was a research scientist at Ontario Power Generation where he worked as a process leader in its solar product commercialization team.
In 2011, Dr. Qu became a visiting professor at Tsinghua University, one of the most prestigious universities in China. Dr. Qu has published research articles in academic journals including IEEE Quantum Electronics, Applied Physics Letter and Physical Review. He received his PhD in metallurgy and materials science (now materials science and engineering) in 1995 from the University of Toronto, focusing on semiconductor super-lattice and optical effects, under the supervision of Professor Harry Ruda. He also holds a Master of Science in physics from the University of Manitoba and a Bachelor of Science in physics from Tsinghua University in Beijing.
In 2013, Dr. Qu returned to the University of Toronto to participate in a leadership panel discussion to celebrate the U of T department of materials science and engineering's centenary – 100 Years of Materials Innovation (1913-2013).
Qu received the Hall of Distinction Award on Nov. 7,  2019, at the annual Engineering Alumni Network (EAN) Awards. The awards ceremony, held at the Myhal Centre for Engineering Innovation & Entrepreneurship, celebrated alumni for their outstanding contributions to the Skule™ community as well as their remarkable career achievements. He is one of the thirteen accomplished members of U of T Engineering's alumni community who were recognized at the ceremony.
Located in the Sandford Fleming Building, the Hall of Distinction is a familiar daily presence in the lives of students and is often visited by alumni and their families. The Hall of Distinction is an assembly of extraordinary alumni, selected for membership by their peers for their lifelong accomplishments. These are graduates whose performances have ultimately defined what is most exemplary in our graduates and in our profession. The careers of the members stand as examples and add a sense of reality to the aspirations of successive generations of Engineering students.