Materials engineers focus on improving what things are made of and how they are made. New materials enable better performance and sustainable technologies.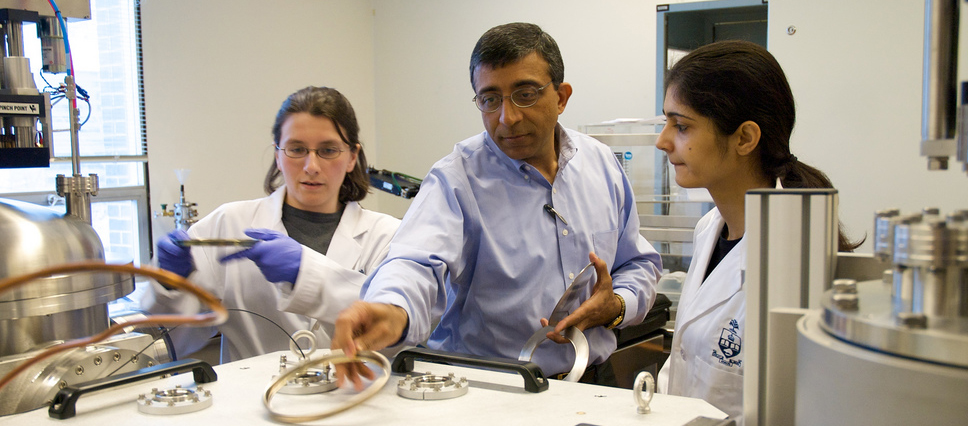 Photo: Professor Nazir Kherani with students in the Advanced Photovoltaics & Devices (APD) lab. The development of next-generation materials—such as advanced thin-film silicon—are critical to developing low-cost, ultra-efficient solar cells and many other sustainable technologies.
Undergraduate degree: Bachelor of Applied Science (BASc) in Materials Engineering
The solution to global challenges of our time—sustainability and energy
As a materials engineering student at U of T, you will learn from professors who create advanced materials for high-efficiency energy storage and conversion technologies, lower the cost of solar cells using silicon extracted from rice husk, and develop lightweight and high-performance materials for aerospace and automotive applications.
What you'll learn
This is where advanced engineering and cutting-edge science meet. You'll study how to design and manipulate the structure and properties of materials at a molecular and atomic level. You'll begin with a foundation in chemistry, physics and math, then add specialized engineering knowledge in nanotechnology, biomaterials, adaptive polymers, advanced semiconductors, photovoltaics and forensics. Your upper years will allow you to focus on four research themes:
Biomaterials
Design of Materials
Manufacturing with Materials
Sustainable Materials Processing
Common companies of employment
-30- Forensic Engineering
Accenture
AMD
AMEC
ArcelorMittal Dofasco
Celestica Inc
Ford Motor Company
Gerdau Long Steel North America
Hatch
Honeywell Aerospace
Imperial Oil
Integran Technologies Inc
Mercedes-Benz Canada
Ontario Power Generation
Safran Messier-Bugatti-Dowty
Samsung Engineering
Shawcor Ltd
SNC Lavalin
TECK
US Steel Canada
Vale
Xstrata
Typical PEY Co-op & new graduate job titles
Junior Accident Re-constructionist, -30- Forensic Engineering
Materials & Process Engineer, Honeywell Aerospace
Materials Analyst, AMEC Nuclear Safety Solutions
Materials Engineer-in-Training (EIT), Xstrata Process Support
Physical Failure Analysis Engineer, AMD
Process Engineer & Facilitator, Gerdau Long Steel North America
Product Compliance Specialist, Mercedes-Benz Canada
Special Process Quality Engineer, Safran Messier-Bugatti-Dowty
Supply Chain Coordinator, ArcelorMittal Dofasco
Technology Consultant Analyst, Accenture
Quality Engineer, US Steel Canada
---