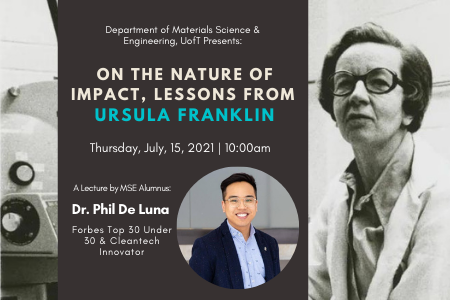 Date/Time: 
Jul 15, 2021 10:00 AM Eastern Time (US and Canada)
Biography:
Phil De Luna is a scientist and carbontech innovator. He is currently on leave from the National Research Council of Canada where he led a $57M Canada-made cleantech program. De Luna is an award-winning scientist and has published in high-impact journals like Science and Nature. He was a Carbon XPRIZE finalist, a Forbes Top 30 Under 30, a Governor General Gold Medalist, and hosts a podcast about science and behaviour.
Abstract:
To celebrate the start of a year at MSE that commemorates the legacy of Prof.
Ursula
 Franklin, the first female professor at UofT to receive the honour of University Professor in 1984, I will talk about the nature of impact through the lens of her remarkable life. I describe her contributions as a scientist, author, feminist, pacifist, and philosopher and reflect on what makes someone impactful. I propose that impact occurs at the interface and edges of fields and disciplines, and that deep expertise in one area is less impactful than translation of skills across areas. I conclude by sharing how my own personal experiences at the interface of technology, policy, and entrepreneurship have been more challenging and fulfilling than specialization in one area alone.