13th anniversary of UT2-COSM-GMSI Graduate Student Workshop
[sharexy]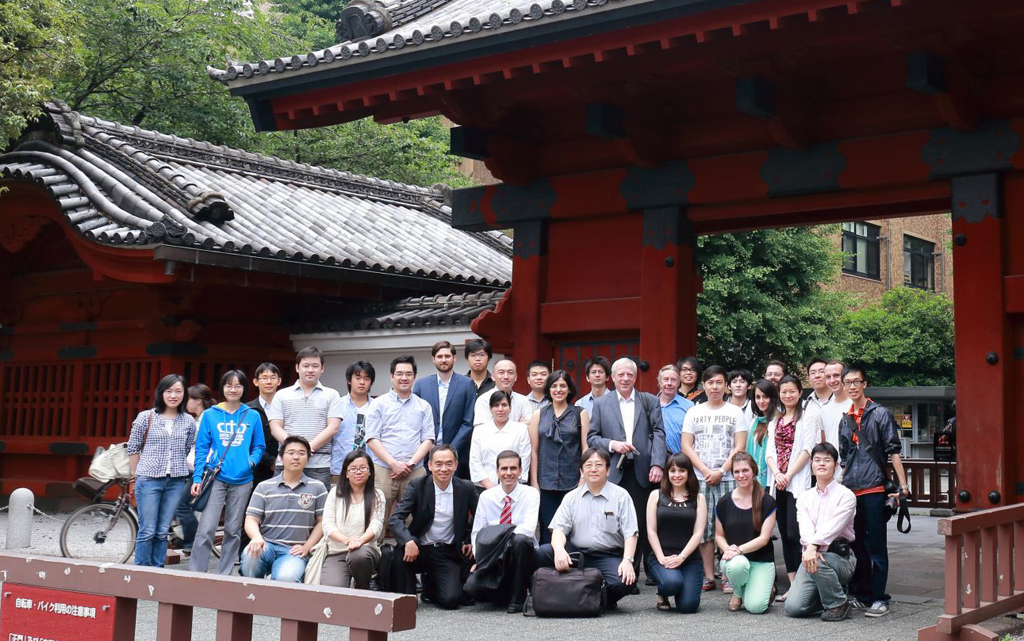 Professors and graduate student participants of UT2-COSM-GMSI workshop in front of the University of Tokyo gates.
July 14, 2014
Planning a flight during the winter holidays? Sometimes Canada's frigid winters can leave you waiting in the airport for hours – or even days – longer than you anticipated.
One of the biggest culprits for these delays is the additional time required to melt ice off airplane wings – something that MASc candidate Jason Tam (MSE 1T2+PEY) hopes to eliminate with the development of new water-repelling materials technology.
Tam was one of 11 graduate students visiting the University of Tokyo this month for the 13th annual UT2-COSM-GMSI (Tokyo/Toronto – Consortium on Sustainable Materials – Global Centre of Excellence in Mechanical Systems Innovation) Graduate Student Workshop.
The workshop, themed Materials for Sustainability, explored more than 20 graduate-level research areas tied to the processing of eco-friendly materials, as well as the recycling and recovery of materials from waste. Industry applications ranged from cleaner transportation – like Tam's – to advanced medical technologies.
U of T Engineering spoke with Tam about his recent research and his time at U Tokyo:
What research are you currently working on?
My current research is focused on producing a composite coating that has exceptional hardness, strength and wear resistance. We combine a nickel-based material with Teflon – which makes the coating hydrophobic [meaning that it repels water] and reduces friction.
Due to these characteristics, there are many potential applications. For example, we could use the technology for aerospace components where high-strength and high wear resistance material is desirable. In addition, its ability to repel water will eliminate the need for aircraft de-icing in winter conditions.
How did the theme of this year's workshop relate to your current research?
Currently, we use chemicals to de-ice airplane wings; chemicals that could eventually reach soil and water bodies and cause harm to the environment. If we were to coat all airplane wings in our composite material, we would no longer need to use these harmful sprays.
This would not only save time for travellers, but it would make air travel – already an industry with harmful side effects and a large carbon footprint – a little bit more sustainable.
What were some valuable activities you took part in at U Tokyo?
Apart from learning the current research carried out at the University of Tokyo, we toured some of their materials engineering undergraduate laboratories to experience a few of their teaching methods and techniques. This provided me with a few ideas for me to continue enhancing the learning experience for U of T Engineering undergraduates.
Furthermore, during the research laboratory tour, I found a research group that has similar research interests as the Nanomaterials Research Group at U of T. I think it's possible for us to collaborate on a project in the near future.
What did you take away from your experience at U Tokyo?
It was truly a great experience to exchange ideas and build connections with the research groups at the University of Tokyo – which will likely facilitate collaborations on materials research in the future.
---
Professors Uwe Erb (MSE), Charles Jia (ChemE), and Tobin Filleter (MIE) were the faculty leads on the visit to U Tokyo, with three additional faculty members from all three departments joining them.
The workshop was supported by the Department of Materials Engineering, Department of Mechanical Engineering, Institute of Industrial Science, the Global Center of Excellence for Mechanical Systems Innovation (GMSI) at the University of Tokyo, the Consortium on Sustainable Materials (COSM), along with the three participating engineering departments from the University of Toronto.
The workshop will return to U of T Engineering next summer.