[sharexy]
Undergraduate students Marvin Ambrosio and David Sartor have won two awards for a poster based on their thesis research. Their poster was titled "Characterization of Inclusions and Precipitates in Interstitial Free (IF) Steel from Ruhrstahl-Heraeus (RH) Degassing and Alloying" and concerned the characterization of inclusions and participates in IF steel. Their results included recommendations for adjustments in the steelmaking process.
The poster won TMS Student Poster Contest, Winner, Extraction and Processing Division, at TMS 2016, the 14th Annual Meeting & Exhibition in Nashville TN (Feb 2016).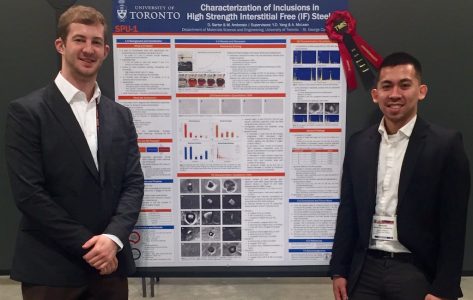 Additionally, the MSE Department sent a large student delegation to AISTech 2016 in Pittsburgh, PA (May 2016), shown here with Dr. Yingdong Yang and alumnus Dr. Paul Wu.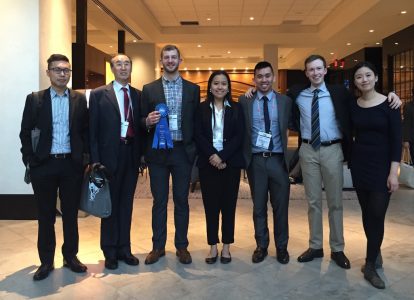 Once again, Marvin and David were recognized for their work with first place in the Undergraduate Student Project Presentation Contest.
These awards continue to demonstrate the strength of the student driven research of Prof. Emeritus Alex McLean's group.