Undergraduate student Yee Wei Foong wins top prize for his research on electrochemical capacitors at UnERD 2013
[sharexy]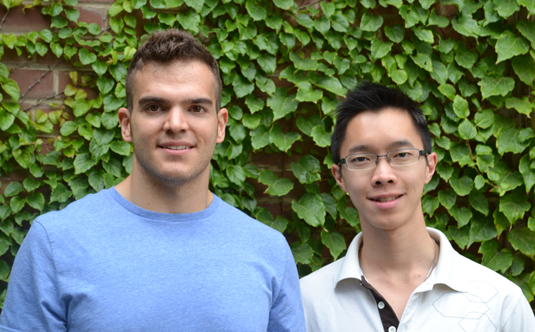 Photo (L to R): MASc candidate Matthew Genovese and Materials Engineering Year 3 undergraduate student, Yee Wei Foong (MSE 1T5)
September 10, 2013
Electrochemical capacitors are well-known for their use in high-power demand and rapid discharge applications – such as hybrid vehicle ignition – but have traditionally low energy storage capabilities. To address this issue, researchers have focused extensively on developing high-performance electrode materials. The current state-of-the-art material is ruthenium dioxide, (RuO2). However, RuO2 is expensive due to its rare metal composition – hence deterring mainstream commercial use.
U of T materials engineering undergraduate student, Yee Wei Foong, in collaboration with MASc candidate Matthew Genovese of Associate Professor Keryn Lian's Flexible Energy and Electronics (FEE) Laboratory, investigated the use of alternative low-cost materials – known as polyoxometalates (POMs) – to replace RuO2. Specifically, their synthesized material, germanomolybdate (H4GeMo12O40) – in combination with other POM chemistries – was used to modify nano-carbon capacitor electrodes resulting in a 12-fold increase in energy storage.
Photo: polyoxometalate (POM) solutions used to modify nano-carbon capacitor electrodes
Foong presented this work, titled "Chemically Modified Nanocarbon Electrodes for Electrochemical Capacitors," at the 2013 U of T Undergraduate Engineering Research Day (UnERD) on August 22, 2013 and received 1st Prize in the Materials Science & Engineering podium presentation category.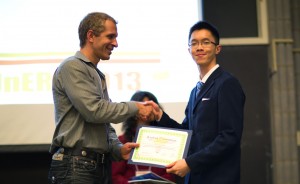 Photo: Yee Wei Foong (MSE 1T5, right) receiving his prize from UnERD judge and MSE Professor Doug Perovic (left). (Photo:Fang Su)
"The ability to cost-effectively increase the energy storage of electrochemical capacitors can have a major impact on mainstream deployment of alternate energy systems like solar cells and wind power, especially when the sun isn't shining or the wind isn't blowing," said Associate Professor Lian. "Sincerest congratulations to Yee Wei and Matthew for their successful research efforts that crossed both the undergraduate and graduate levels."