Grand Challenges Canada (GCC) has awarded two global health projects based at U of T with $200,000 to tackle problems such as food contamination and nutritional deficiency in developing countries.
GCC, supported by the Government of Canada through Global Affairs Canada, announced $2 million of funding for the first 20 recipients of the Stars in Global Health funding program. They awarded seed grants of $100,000 for researchers to develop innovative ideas to improve living conditions of vulnerable women and children across Africa, Asia, and the Caribbean.
Testing for foodborne bacteria in Egypt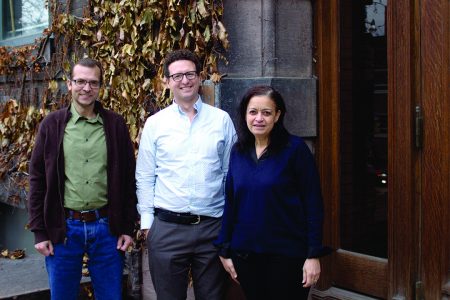 Dr. Benjamin Hatton, a researcher in U of T's Department of Materials Science and Engineering, is developing a fast, low cost, and easy-to-use test to identify bacteria in food. Bacterial food contamination can cause illnesses such as diarrhea, and even death, especially in pregnant women and infants who are more susceptible to bacterial infections due their weaker immune systems.
"Even though diarrhea is a nuisance in this part of the world, it can be a significant health hazard," explained Hatton. According to him, it is associated with child mortality rates as high as 10–15 per cent in poorer parts of the world.
Hatton is working with researchers Dr. Tarek Awad and Dr. Dalal Asker at Alexandria University in Egypt, where they will test their innovation. He describes his innovation as a "litmus test" that will allow mothers to check whether food is contaminated before they feed their child.
The team hopes to take advantage of the high cell phone usage in the area to visualize bacteria with its camera and track cases of diarrhea. They also plan to test local disinfection products in Egyptian communities and engage in community outreach to teach locals about food testing and cleaning methods.
"If we are successful with this [project] in Egypt, we would be looking to try it in other countries in North Africa and other parts of the world," Hatton added.
Supplementing instant noodles with spirulina in the Philippines
The second awardee is a project led by Dr. David McMillen, a researcher in Department of Chemical and Physical Sciences at UTM, who developed his idea at U of T's Impact Centre.
According to GCC, around 50 per cent of Filipinos do not have adequate protein in their diet, and about 35 per cent of children under the age of five are anemic, which is caused by iron deficiency. McMillen's project proposes using Spirulina, a nutritious algae and rich source of essential amino acids, iron, and vitamins A, B12 and K, to combat nutrient deficiencies in the Philippines.
McMillen plans to supplement instant ramen noodles, a local staple commonly consumed by children, with a Spirulina "flavour pack."
"[Instant ramen noodles] are cheap because there's almost nothing in them — they're plain noodles and salt with some fat but very low on any form of protein or iron," explained McMillen.
The funding provided by GCC will help McMillen's team develop methods to produce Spirulina locally in Napsan, a village in Palawan, Philippines. They will work to determine the optimal conditions for growth, harvesting, and distribution. With enough production, Spirulina can be exported to larger markets and create jobs for local mothers. In the long term, McMillen hopes to establish locally grown Spirulina in other villages with nutritional deficiencies.
Grand Challenges Canada Awards
Liam Brown, a spokesperson for GCC, describes the awarded projects as early stage ideas that are critical in driving innovation and addressing challenges faced by women and children around the world. The funding is awarded to researchers in Canada and low-to-middle income countries where the work is done.
Once these projects have been developed over the next year and have a scalable solution, they will be invited to submit their project to GCC's Transition to Scale program to implement their ideas at a larger scale.
In addition to the Stars in Global Health and the Transition to Scale programs, GCC also funds innovations through other programs, with focuses ranging from mental health to early childhood development, that target the poorest and most vulnerable women and children.
In total, GCC has funded 800 innovations in over 80 countries that they estimate will save up to one million lives by 2030.
By Utkarshna Sinha for The Varsity