U of T materials science and engineering graduate students win all top three prizes at the annual ASM student event
[sharexy]

Photo: First-place winner, PhD candidate Eral Bele (right) discusses research presentation with ASM poster judge
March 8, 2011
Congratulations to U of T Materials Science & Engineering graduate students as they swept all three top prizes at the 12th Annual ASM Poster Night. Held on Tuesday, March 8 at the Faculty Club this year, the event is organized by the Material Advantage Student Chapters at McMaster University and the University of Toronto, in collaboration with the ASM Ontario Chapter. The location of the event is switched annually between McMaster University and U of T, and brings together students, faculty, alumni, and industry professionals in the materials engineering field to network and exchange ideas with each other.
This year's first prize winners were Ms. Evelyn Ng and Mr. Eral Bele, both PhD Candidates in Associate Professor Glenn Hibbard's Cellular Hybrid Materials Research Group. Their research poster is titled "Fabrication-induced Strain Energy as a Microstructural Design Tool in Microtruss Cellular Metals." The research poster was also co-authored by alumnus Dr. Brandon Bouwhuis (EngSci 0T4, MSE PhD 1T0).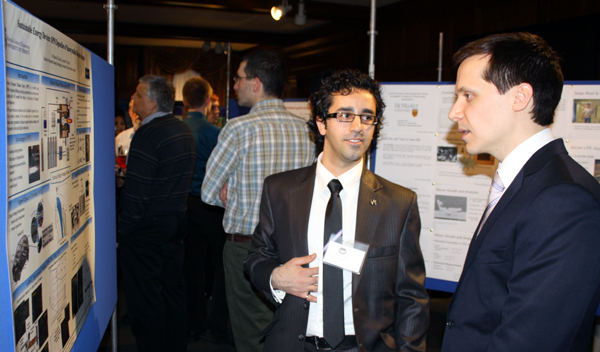 Photo: Second-prize winner, MASc candidate Mehdi Golozar (left) with Associate Professor Glenn Hibbard (right)
Second prize went to MASc candidate Mehdi Golozar, supervised by Associate Professor Tom Coyle from the Centre for Advanced Coating Technologies. His research poster is titled "Sustainable Energy Devices: Solution Precursor Plasma Spray (SPPS) Deposition of Nanocrystalline Electrode Materials."
Photo: Third-prize winner, PhD candidate Michael Helander
Third place was received by Mr. Michael Helander, PhD Candidate & Vanier Canada Graduate Scholar, for his research poster titled "Oxidized Gold Electrode for Flexible Organic Optoelectronics." Mr. Helander's supervisor is Professor Zheng-Hong Lu, Canada Research Chair in Organic Optoelectronics, Tier I.
The evening was concluded with a keynote talk  from Professor Glenn Hibbard on the subject of  "Architectural Design of Hybrid Cellular Materials." Professor Hibbard is currently the Associate Chair, Undergraduate Studies in the Department of Materials Science & Engineering at U of T and was awarded an Early Career Teaching Award by the Faculty of Applied Science & Engineering last year in 2010.
"I thank ASM Ontario and the Material Advantage student organizers for putting this event together," said Professor Jun Nogami, Chair. "It was a great opportunity for students and faculty from McMaster, Ryerson, and the University of Toronto to meet and exchange ideas." The 13th Annual ASM Poster Night will be held at McMaster University in the spring of 2012.