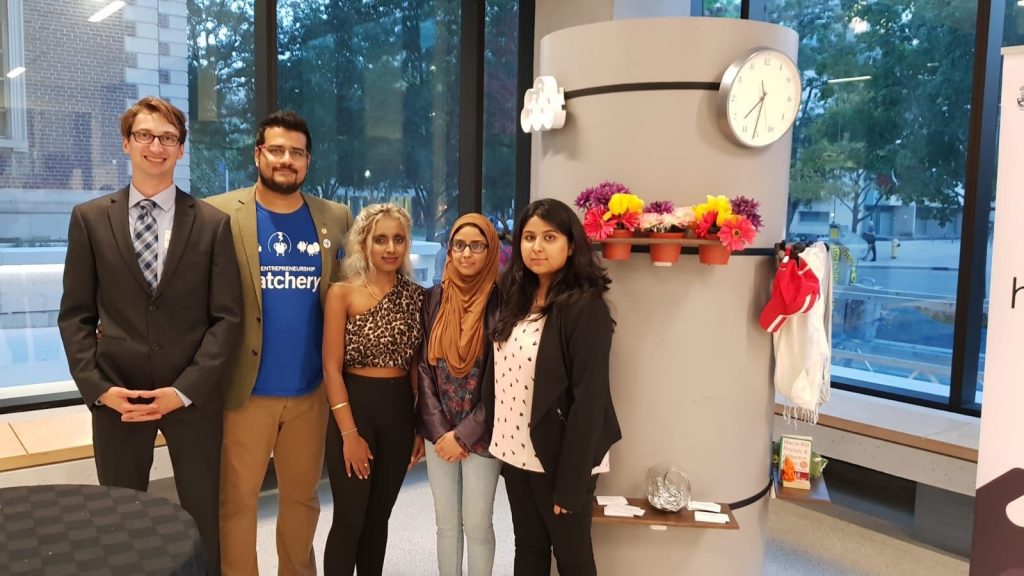 Trying to find more storage space in a small condo is a challenge faced by millions of urban dwellers worldwide. Now, a group of U of T Engineering students has devised a practical solution — their product, the hoopoloop, lets residents use the round structural columns found in many condos to mount and store objects from pens to bicycles.
Jordan Bouchard (MIE PhD candidate), Neetha Parameswaran (MSE 1T9 + PEY), Medhavi Patel (MSE 1T9 + PEY), and Rafia Kouser (MSE 1T9 + PEY) applied to U of T Engineering's startup accelerator The Entrepreneurship Hatchery as one of 118 teams, going on to earn a spot in the top 13 to compete for $42,500 in seed funding at the Hatchery's annual Demo Day event.
"The challenge is to balance conflicting requirements while satisfying the largest number of potential customers," says Bouchard, who conceptualized and designed the original prototype.  "The hoopoloop needs to deliver an aesthetically pleasing look and maintain functionality, all for a price people are willing to pay."
On paper, Bouchard had a concept for the hoopoloop but needed some help to make it a viable product. A teaching assistant for the course MSE298: Communications, he recruited his former students Parameswaran, Kouser and Patel to join the team. All three have balanced their full-time PEY Co-op placements with working part-time on bringing the hoopoloop to market.
"We spent all summer iterating our design to get the look and function of the product just right," says Parameswaran. "Then we had to look at it again, analyse the design for strength, and ensure that it can be easily manufactured. We have come a long way from the initial concept and have received a lot of positive feedback, which we have used to improve our design."
Working on the hoopoloop gave the MSE students a chance to apply their practical classroom learning, such as performing finite element analysis using ANSYS or SOLIDWORKS on the design, says Kouser.
"A large component of making the hoopoloop was management, organization and customer interactions," says Patel. "My PEY Co-op placement incorporates many of these elements and I brought what I learned from there to the project."