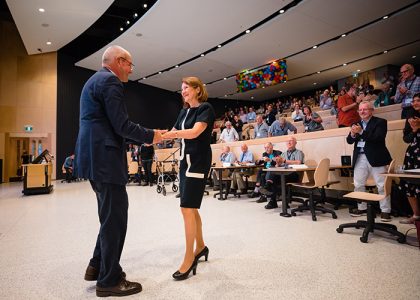 Nine floors filled with interactive exhibits made for a fully immersive experience for more than 500 members of the U of T Engineering community at the Myhal Centre Open House, held on Sept. 13.
The experiential event enabled faculty, staff, students, alumni and friends to engage with the state-of-the-art facilities, learning spaces, institutes and centres housed in the new Myhal Centre for Engineering Innovation & Entrepreneurship.
"The Myhal Centre launches a new era for world-leading engineering education and research," said Dean Cristina Amon. "This building will fundamentally transform the way we as engineers collaborate, innovate and create — and I am delighted that you will all get to explore it today."
Dean Amon, alongside Engineering Society president Shivani Nathoo (Year 4 EngSci + PEY) and Professor Emeritus Ron Venter, chair of the building planning committee, launched the celebration with a countdown to the official unveiling of the Engineering Society Arena, located on Level 0.
The Skule™ Arena is designed to support the rich variety of more than 100 co-curricular clubs and teams that enhance U of T Engineering's vibrant community. The Arena is the new home for many of U of T Engineering's student clubs, including the Supermileage Team, U of T Aerospace Team and the U of T Robotics Association, who all showcased their work at the Open House.
Take a visual tour through a selection of the interactive exhibits at the MY Open House event:
Level 0
Engineering Design Team Showcase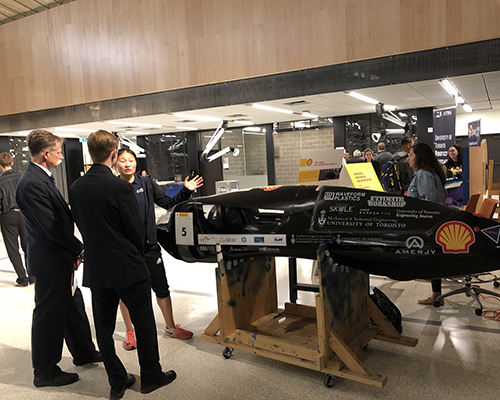 The newly unveiled Engineering Society Arena was where attendees got to meet ambassadors from the Supermileage Team, U of T Aerospace Team (UTAT), U of T Robotics Association (UTRA) and the U of T Seismic Design Team (UTSD).  The student clubs showcased their record-breaking vehicles and innovative projects.
Level 1
Chart your Global Connection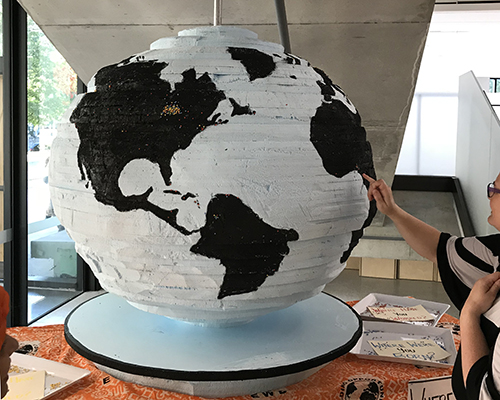 U of T Engineering's impact and network encompasses the globe. That's why U of T's Chapter of Engineers Without Borders and the Blue & Gold Committee invited visitors to chart their connections to countries worldwide on a giant map, demonstrating the Faculty's international reach in a participatory and highly visual presentation.
Level 2
Engineers for the World: An Expo of Technologies that Improve Lives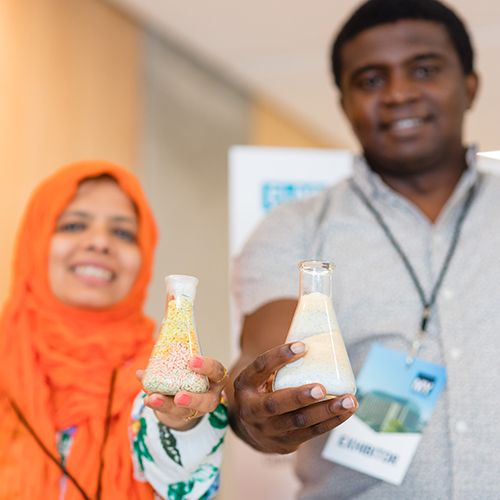 Presented by the Centre for Global Engineering (CGEN), visitors had a chance to take a closer look at some of the innovative technologies being developed by CGEN researchers and students that aim to improve lives of the world's most vulnerable people. Attendees interacted with some of these technologies, which included a taste test of iron-fortified tea
Level 3
Water and Energy Trivia Challenge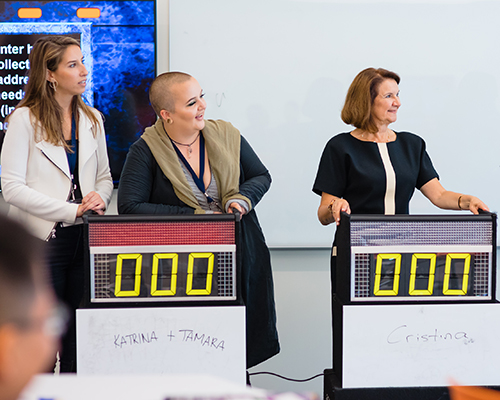 How much drinking water (in litres) does the City of Toronto process each day? The Institutes for Water Innovation (IWI) and Sustainable Energy (ISE) challenged visitors to compete to see who knew most about water and sustainable energy research – gameshow style.
 Level 4
Prototyping Facilities & 3D Printer Demo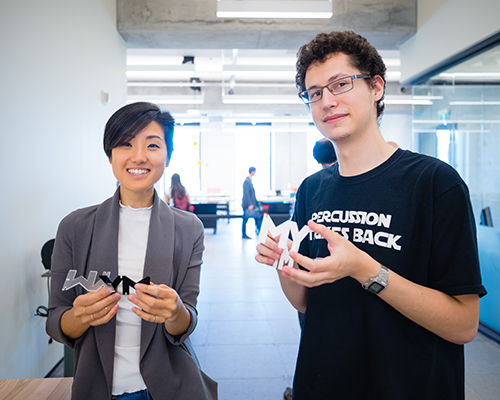 Any design project — whether it is part of a course, a co-curricular activity, or a student-led startup company — is greatly enhanced by access to the advanced equipment required to build and test prototypes.
That's why prototyping facilities occupy a large portion of Level 4 of the Myhal Centre. This floor includes a supervised rapid-prototyping room with powerful multi-material/composite materials 3D printers and other fabrication equipment.
The prototyping room is surrounded by design studios, allowing teams of students to move rapidly between model construction and planning the next stage of their venture.
Level 5
Robotics Exhibition
Visitors to the Norris Walker 5T7 Robotics Laboratory on Level 5 interacted with the latest robots developed through the Institute for Robotics & Mechatronics (IRM). These included autonomous vehicles, medical and health-care robots such as Pepper and Tangy, microscopic robots for less-invasive surgical procedures, as well as platforms for exploration, mapping and manufacturing.
Level 6
Idea Market
How do entrepreneurs ideate before planting the seeds of a startup? Attendees explored the approaches at The Entrepreneurship Hatchery's Idea Market, a forum discussing real challenges and what it takes to address them from an entrepreneurial perspective.
Level 7
What is your Engineering Leadership Style?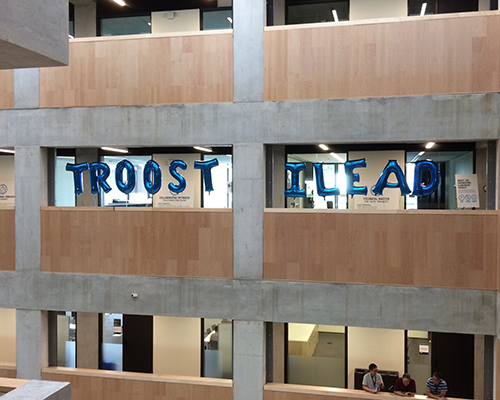 Visitors participated in a leadership quiz that allowed them to gain a better understanding of their personal leadership styles – from technical master, to organizational innovator.
Level 8
U of T Engineering CONNECT Common Room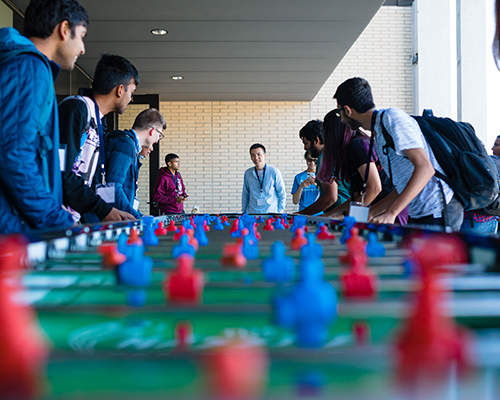 The eighth floor of the Myhal Centre was completely transformed into a fun lounge area where guests were invited to network over a game of foosball, relax with some snacks and enjoy the incredible views of the University of Toronto's iconic Front Campus from the Dr. Woo Hon Fai Innovation Floor and Terrace.
By Liz Do for U of T Engineering News