The U of T Engineering Human Powered Vehicle Design Team standing next to Eta Prime and Vortex (from left to right): Prof. Jun Nogami (MSE), Calvin Moes (EngSci 1T5, MSE MASc Candidate), Sherry Shi (EngSci 1T6), Rossdan Craig (Year 3 EngSci), Chris Williams, Thomas Ulph (Year 4 EngSci) and Evan Bennewies (Year 3 EngSci) (Photo: Danny Guthrie)
September 27, 2016 | By Kevin Soobrian
On September 14, 2016, a team founded by U of T Engineering alumni broke their own world record for fastest human-powered vehicle on earth when their bullet-shaped bike reached 142.04 kilometres per hour at the World Human Powered Speed Challenge (WHPSC) in Battle Mountain, Nevada. Three days later, they surpassed themselves once again, setting a new record of 144.19 km/h.
For comparison, the cycling sprint gold medalist at the 2016 Olympic games finished with an average speed of 75 km/h.
The record-setting vehicle, named Eta after the Greek letter used to denote efficiency in engineering equations, was the same 25-kilogram bike they raced to establish their record last year, with some significant upgrades.
"We made a few focused changes to the bike this year, including a new ventilation scoop, upgrades to the wheels and improved chain waxing methods," said Aerovelo co-founder and Eta pilot Todd Reichert (EngSci 0T5, UTIAS PhD 1T1). "The training regime changes every year as well, as we get more data on how my body reacts to specific types of workouts."
Aerovelo co-founders Todd Reichert and Cameron Robertson (EngSci 0T8, UTIAS MASc 0T9) have been setting human-powered vehicle records since building the first human-powered ornithopter in 2010. In 2013, they went a step further and became the first to achieve sustained flight using a human-powered helicopter.
Eta was originally the product of a long-standing collaboration between Aerovelo and U of T Engineering's Human Powered Vehicle Design Team (HPVDT), who also participated in this year's challenge with two vehicles: the Eta Prime and Vortex.
The shell of Eta Prime was cut from the same mold as the original Eta, but with a fully redesigned interior frame and drivetrain. The Vortex was a bicycle built for the American Society of Mechanical Engineers Human Powered Vehicle Challenge, but has been raced at the WHPSC since 2011. It was run for the hundredth time this year, making it the most raced vehicle at Battle Mountain according to HPVDT faculty advisor and official timekeeper of the competition, Professor and Chair of the Materials Science & Engineering Department Jun Nogami.
While Reichert and Robertson have turned Aerovelo into a competitive entrepreneurial venture, Nogami sees the HPVDT and competitions such as the WHPSC as great opportunities for engineering students to develop practical competencies.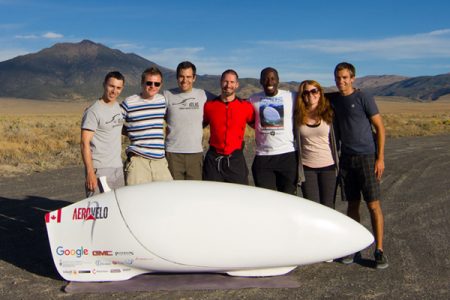 The Aerovelo team, co-founded by U of Engineering Alumni Todd Reichert (EngSci 0T5, UTIAS PhD 1T1) and Cameron Robertson (EngSci 0T8, UTIAS MASc 0T9), set a new world record for the fastest human-powered vehicle on earth, breaking their own record set the year before. (Photo: Anupam Singhal)
"I think that any design team where engineering students actually make things with their hands, work toward a deadline as a team and compete against other universities worldwide gives invaluable experience," said Nogami. "I'm very hopeful that with the Centre for Engineering Innovation & Entrepreneurship and the maker spaces available within, more students will acquire the hands-on skills needed to build and design good products."
Never content to stay still for long, the ever-ambitious Aerovelo team already has their eyes fixed on the next set of records they aim to break.
"We hope to set the one-hour distance record with Eta in the late fall, and of course return to the WHPSC next year," says Robertson. "Future projects will likely include a human-powered aircraft to fly a marathon in one hour, or potentially an even faster bike."