PhD candidate Yuri Savguira and Professor Steven Thorpe discuss their novel approach to enabling better materials joining with AUTO21
[sharexy]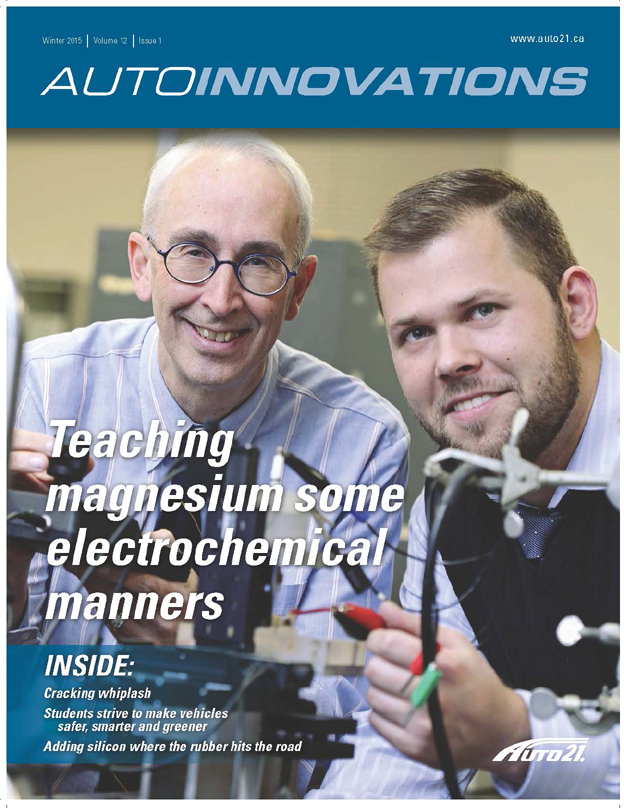 February 10, 2015
Magnesium has many virtues that make it appealing for automotive manufacturing, including an attractive combination of strength and lightweight. Nevertheless, this element is highly active, which makes it vulnerable to corrosion, nor does magnesium lend itself to reliable joining with techniques typically employed by the automobile industry.
PhD candidate Yuri Savguira and Professor Steven Thorpe have pioneered a novel, two-step approach to examine the microstructure of magnesium welds and gauge their electrochemical potentials. Their powerful analytical strategy gives useful insight for engineers to pinpoint where corrosion might occur and how fast it is happening down to a few microns in diameter. In turn, this data will allow for better welds to be developed to enable optimal strength and corrosion-resistance in automotive and a range of other applications.
Savguira's methodology was featured in an article published in the November 2014 edition of Materials and Corrosion, a major journal in this field. Professor Thorpe regards this progress as crucial to tackling some of the ongoing challenges of the automobile industry.
"The combination of those two (methods) really has given us useful insight into how to do the welding," says Thorpe.
Read the full article in the Winter 2015 issue of AUTO21's Auto Innovations publication here.
---
—With files from AUTO21 and re-purposed with permission