Stavros, Variawa and Wai receive 2014 Gordon Cressy Student Leadership Awards
[sharexy]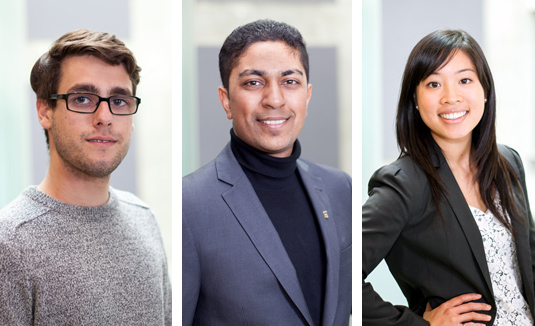 2014 Gordon Cressy Student Leadership Award recipients from MSE (L to R): Gabriel Stavros, Chirag Variawa, and Amanda Wai
April 17, 2014 
Congratulations to Materials Science & Engineering (MSE) fourth year undergraduate students Gabriel Stavros, Amanda Wai (MSE 1T3+PEYs) and alumnus Chirag Variawa (MSE 0T9, IndE PhD 1T4) who received 2014 Gordon Cressy Student Leadership Awards. The three MSE community leaders were among 17 engineering students recognized this year by U of T President Meric Gertler on April 16 in an evening ceremony at Convocation Hall.
The prestigious award – established in 1994 and named after Gordon Cressy, former U of T vice-president of development and university relations – has been presented to over 3,000 students in their graduating year since its inception.
Stavros, Variawa, and Wai were recognized for their contributions as follows:
Gabriel Stavros (MSE 1T3+PEY)
During his time as an undergraduate, Gabriel was an engaged student leader, serving as the drum major of the Lady Godiva Memorial Bnad [sic] and chairing the Blue & Gold Committee. Most notably, he held the elected position as vice-president of student life for the Engineering Society (EngSoc) in his final undergraduate year.
Chirag Variawa (MSE 0T9, IndE PhD 1T4)
Chirag served on Governing Council for two terms, in addition to serving in a leadership role as the vice-chair of the University Affairs Board (UAB). He has been an active member of the Committee for Honorary Degrees (CHD), Executive Committee of Governing Council, Academic Affairs Committee (AAC) and Academic Appeals Board (AAB), among others. Chirag also served as the graduate student representative on several committees, including those for the president, vice-president of research, and the warden of Hart House.
Amanda Wai (MSE 1T3+PEY)
Amanda served as president of the U of T Volunteer Consulting Group (VCG), overseeing pro bono consulting advisory to 10 non-profit organizations. She received the Ontario Professional Engineers Foundation for Education Scholarship for her efforts. She was also co-president of the University of Toronto Consulting Association (UTCA), leading an eight-member executive team to organize informational and networking events for more than 1,500 students.
"We are extremely proud of the engineering students honoured by this year's Cressy Awards," said Dean Cristina Amon. "Their passionate dedication to enhancing university life beyond the classroom is an inspiration to all of us."
— With files from Engineering Strategic Communications