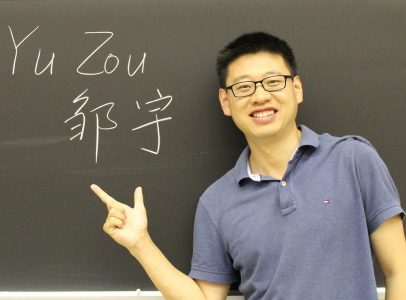 Landing at U of T Engineering by way of Beijing, Montreal, Zurich and Boston, Professor Yu Zou (MSE) brings international experience, and a passion for creating stronger and lighter 3D-printed metallic materials. Applicable to every industry, Zou's core focus is improving materials developed for aerospace and healthcare needs.
MSE's Kendra Hunter sat down with Zou to find out more:
What is your area of research?
I focus on applying additive manufacturing, sometimes called 3D printing, techniques to metals through building up components layer by layer using metal powder. Metal 3D printing has the flexibility to create very complex shapes, which is a current requirement in many industrial sectors. For example, you can customize hip replacement parts using 3D printing to fit each patient's unique bones – size, shape and density. It offers flexible solutions to complex, personalized needs. As hip replacement operations increase, these specialized components work with each patient. Aerospace is another industry where additive manufacturing can create complex components at a cheaper cost.
I also study mechanical behaviours of various metallic materials, such as Ti alloys, Mg alloys, high-entropy alloys and quasicrystals, particularly on the micrometre or even nanometre scale. Using advanced ex-situ and in-situ experimental methods, I hope to better understand mechanical behaviours of materials at small length scales.
Why did you choose U of T Engineering?
The opportunities at U of T Engineering are unparalleled. During my initial visit, I noticed a warm and collaborative working environment at MSE. The University has a strong international reputation and network for interdisciplinary research. In my experiences with students at different programs worldwide, I have noticed that U of T has some of the best students, and I look forward to working with them.
Moreover, in my opinion, manufacturing is the cornerstone of Canada's economy, particularly in Ontario. Different from 3D printing of polymers, metal 3D printing is a complicated process, representing high levels of synergy among many disciplines, which cover all the departments and institutes of U of T Engineering. I believe there will be many opportunities for collaboration.
Where did you undertake your undergraduate and graduate degrees and why?
I started my academic career as an undergraduate in Beijing, China (Beihang University) and then moved to Canada to complete my master's degree in Materials Engineering at McGill University. I went to Switzerland for my PhD studies at ETH Zunich, which is recognized for its nanomechanics research. After that I completed postdoctoral research on metal 3D printing at the Massachusetts Institute of Technology (MIT).
Through my experiences, I highly recommend undertaking degrees in different countries. The networking opportunities, exchange programs and ability to explore research options are incredibly valuable. For example, through an exchange program between Switzerland and Japan, I spent five months at Kyoto University as part of a young researcher fellowship. This provided me with new opportunities to expand my current work and collaborate with Japanese researchers.
What excites you about your research?
Materials science affords me the chance to merge engineering and science. On the one hand, my research on materials at small scales relies on science to help in understanding the fundamental nature of the materials. On the other hand, I can apply engineering principles to take a theory and build stronger materials so that they can survive in extreme environments such as high temperatures.
What are you most looking forward to in your position?
I look forward to expanding my research and building up my lab and group with a goal of becoming an international resource in nanomechanics and additive manufacturing. I also continue to look for talented young people to join my lab and look for collaborations across campus with peers and colleagues.