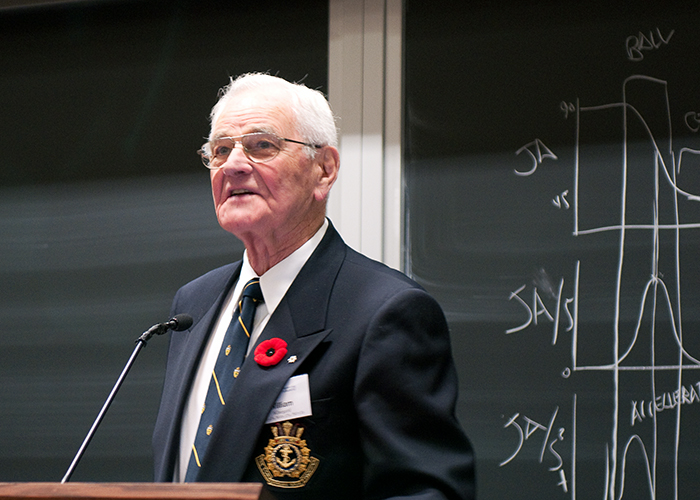 The U of T Engineering community is mourning the loss of distinguished alumnus Dr. William C. Winegard (MSE BASc 4T9, MIE MASc 5T0, MSE PhD 5T2). Winegard passed away January 31, 2019 at the age of 94. His was a life characterized by exemplary service to Canada, both locally and on the national political stage, as well as the scientific and academic communities.
Winegard was a proud graduate of both the Departments of Materials Science & Engineering (MSE) and Mechanical & Industrial Engineering (MIE). He established MSE's Winegard Visiting Lectureship in New Materials Engineering, which ran from 2010 to 2016 and attracted international leaders in the field to U of T Engineering. In 2018, this gift was transformed into the William C. Winegard Award in Advanced Materials, created to recognize MSE MASc and PhD students with exceptional academic performance, who are commitment to metallurgical and/or materials innovation and contributions to the advancement of fundamental knowledge.
"What struck me upon meeting Bill was his generosity of spirit. This was reflected by the huge impact he had beyond the field of engineering with his service at the University of Guelph as well as with the federal government," said Professor Jun Nogami, chair of MSE. "At the same time, he regarded his time as a student in our department with particular affection, which led to his generous bequest to enrich the experience for our current students."
Read his obituary in Global News
Winegard was born in Hamilton, Ont., and served in the Second World War as an officer in the Royal Canadian Navy. After completing his PhD at U of T Engineering in 1952, he taught in MSE until 1967 before joining the University of Guelph, where he served as president and vice-chancellor from 1967 to 1975.  In 1984 he successfully ran as a Member of Parliament for the riding of Guelph-Wellington, and was appointed Minister of State (Science and Technology) from 1989 to 1990, then Minister of Science from 1990 to 1993.
Winegard was named an Officer of the Order of Canada in 1998, with a citation that highlighted his remarkable volunteerism and "influential career as an educator, an administrator, a scientist and a federal politician."
"Bill Winegard's contributions to our Faculty, to the country and to the engineering and academic spheres have left an indelible mark," said Cristina Amon, dean of the Faculty of Applied Science & Engineering. "On behalf of U of T Engineering, I extend my deep condolences to his family."