University Professor Emerita Ursula Franklin inducted into the ranks of Canada's most distinguished pioneers in science and engineering
[sharexy]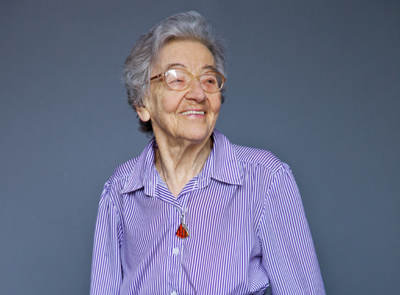 November 21, 2012
University Professor Emerita Ursula Martius Franklin, a world-renowned materials scientist, peace advocate and humanitarian, has been inducted into the Canadian Science and Engineering Hall of Fame.
The Hall of Fame, part of the Canadian Science and Technology Museum in Ottawa, honours individuals whose outstanding scientific or technological achievements have had long-term implications for Canadians. There are only 54 members, including notables such as Alexander Graham Bell, Frederick Banting and Sanford Fleming.
Professor Franklin joined U of T Engineering in 1967 as the first female professor of metallurgy and materials science (now known as materials science and engineering). In 1984, she became the first woman to receive the title "University Professor," the highest academic rank at the University of Toronto, in recognition of her service to U of T and the community at large.
Among her many other accomplishments, Professor Franklin is known for her investigation into the presence of strontium-90 in children's teeth, which ultimately led to the ban of atmospheric nuclear weapons testing in the 1960s. Professor Franklin is the author of The Real World of Technology and The Ursula Franklin Reader: Pacifism as a Map, and other works. She is a Companion of the Order of Canada and a Fellow of the Royal Society of Canada.
"I am delighted that the Canadian Science and Engineering Hall of Fame has honoured Professor Franklin and John McCurdy," said Cristina Amon, Dean of the Faculty of Applied Science & Engineering. "We can all be inspired by their accomplishments. U of T Engineering's long and illustrious history is the sum of the individual stories of people like Ursula Franklin and John McCurdy."
The Honourable John A. D. McCurdy (1886-1961), who graduated from U of T mechanical engineering in 1906, was posthumously inducted. The induction took place on November 21 at the museum in Ottawa.