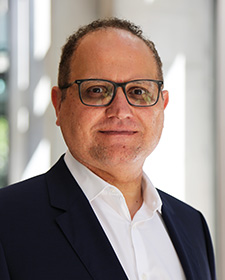 Prof. Hani Naguib (MIE/MSE), Director of the Toronto Institute for Advanced Manufacturing, will be one of four presenters pitching ideas at the Ontario Economic Summit. The annual event is organized by the Ontario Chamber of Commerce and brings together industry representatives, experts and government officials to talk about the province's economy. The theme for this year's edition – taking place at the Beanfield Centre at Toronto's Exhibition Place – is competitiveness. Premier Doug Ford and Mayor John Tory, a U of T alumnus, are scheduled to attend.
Naguib and three other members of the U of T community will take part in a session titled "The Next Big Idea." Each will present a pitch for how a hypothetical public investment of $100 million in their respective sectors could be utilized to drive competitiveness and economic growth in the province. He will discuss how advanced manufacturing and smart materials can usher in a revolutionary transformation for factories and industry; Goldie Nejat, a professor in the department of mechanical and industrial engineering who holds a Canada Research Chair in Robots for Society, will discuss how socially assistive robots can help adults living with dementia as well as health-care workers; Anne Koven, an adjunct professor in the forestry program at the John H. Daniels Faculty of Architecture, Landscape, and Design and executive director of the Mass Timber Institute, will talk about how mass timber and tall wood construction can sustain a mutually beneficial relationship between the forestry industry and thriving urban markets; and Allen Lau, a U of T alumnus and the founder and CEO of data-driven publishing platform Wattpad, will talk about how to nurture Ontario's tech ecosystem into a global powerhouse.
The session will be moderated by Christine Allen, U of T's associate vice-president and vice-provost, strategic initiatives, and a professor in the Leslie Dan Faculty of Pharmacy.
"The Ontario Economic Summit represents an incredible opportunity to strengthen dialogue between academia, industry and government on how we can all work together for the betterment of our province," says Allen, who is also the co-founder of medical nanotechnology startup Nanovista.
"I'm delighted that the audience will have the opportunity to learn about how the university's research and talent are leading the way in the development and application of some of the most revolutionary technologies of our time – innovations that are improving Canadians' lives and contributing to the economic health of the province."
Read the full story by Rahul Kalvapalle on the University of Toronto News site