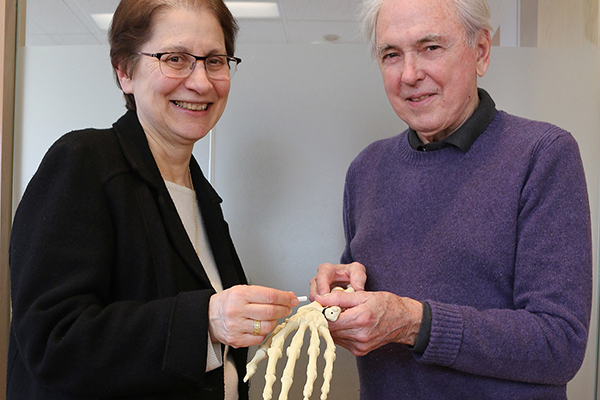 For millions of Canadians with hands gnarled by arthritis, a promising new treatment could see their diseased joints replaced with new tissue-engineered joints developed at the University of Toronto.
If testing proves successful, the regenerated joints could mean an end to crippling pain and a return to full mobility for patients – like the ability to open a jar of pickles or write a letter, said Professor Robert Pilliar (IBBME, MSE, Dentistry), who has been involved in joint replacement research since the early 1970s.
"Hand arthritis is one of the most prevalent forms of osteoarthritis in North America, but for people with finger joint and toe joint arthritis, there really isn't a joint implant solution right now," said Pilliar.
Driving home the need is the fact that there is no cure for most forms of arthritis, Canada's most prevalent chronic health condition. Without treatment, this inflammation can lead to "significant and often irreparable damage to the affected areas, resulting in loss of function and disability," reports the Arthritis Society.
Pilliar's project is one of nine sharing almost $820,000 in funding this year from the Connaught Innovation Award, aimed at accelerating the development of promising technologies and promoting knowledge transfer arising from the U of T.
"We'd like to congratulate the recipients of this year's Connaught Innovation Award. The Connaught Fund continues to support cutting-edge research at the University of Toronto," said Vivek Goel, U of T's vice-president of research and innovation. "The range of research and innovation activities receiving support is incredible, from new treatments for multiple sclerosis to testing ways to automatically assess dementia from speech, and it showcases the breadth and depth of research at the university."
The internal award is made possible through the Connaught Fund, the largest internal university research-funding program in Canada. Since its creation in 1972 from the sale of the Connaught Laboratories, which produced vaccines, antitoxins and insulin after its discovery by U of T researchers Frederick Banting and Charles Best, the Connaught Fund has awarded more than $160 million to U of T scholars.
The email from Connaught "was my first email of the New Year," Pilliar said. "It was nice to get that for the New Year. I'm very thankful."
The funding will enable him to create a model prototype with research colleague Professor Rita Kandel in the Department of Laboratory Medicine & Pathobiology, and chief of pathology and laboratory medicine at Mount Sinai Hospital.
Mount Sinai researchers have been trying to develop alternatives to regenerate diseased joint tissues rather than replacing them with commonly used synthetic materials, such as metal, plastic and ceramic, which over time degrade in the body and can cause fractures or chemical sensitivities in patients.
Their research has shown that a porous, biodegradable, calcium polyphosphate construct with a cartilage layer formed by cell culturing over the intended joint-bearing surface, when implanted into the dissected knee joints of sheep, successfully enables the implant to become securely fixed in the site by bone growing into it while maintaining the attached cartilage layer.
However, this immature cartilage had a tendency to "shear off" when force was applied to it through movement, Pilliar said. Part of the solution, the researchers think, is to place this regenerated tissue in a joint – like that in the finger – that can be immobilized for a period of time with a splint, enabling the cartilage to mature and eventually withstand the everyday wear and tear a joint encounters.
If their model proves successful, additional funding will be needed to conduct animal studies, clinical trials and to undergo regulatory approvals. Pilliar is hopeful the tissue-engineered digit joints could be available for use in patients within five years.
Pilliar, who underwent his own hip replacement surgery in August, was drawn to the field more than 40 years ago when a colleague told him how often new hip replacements were failing because the "bone cement" they were using at the time was breaking down, resulting in loosening of the implants.
Pilliar proposed a system that would enable bone to grow into synthetic replacement joints, a principle that is still used today, including in his own new hip.
"I got into the field by accident," he said. "What has been very satisfying is to see this system that I developed all the way back in the 1970s still being used today. In fact, most major joint replacements like hips and knees now rely on this 'bone ingrowth' concept rather than using a cement."
He stays motivated, he said, by his desire to come up with something even better. And his own surgery has also taught him how important physiotherapy is to strengthen the soft tissue around the replaced joint, which controls the limb and its motion.
February 2018 by Jennifer Robinson