U of T Engineering formalizes faculty and student exchanges with the University of Tokyo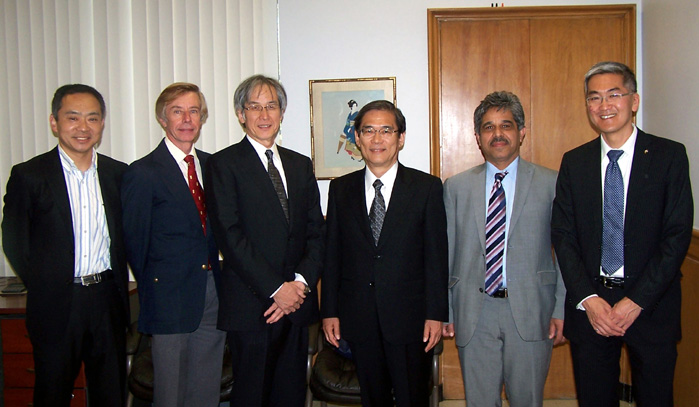 Photo (from left): Professor Charles Jia (ChemE), Professor Donald Kirk (ChemE), Professor Masafumi Maeda (UTokyo), President Junichi Hamada (UTokyo), Professor Javad Mostaghimi (MIE), Professor Jun Nogami (Chair, MSE)
May 21, 2010
On May 19, 2010, the University of Toronto welcomed University of Toyko president, Professor Junichi Hamada along with its manager director and executive vice-president of finance, Professor Masafumi Maeda  to a round-table discussion centered on the topic of "Universities: a platform for global competitiveness."
Hosted by U of T president David Naylor, participants of the round-table discussion also included Japan's consul-general, Tetsuo Tamashita, U of T senior administrators, along with Professor Jun Nogami (Chair, MSE) and Professor Javad Mostaghimi (MIE).
At the end of the discussion, a Memorandum of Understanding (MOU) was signed between the two universities. This MOU will facilitate future exchanges of faculty and students with the University of Tokyo (UTokyo).
After the signing, President Hamada and Professor Maeda made a brief visit to the Wallberg Building to see the offices of the Consortium for Sustainable Materials (COSM). Identifying the need for globalization in sustainable technology research, COSM was established in 2006 as a research partnership between the Faculty of Applied Science & Engineering and the Institute of Industrial Science (IIS) at the UTokyo.
Professor Maeda is certainly not a stranger to U of T Engineering. Prior to becoming a UTokyo faculty member in materials engineering, and subsequently, Director of IIS, and the Executive VP, Finance, he was a U of T Materials Science & Engineering (MSE) postdoctoral fellow under the supervision of Professor Emeritus Alex McLean (MSE). He also spent a sabbatical with the same research group.
The annual UT2 Joint Graduate Workshop between UTokyo and U of T also links the two engineering schools. The ninth annual meeting will be held in Tokyo this June. This year, there will be additional participation from the Department of Mechanical & Industrial Engineering (MIE) from Toronto, as well as the Global Center of Excellence for Mechanical Systems Innovation (GMSI) from Tokyo.
"I look forward to seeing our friends in Tokyo once again," said Professor Jun Nogami, Chair of the Department of Materials Science & Engineering. "We are sending faculty from three departments (ChemE, MIE, MSE), and we will be putting a high priority on nucleating new research collaborations between our two engineering faculties. Our relationship with Tokyo is a great opportunity to further our goals in internationalizing our research, our programs for graduate students, and eventually, our undergraduate students."